Instant Pot Broccoli Beef is everything you love about my Slow Cooker Broccoli Beef but much faster and with double the sauce — because who doesn't love this delicious, tangy, sweet, garlicky sauce over a bed of rice or noodles?
Want all the best saucy, delectable Instant Pot dishes? Then you'll definitely want to make these ASAP: Instant Pot Chili, Instant Pot Beef Tips, and Instant Pot Chicken Breast and Gravy.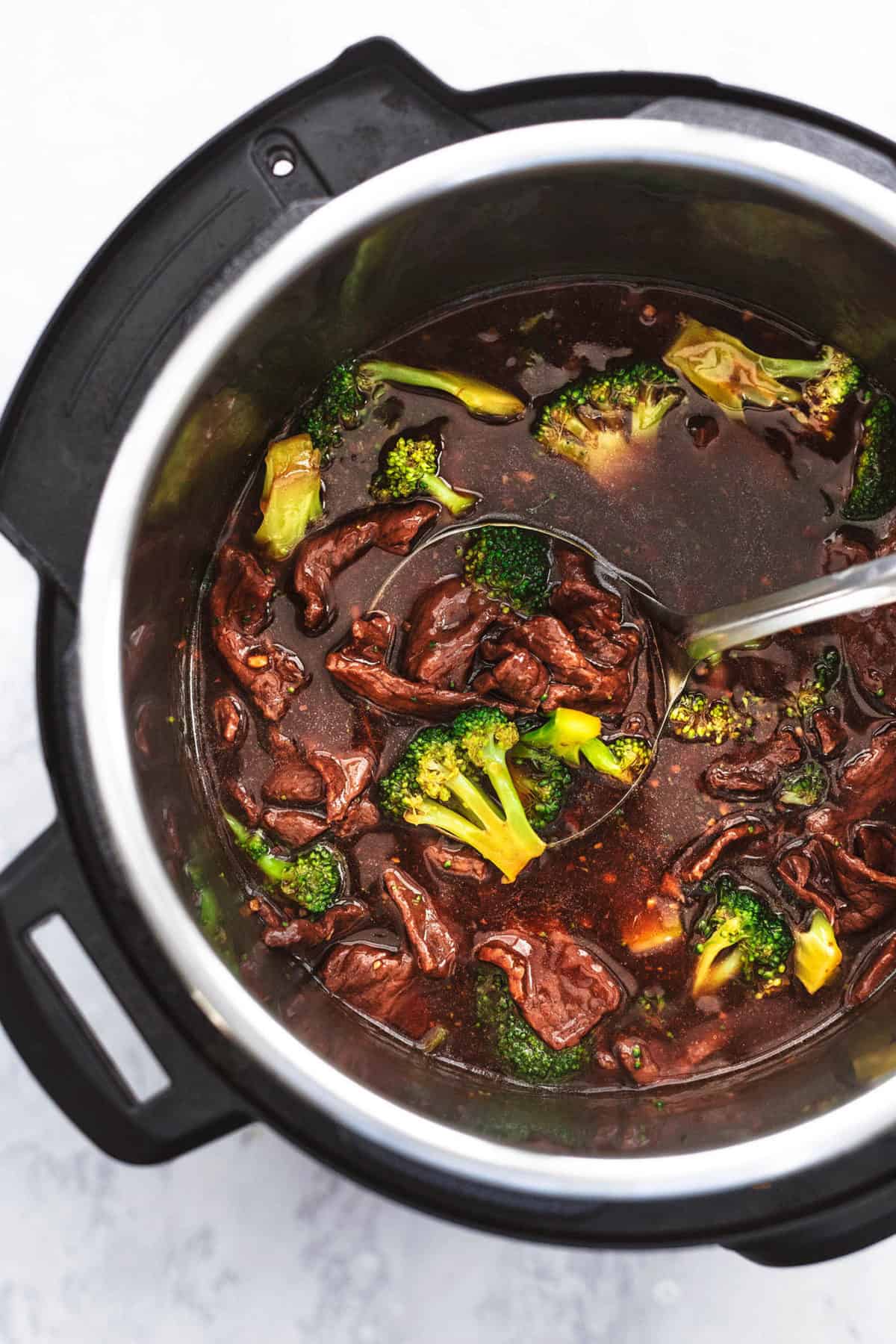 I love, love, love hearing from you all in the comments on my recipes. What you loved (and even what you didn't), what you did differently, who you made the recipe for…all these things not only make me smile, but they help me to create future recipes for you that I know you're going to love just as much.
Your response from the Slow Cooker Broccoli Beef is one such recipe. You all enjoyed the dish so much (especially the sauce!) that I decided it was worth a repeat, except this time I made it even faster by cooking it in the Instant Pot and doubling the sauce because that was your favorite part! Take, for example, Kelly's comment: "Tried this recipe tonight and it was AMAZING! The sauce is to die for. Everything came out perfectly!"
It's comments like this that I take into account when creating new recipes like this Instant Pot Broccoli Beef version!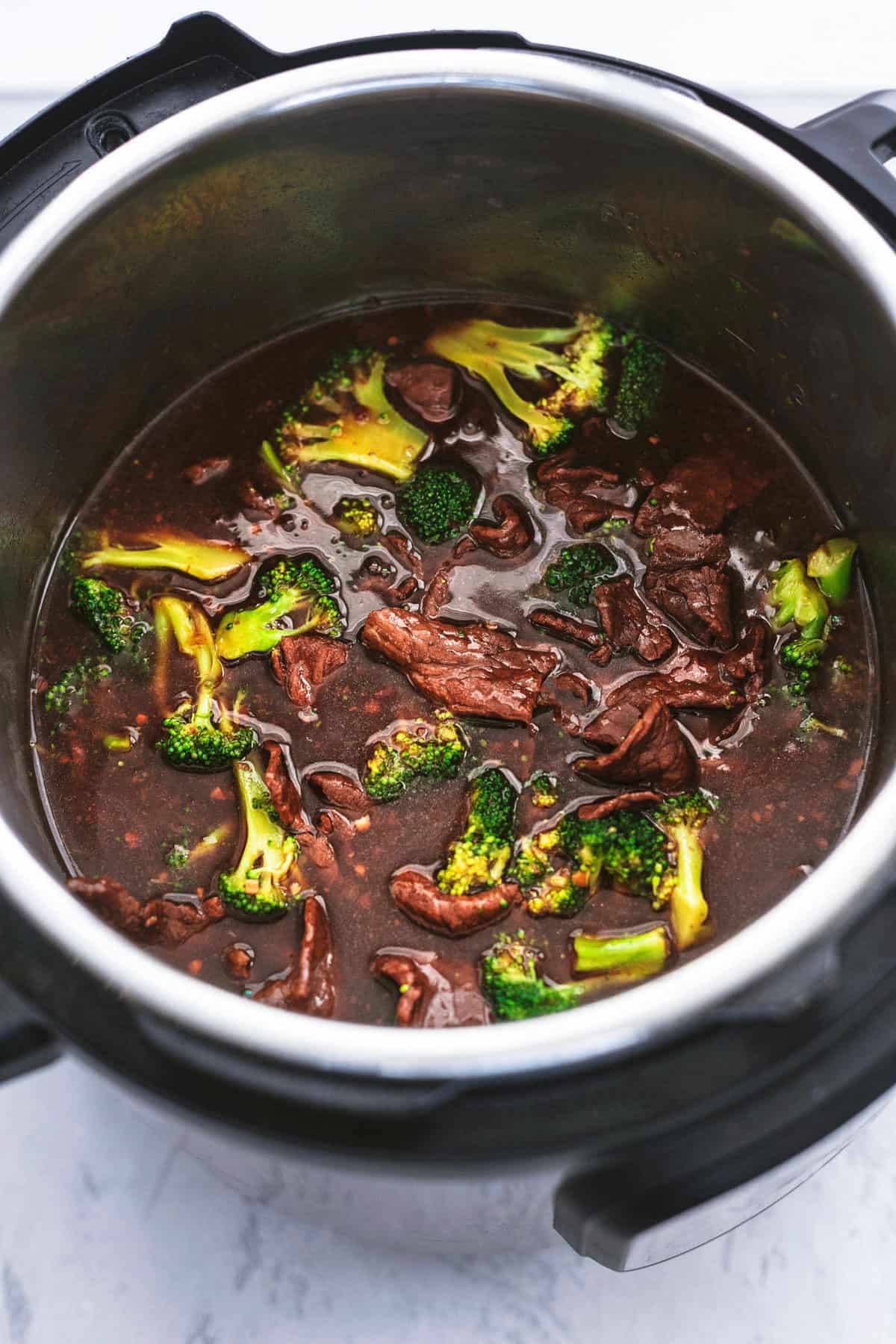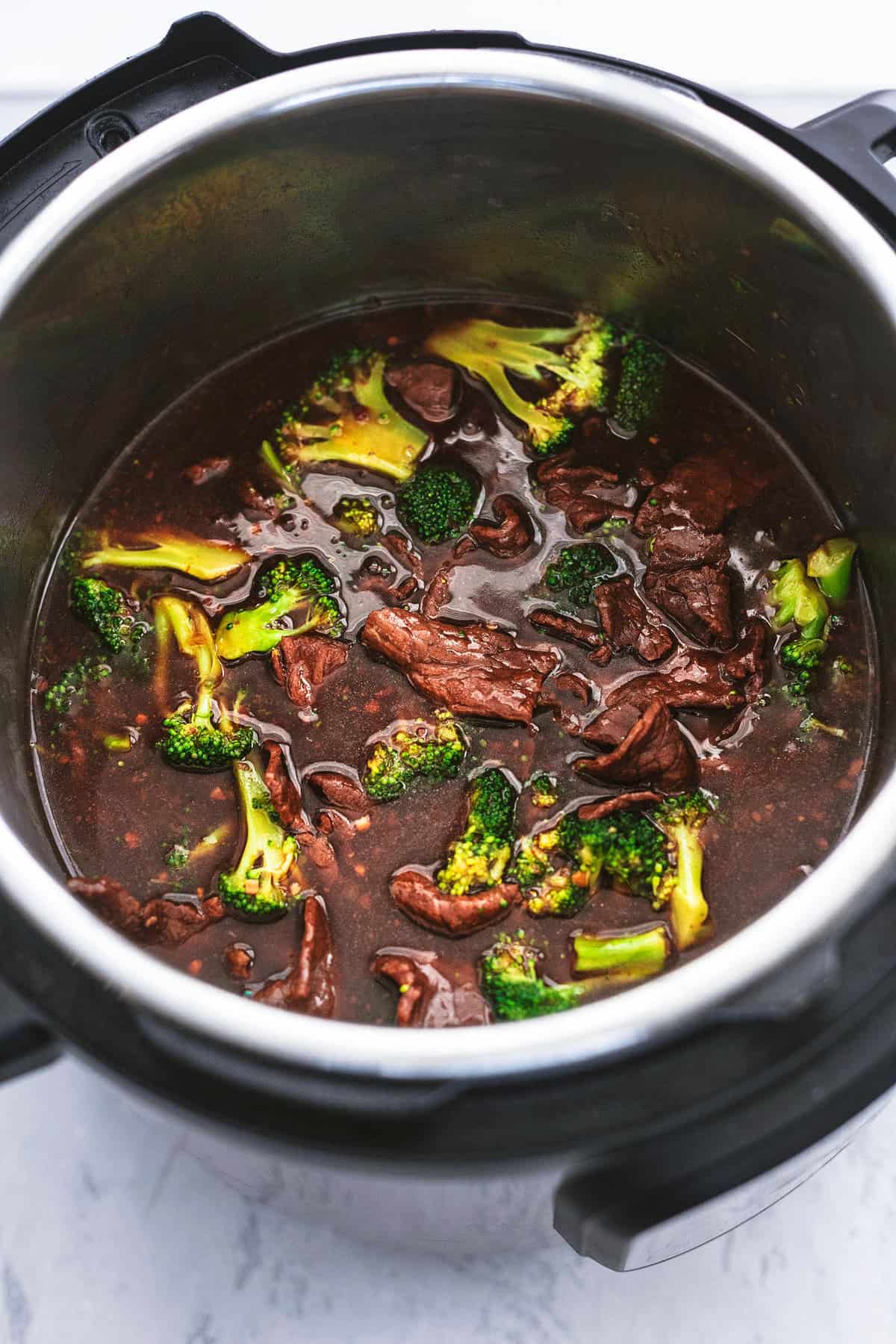 How To Make Broccoli Beef in an Instant Pot

First of all, you need to have an Instant Pot. Don't have that appliance? No worries because this recipe originated as a slow cooker recipe and making that version is easy and delicious too!
In your Instant Pot, combine the beef, broth, soy sauce, brown sugar, sesame oil, garlic, and red pepper flakes and stir it all together. Next, put the lid on the pot and lock it down, then make sure you've turned the vent knob to the "sealed" position so the pressure can begin to build.
Set the Instant Pot to "pressure cook" or "manual" for 8 minutes. It takes a few minutes for the pot to build up enough pressure to cook, so it will start counting down the 8 minutes after it's pressurized.
Once the timer has counted down, vent the Instant Pot (be careful, steam will shoot out the top). Once it's depressurized and the float valve (if your model has one) has dropped down, take the lid off.
Almost done! One more step: Change the setting to "soup." Mix together cold water and cornstarch in a small bowl and then pour that into the Instant Pot when the liquid in it has come to a boil. Stir this slurry into the sauce. "Cancel" the Instant Pot's settings and unplug it. Let the sauce sit for a couple of minutes to thicken. Serve over rice or noodles and devour!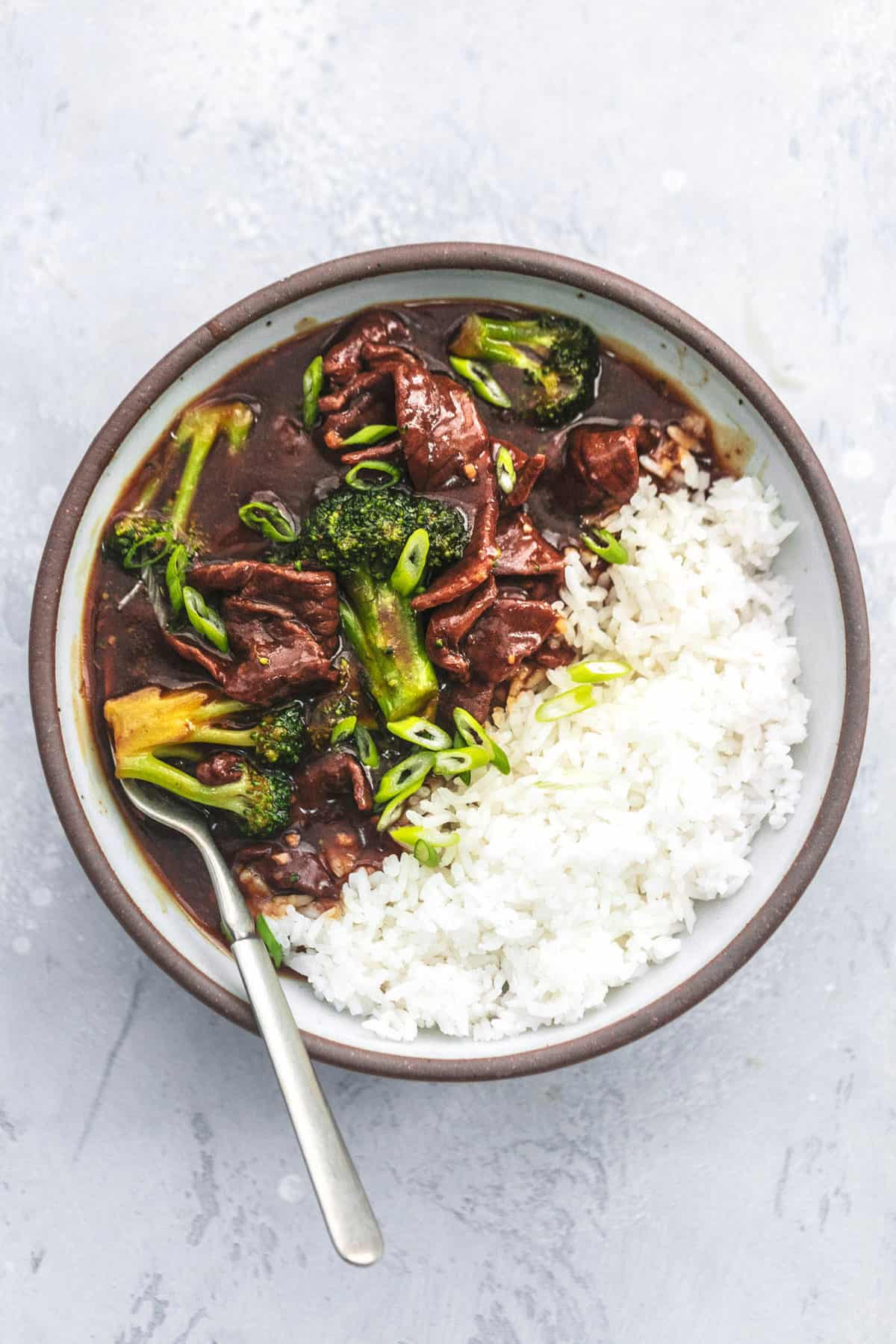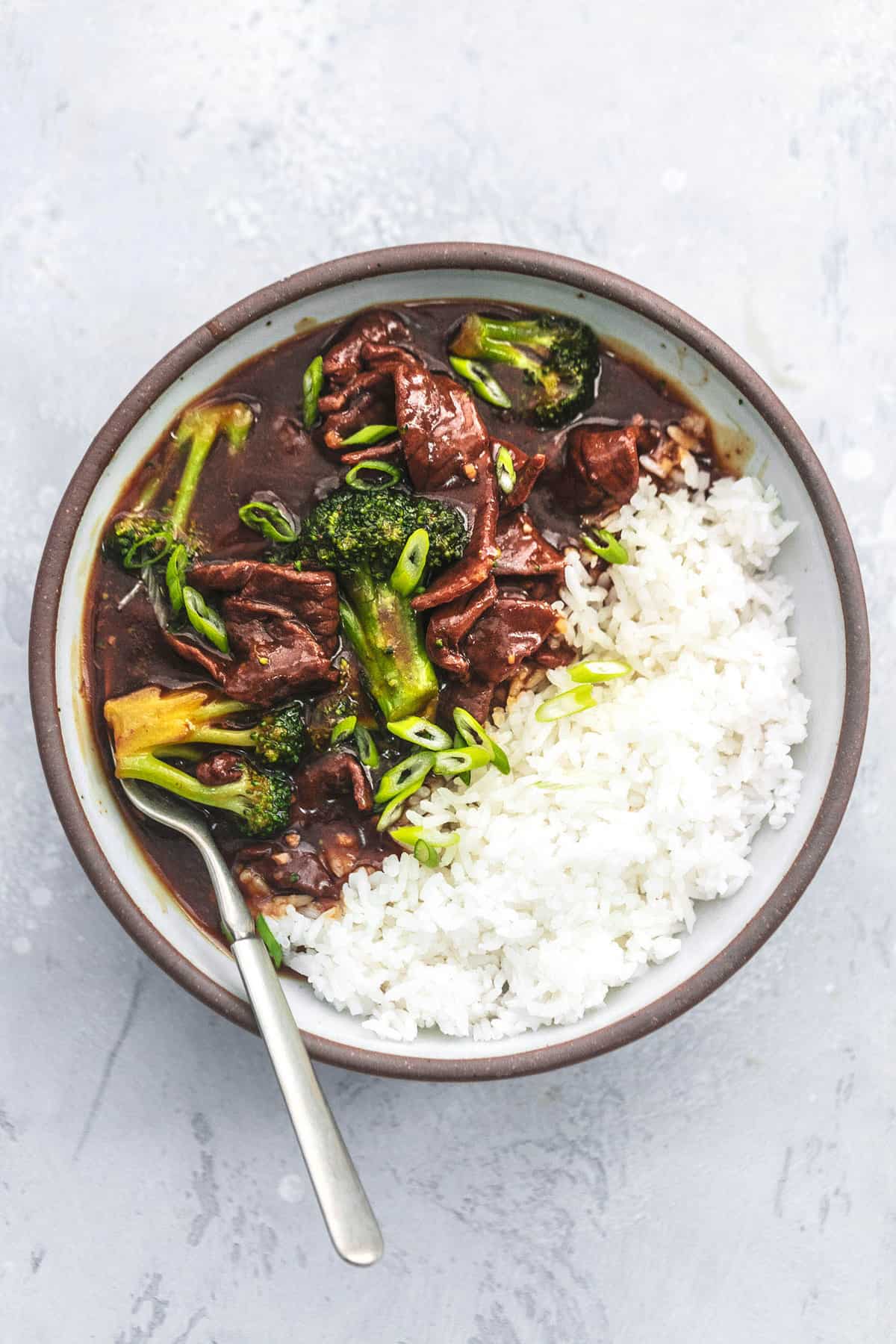 Can You Overcook Meat in a Pressure Cooker?
The short answer is yes, you can overcook meat in a pressure cooker. And there's nothing that can be done once it's overcooked. That's why it's always a good idea to follow directions for Instant Pot (and all, really) recipes.
One thing to keep in mind is that (like most cooking methods) the bigger the piece of meat, the longer it will need to cook in a pressure cooker. In this case, we are using beef that's already been sliced thin, hence the 8-minute cooking time.

Expert Tips and Tricks
When creating this recipe for Broccoli Beef, I thought of a few pointers I wanted you all to keep in mind to make this recipe go more smoothly for you.
Make sure you add liquid to the pressure cooker, in this and every recipe you make in the Instant Pot. In order to cook, the appliance has to build up pressure in the form of steam, and to make steam you need liquid. This step is imperative.

Feel free to play around with the settings of your Instant Pot. If you want to brown meat first, then you can do that right in the bottom of the pot by using the "saute" setting. Then, when your meat is browned, change to "manual" and lock the lid down to finish cooking.

Don't forget when using an Instant Pot that you have to account for time for the pressure to build up and sometimes to decompress, which adds time on both the front and back end of using Instant Pot recipes. Be sure to read the directions in full so you are aware of the full time frame needed to cook your recipe.

When the pressure is releasing (and for safety reasons in general) steer clear of the machine while the pressure is building up, it's cooking, and when the steam is releasing (either naturally or manually). It will burn you!

Buy extra accessories for your Instant Pot if you use it frequently. Just think, one pot to cook in and dirty up and another to use right away if you're batch cooking or waiting on the dishwasher to run.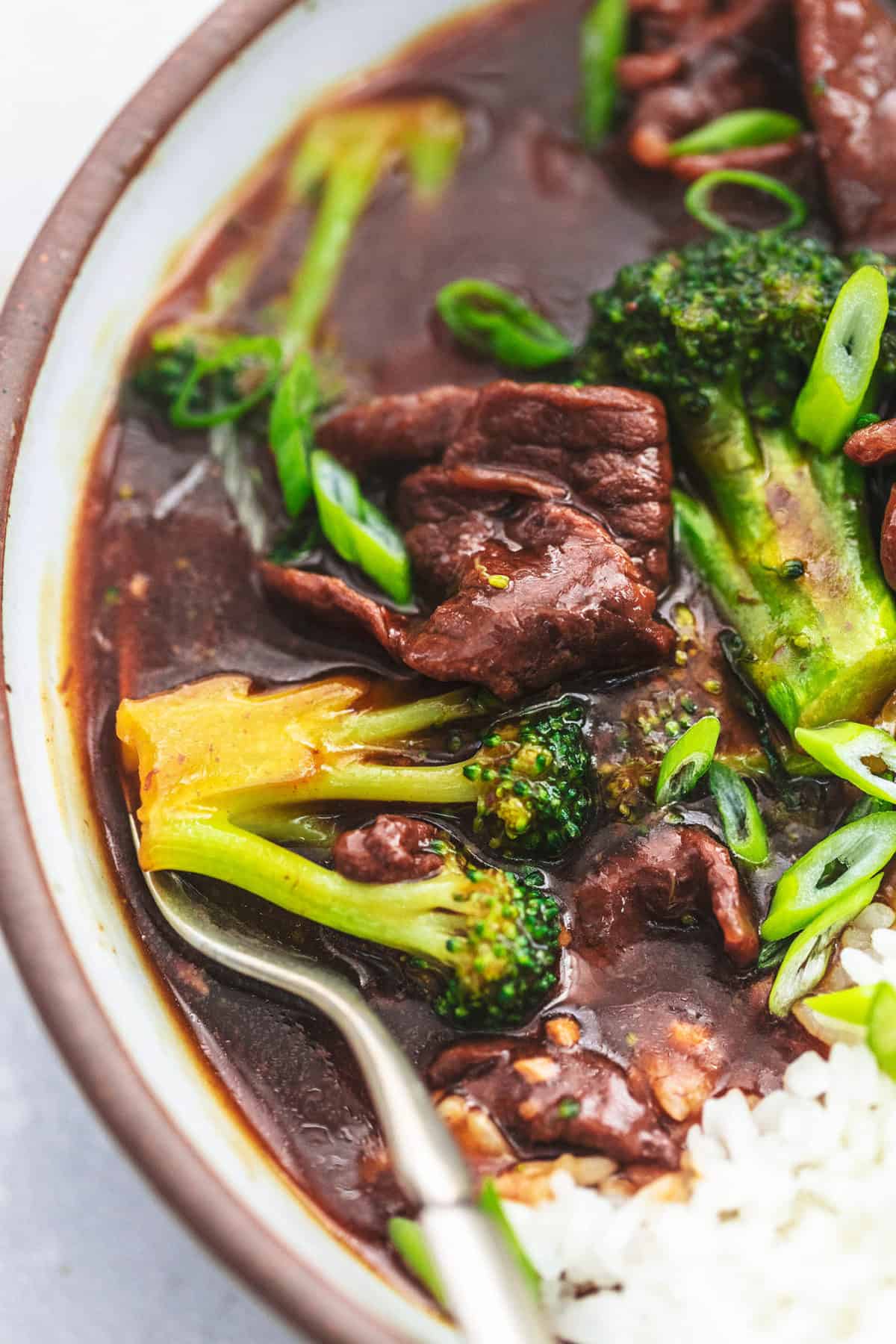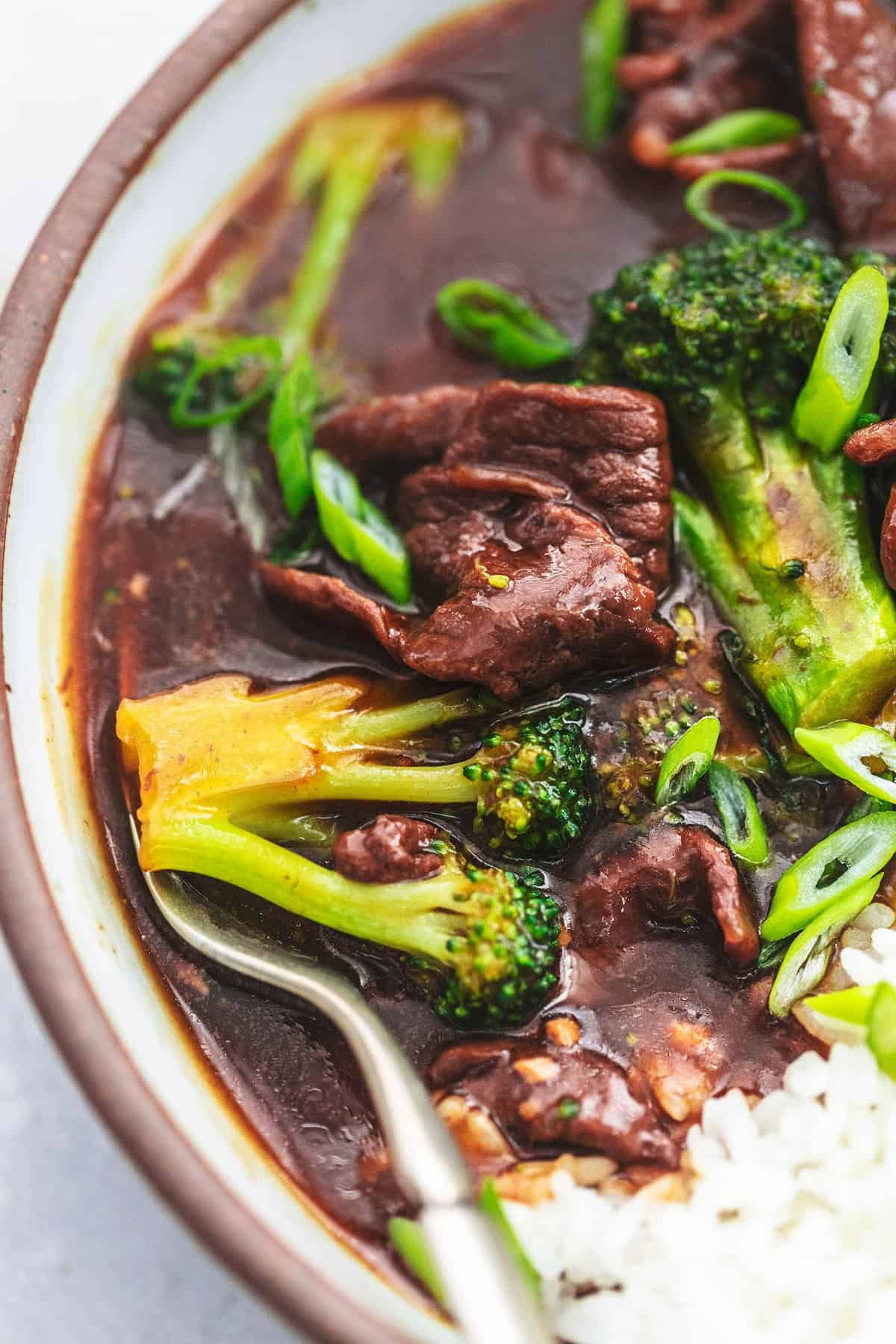 More Amazing Instant Pot Recipes
Did you make this easy broccoli beef recipe? YAY! Please rate the recipe below!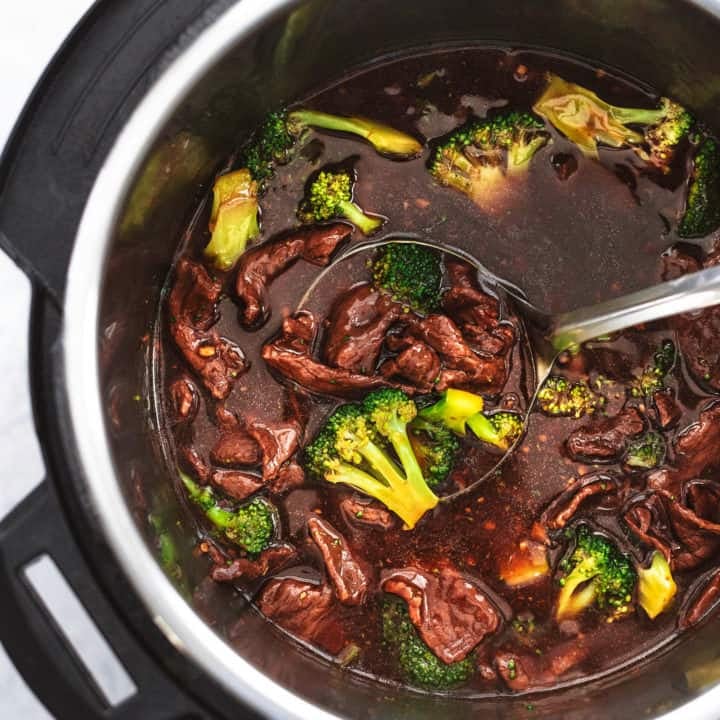 Instant Pot Broccoli Beef
Instant Pot Broccoli Beef is everything you love about my Slow Cooker Broccoli Beef but much faster and with double the sauce — because who doesn't love this delicious, tangy, sweet, garlicky sauce over a bed of rice or noodles? 
Ingredients
1 ½-2

pounds

thin-sliced stir-fry steak

-

cut into 2-inch pieces

2

cups

beef broth

1 ⅓

cups

low sodium soy sauce

⅔

cup

brown sugar

2

tablespoons

sesame oil

1-2

tablespoons

minced garlic

½

teaspoon

crushed red pepper flakes

-

optional

4-6

cups

frozen broccoli florets

-

see note for fresh broccoli

4-5

tablespoons

corn starch + 1/3 cup cold water
Instructions
In your pot, combine meat, beef broth, soy sauce, brown sugar, sesame oil, garlic, and red pepper flakes and give it a good stir.

Place the lid on the pot and slide into the lock position. Turn the vent knob to the SEALED position.

Set to PRESSURE COOK or MANUAL for 8 minutes. (remember that it will take a few minutes for the pot to pressurize before it starts counting down)

When the cook time is up, turn knob to the VENTING position. Once float valve drops down, remove the lid.

Set the pot to the SOUP setting. In a small bowl stir together cold water and corn starch. When liquid comes to a boil in the pot, stir in corn starch slurry. Turn the pot off (hit CANCEL or unplug it) and allow the sauce to thicken for 2-3 minutes.

Stir in broccoli florets until heated through, 3-5 minutes. Serve over rice or noodles.
Notes
If using fresh broccoli, place in a bowl, cover with plastic wrap, pierce 2-3 times with a fork and then microwave for 2-3 minutes until fork-tender. 
Nutrition
Calories:
643
kcal
,
Carbohydrates:
50
g
,
Protein:
43
g
,
Fat:
32
g
,
Saturated Fat:
12
g
,
Cholesterol:
104
mg
,
Sodium:
3413
mg
,
Potassium:
1023
mg
,
Fiber:
3
g
,
Sugar:
39
g
,
Vitamin A:
667
IU
,
Vitamin C:
82
mg
,
Calcium:
111
mg
,
Iron:
6
mg