When I was younger I ran my own holiday sweets business. Oh yes, the twelve year old me was already thinking about monetizing your assets. See the thing was that I could make a mean chocolate dipped strawberry. So why not sell them?? And sell them I did. I made and delivered flyers to everyone I knew (and a whole lot of strangers) and I got a bunch of phone calls (on our land line, those were the days) for orders. I did them for Valentines Day and Mothers Day. Later on I expanded my inventory and started selling for patriotic holidays and Father's Day. I was rollin in the dough for a twelve year old, I'll tell ya that much.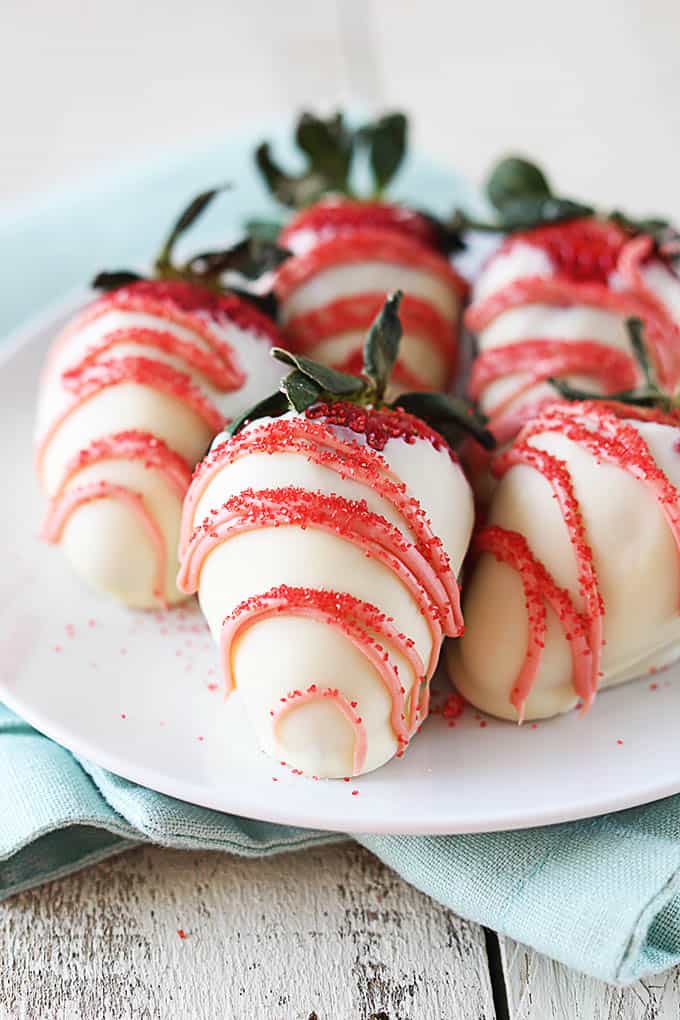 Have you ever purchased a chocolate dipped strawberry from an official chocolate shop?? They're pricey! Seven bucks a pop! That's pretty ridiculous because I am going to teach you how to make beautiful, delicious chocolate dipped strawberries yourself (and they'll cost you a fraction of the price you'd pay for ONE strawberry from a shop!).
White Chocolate Dipped Strawberries
Juicy red strawberries dipped in white chocolate! A decadent treat for yourself or that special someone!
Servings:
12
strawberries
Ingredients
1

pound

ripe strawberries

1

12-ounce bag

white chocolate chips

4

tablespoons

shortening

optional: sprinkles, food coloring
Instructions
Rinse strawberries with cold water, gently (but thoroughly) pat dry with paper towels, set aside. Line a small-medium baking sheet (something that will fit in your fridge) with aluminum foil.

In a microwave safe bowl (or double boiler) melt chocolate chips with shortening and stir until smooth. Carefully dip strawberries into melted chocolate, turning all the way around so that ll sides are coated with chocolate. Place on prepared baking sheet.

When all strawberries are dipped, place baking sheet in the fridge to cool. Add a few drops of food coloring (color of your choice!) into the melted chocolate (if it has begun to set up just put it back in the microwave on half heat for a few seconds and give it a stir) and stir until smooth and coloring is even. Remove strawberries from fridge. Carefully transfer colored chocolate into a zip lock bag, seal it and snip off just a tiny bit of one bottom corner. Drizzle colored chocolate onto strawberries in any design you like. Top with sprinkles. Return to fridge for about 10 minutes to set up. Store in airtight container in fridge up to 3 days.

Notes
Store in airtight container in fridge up to 5 days. 
Nutrition
Calories:
50
kcal
,
Carbohydrates:
3
g
,
Protein:
1
g
,
Fat:
4
g
,
Saturated Fat:
1
g
,
Trans Fat:
1
g
,
Cholesterol:
1
mg
,
Sodium:
1
mg
,
Potassium:
58
mg
,
Fiber:
1
g
,
Sugar:
2
g
,
Vitamin A:
5
IU
,
Vitamin C:
22
mg
,
Calcium:
6
mg
,
Iron:
1
mg