Thick and chewy pecan blondies served warm and topped with ice cream and rich cream sauce. Inspired by the famous Applebee's restaurant dessert.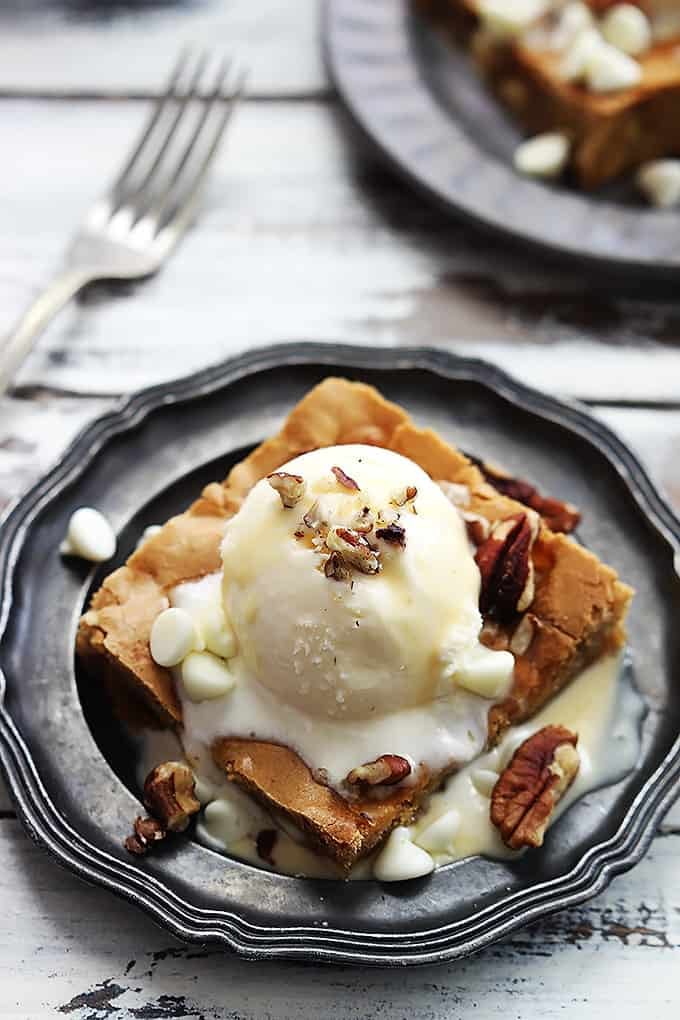 Sooooo Applebee's. Love it, hate it, never been? Personally, I really like Applebee's restaurant, they make a portobello chicken to die for and I've been known to order their massive appetizer sampler all for myself. I mean, it's my entire meal, not a precursor to a regular entree, I'm not that nuts. But my husband, meh, doesn't really love Applebee's. He thinks the service is sub-par.
As with any restaurant (or anything for that matter) you're gonna have lovers and haters, but I've never met anyone who didn't enjoy Applebee's blondie dessert.
Unless you don't like super-rich and totally delicious desserts. In that case we might need to re-think our friendship.
Just joshin'! You know I heart you.
I think Applebee's has changed the name a couple of times but the dessert is pretty much the same idea here, a thick and chewy warm blondie (has to be warm) topped with cold ice cream (cause warm ice cream, ewe) and then drizzled (or drowning) with rich rich rich maple cream sauce. That sauce. It's addicting. But did I mention it is rich?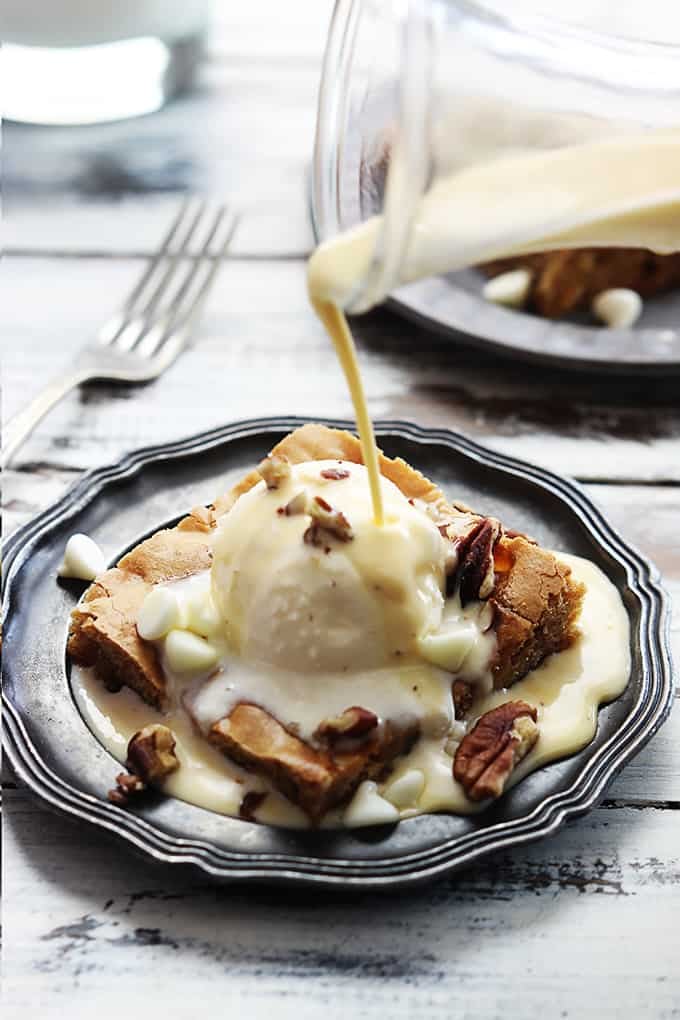 It's the cream cheese + maple syrup. Real maple syrup. Not the fake stuff you buy to pour on your pancakes – and don't get me wrong, I'm a big-time lover of fake maple syrup on my pancakes – but the real honest to goodness maple syrup. Sometimes it even says "real maple syrup" on the bottle. Just to make it really clear you know. Wouldn't want to have any fake-real mixups.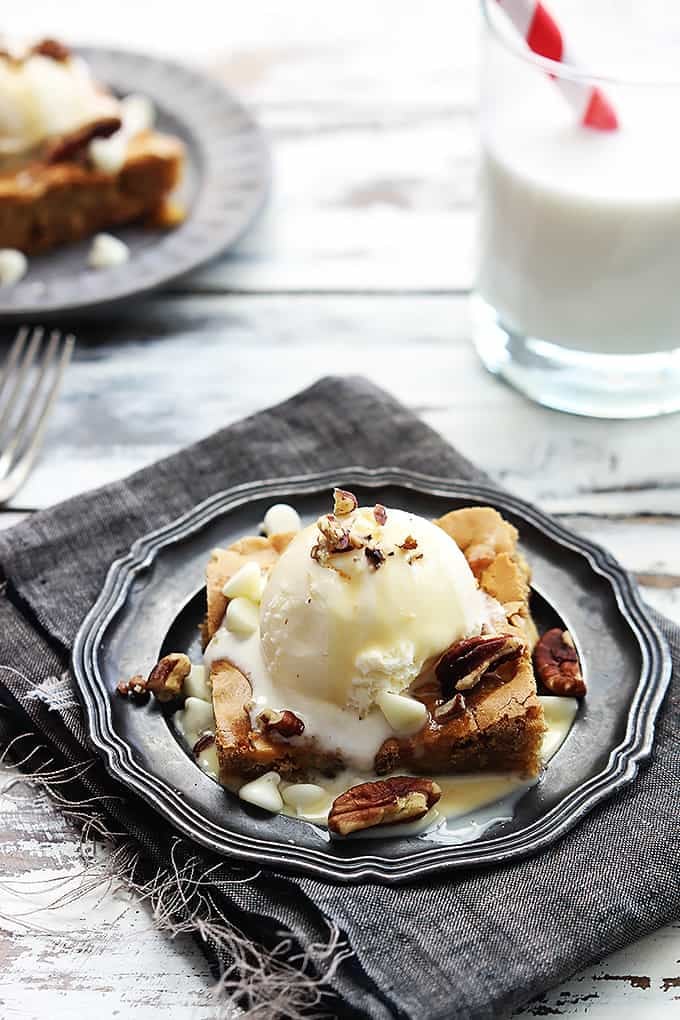 Whether or not you've tried Applebee's blondie dessert is not really an issue here. What is really important is that you make my maple nut blondie. The one you see in this picture. That thick, chewy, topped with ice cream and maple cream sauce blondie. Oh and the white chocolate chips are optional. Except, they're totally not. You want those chocolate chips in there. And if you're allergic to nuts (awww mannnn, I'm sorry) then skip them! You can still enjoy this dessert without the nuts.
But if you're not allergic, do not skip the nuts. Okay? Okay.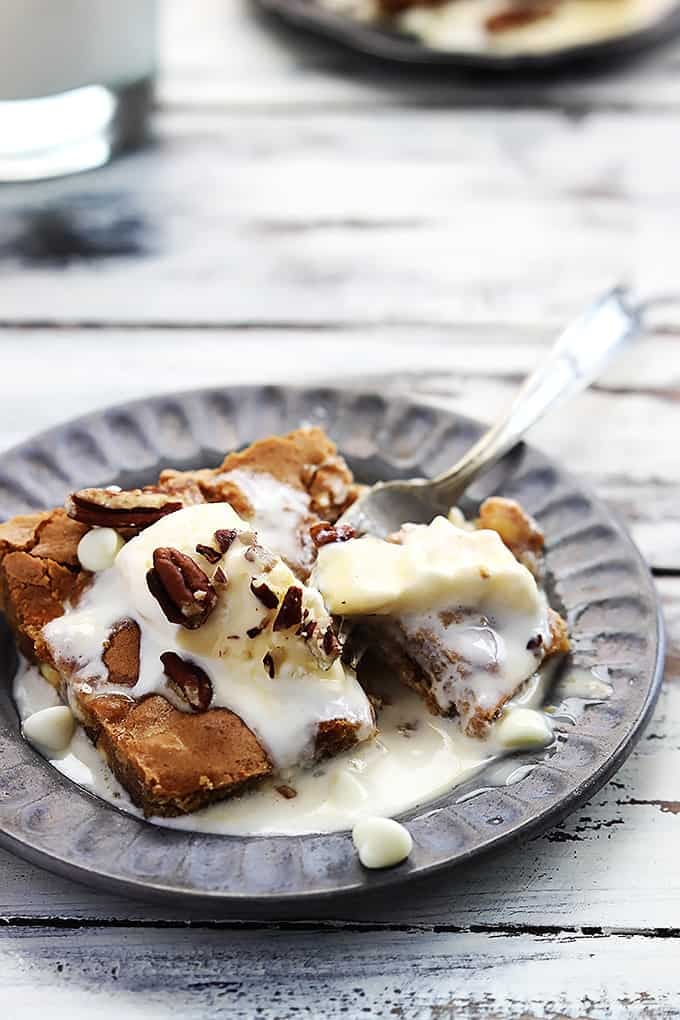 What people are saying about this Applebee's Maple Nut Blondie with Cream Sauce
"This recipe was really good. I just made this last night with a couple minor adjustments… The topping came out so smooth and creamy. This blondie came out so good it just might be our new favorite dessert in this house!" – Kayla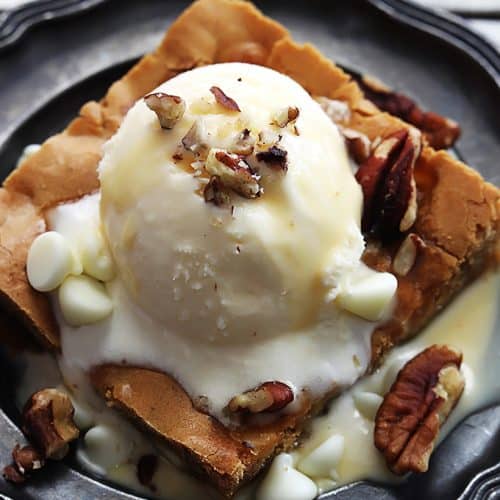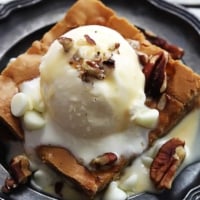 Applebee's Maple Nut Blondie with Cream Sauce
Thick and chewy blondies served warm and topped with ice cream and rich maple cream sauce. Inspired by the famous Applebee's restaurant dessert.
Ingredients
10

tablespoons

butter

-

melted

2

cups

brown sugar

2

teaspoons

vanilla

2

eggs

2

cups

flour

1

teaspoon

baking powder

¼

teaspoon

baking soda

½

teaspoon

salt

½

cup

chopped walnuts or pecans

1 ½

cups

white chocolate chips

ice cream (butter pecan or vanilla)
Maple Cream Sauce
⅓

cup

butter

1

cup

sugar

8

ounces

cream cheese

¼

cup

real maple syrup

2

tablespoons

brown sugar

½

cup

chopped walnuts

-

or pecans
Instructions
Preheat oven to 350 and grease an 8×8 inch baking dish. In a large bowl cream together melted butter and brown sugar. Add vanilla and eggs and mix well.

In a medium bowl whisk flour, baking powder, baking soda, and salt. Add dry ingredients to wet ingredients and mix until combined. Stir in nuts and chocolate chips. Spread into prepared dish and bake for 20-30 minutes until a toothpick inserted into the middle comes out mostly clean.

While the blondies are baking, prepare the sauce. Combine butter, sugar, cream cheese, maple syrup, and brown sugar in a medium sauce pan and stir over medium heat until cream cheese and sugars are melted. Simmer for 10-15 minutes until ready to serve. (If needed, thin out with a bit of milk or heavy cream)

Serve blondies warm and top with ice cream and cream sauce. Optional: sprinkle with chopped walnuts or pecans.
Notes
Store maple cream sauce in fridge up to five days. Reheat in microwave or over low heat on the stove. 
Nutrition
Calories:
688
kcal
,
Carbohydrates:
120
g
,
Protein:
8
g
,
Fat:
20
g
,
Saturated Fat:
12
g
,
Trans Fat:
1
g
,
Cholesterol:
73
mg
,
Sodium:
371
mg
,
Potassium:
289
mg
,
Fiber:
1
g
,
Sugar:
98
g
,
Vitamin A:
442
IU
,
Vitamin C:
1
mg
,
Calcium:
202
mg
,
Iron:
2
mg
Sauce from Food.com.