This Super Moist Cornbread recipe is the only way to go if you're a cornbread lover! Great with chili, roast chicken, turkey, pork, soups, stews, or even jams and jellies. Top it with honey or butter for an extra dose of YUM.
Cornbread doesn't have to be plain! Try these other great recipes featuring Cornbread as the star: Chili Cornbread Skillet Pie, Slow Cooker Honey Jalapeno Cornbread, and Honey and Roasted Poblano Corn Muffins.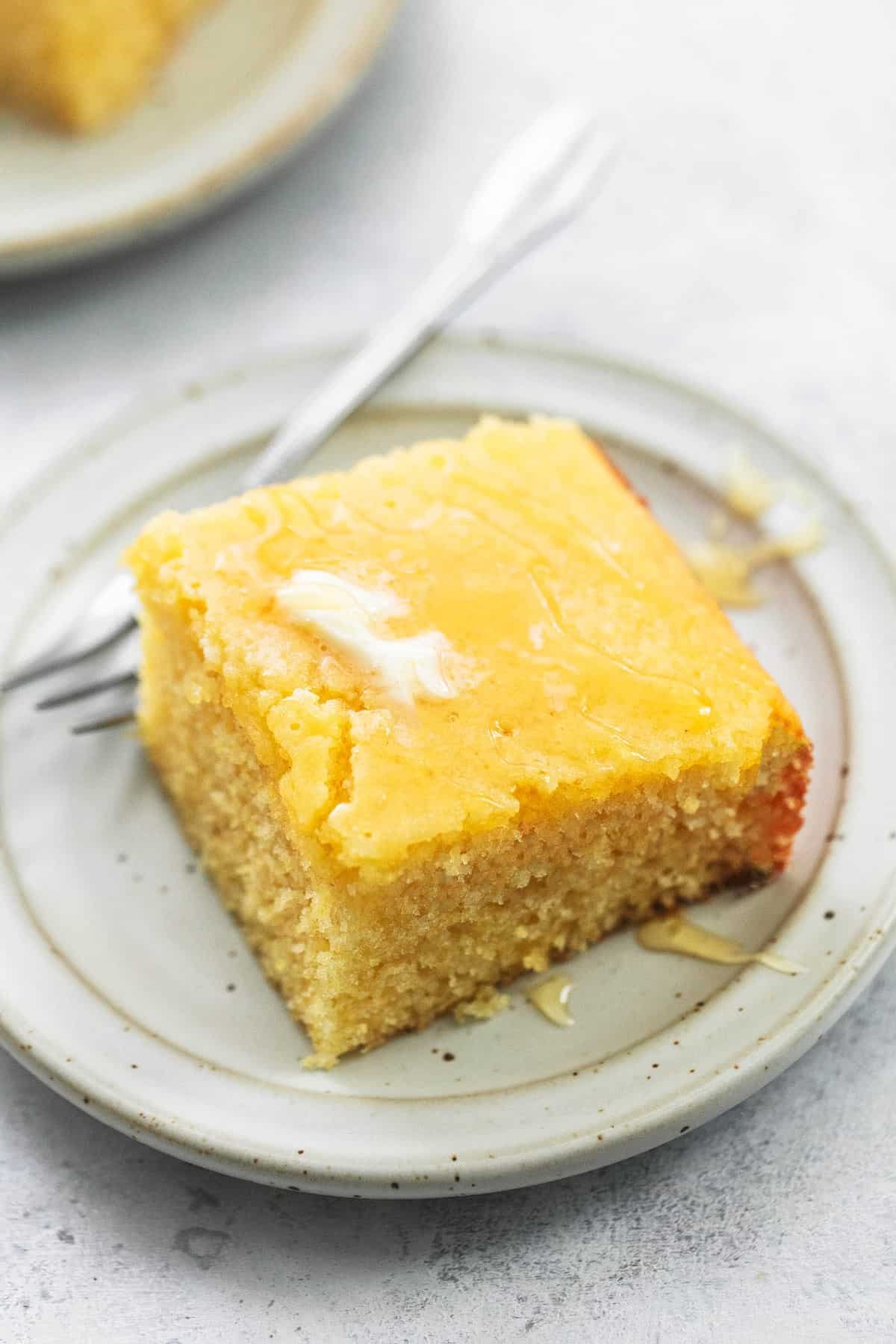 I know I talk a lot about using easy pantry staples for lots of my recipes but this time I'm going to ask you to skip the boxed cornbread. Go ahead and toss it right out! Well, actually don't throw it away. Donate it or give it to a friend or…okay even make it when you're really in a pinch. But honestly, once you make your own you'll never want to make the boxed kind again.
Why? Well, first of all, it's much easier than you're probably thinking, and second, it tastes much more moist when you make it yourself. (Say that three times fast.) The boxed kind really gets kind of dried out by only adding water or milk to the mix. When you make it from scratch, you get the option to add butter, eggs, AND oil to the rest of the ingredients. Then top a nice, warm, hunk of that with honey and/or more butter and I'm telling you, it makes for the finest, easiest cornbread you've probably ever tasted.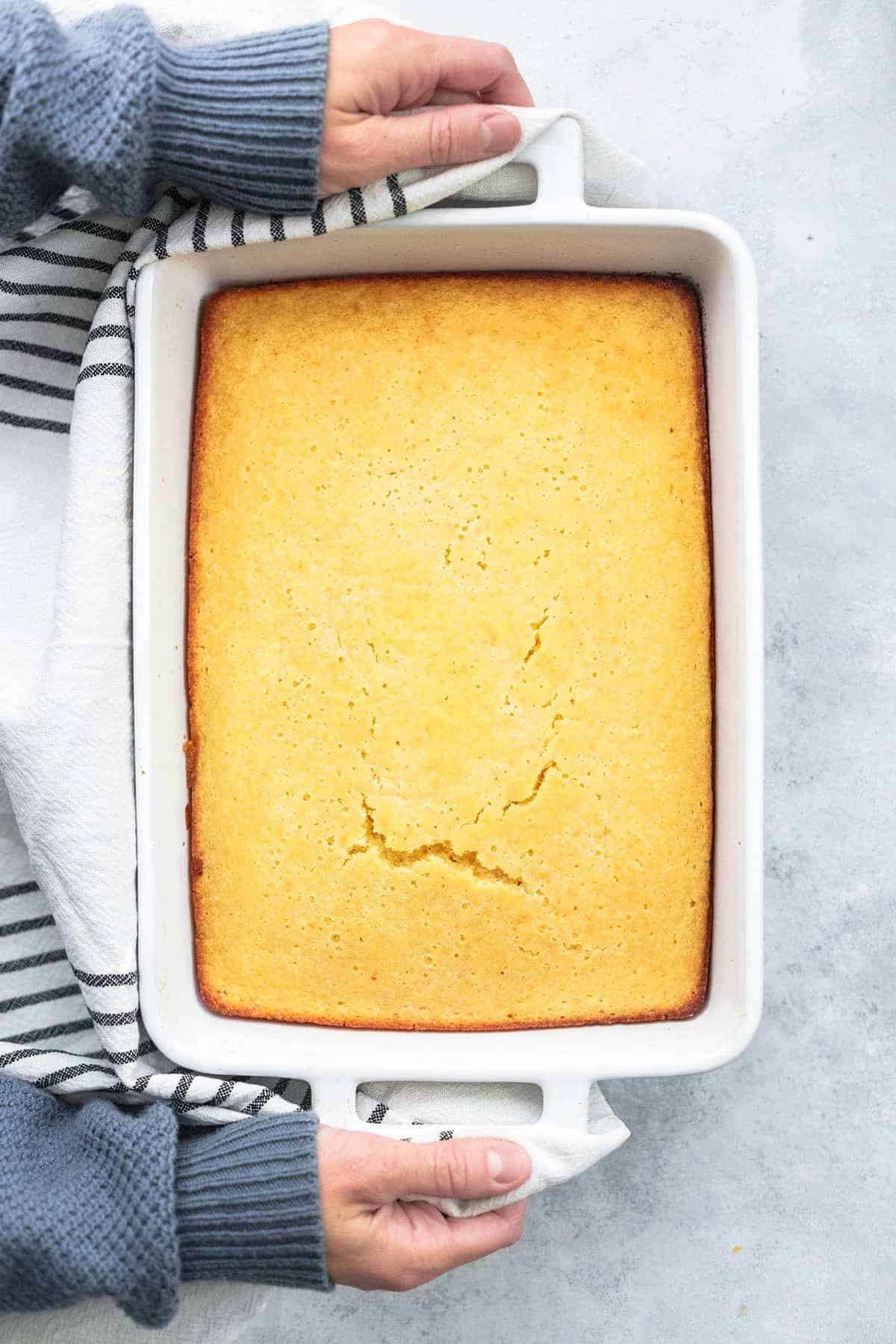 Why Does My Cornbread Crumble?
Cornbread is a bit crumbly by nature, and also has a bit of a crumbly texture too when you eat it. But, it shouldn't fall apart into a crumbly mess when you cut into it or try to pick it up.
If you're finding that happening, then there could be a couple of different reasons your cornbread recipe is crumbling:
The kind or amount of flour you're using. Try experimenting with less flour or a different brand to see if that helps with your cornbread consistency.

Too much cornmeal. If you use too much cornmeal, the glutens in the flour can't work to hold the bread together. Try cutting back on your cornmeal amount.

Too much fat. Are you using too much butter, thinking you'll be rewarded with even butterier cornmeal? Unfortunately, that has the opposite effect. Scale back on the butter (or shortening or oil) and use only what's recommended.

Eggs! If you've never made cornbread with eggs, now's a fine time to start. It adds great taste and texture and will help your cornbread stay together.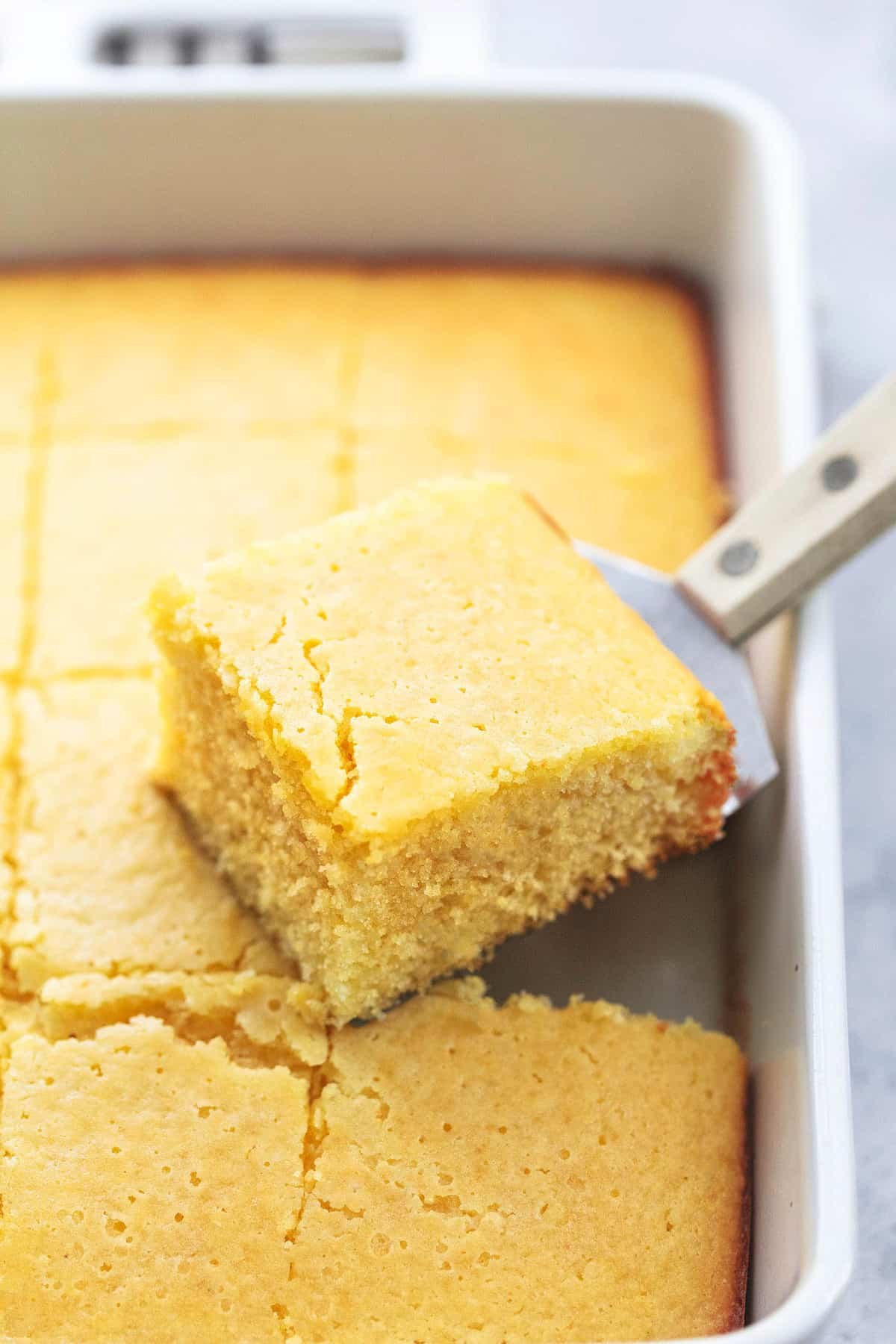 Good Add-ins for Cornbread
Want to add a little something, something to your traditional cornbread recipe? Try the following ideas!
Add half a cup of shredded cheddar cheese to the mix and stir it in before cooking.

Dice up a quarter cup of candied or pickled jalapeno slices and add those to the mix before cooking (bonus points for adding cheese AND jalapenos).

Jalapenos too hot for you? Try adding a can of green chilies or roasted red peppers.

You know what's good with cornbread? More corn! That's right, add in a cup of whole kernel corn (canned or frozen) for added corn taste and texture.

Do you love garlic? Me too! Add two finely diced or minced cloves of garlic to the cornbread mixture for a lovely garlicky flavor. Chives, rosemary, and thyme will also round out the garlic taste as well.

Bacon is great — on everything — but also on cornbread. Cook the bacon first, then crumble it into the batter or lay it on top before it cooks. Remember NOT to add it in raw.

Add a tablespoon of orange zest and chopped fresh or dried cranberries for a Thanksgiving-style batch of cornbread.
Can You Bake Cornbread in a Glass Dish?
Yes, you can bake your cornbread in a glass dish if you prefer. It will make your crust a little more golden brown all the way around though. Metal dishes work just as well too…I've even baked cornbread in a cast-iron skillet. Whatever you have that's oven-safe will work to bake cornbread.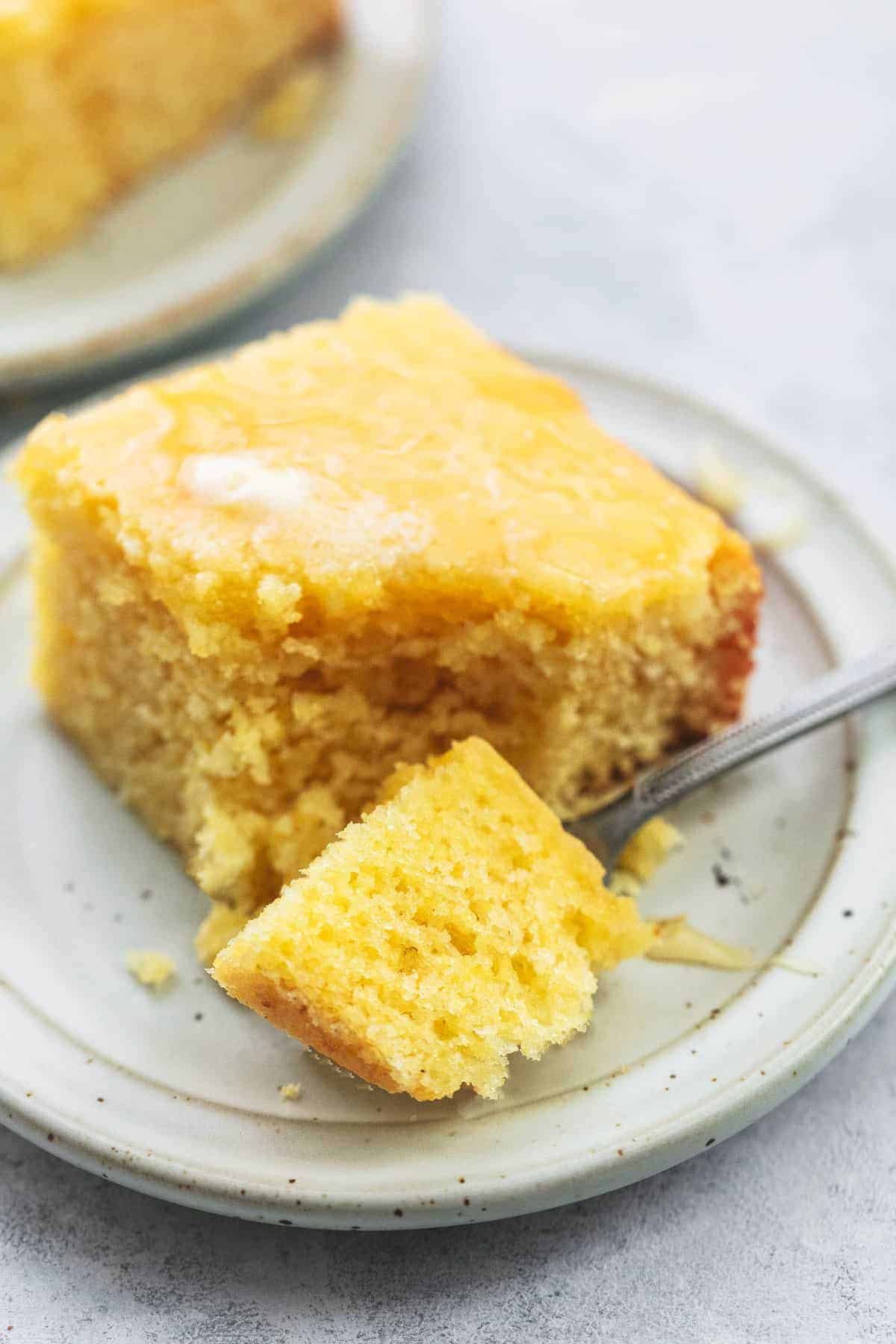 Amazing Side Dish Recipes
Did you make this BEST Super Moist Cornbread recipe? YAY! Please rate the recipe below!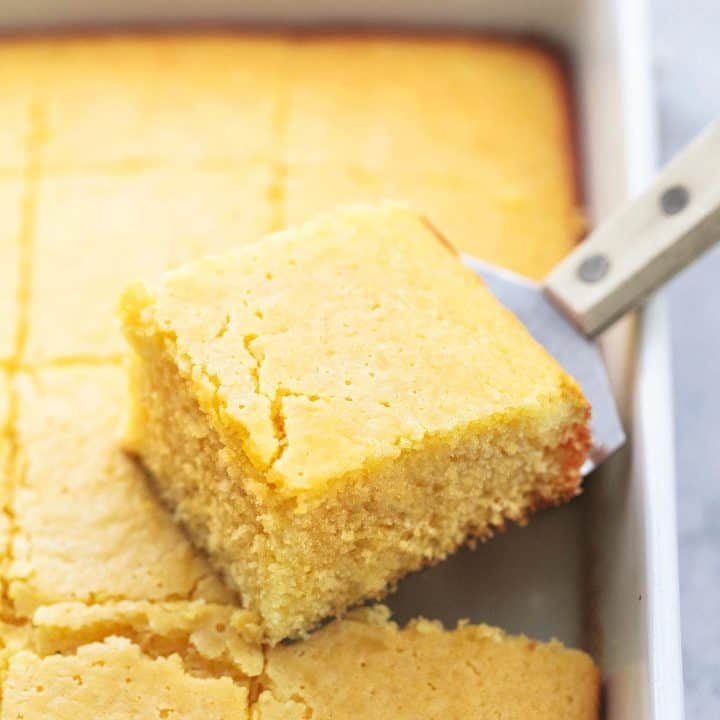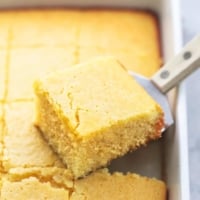 BEST Super Moist Cornbread
This Super Moist Cornbread recipe is the only way to go if you're a cornbread lover! Great with chili, roast chicken, turkey, pork, soups, stews, or even jams and jellies. Top it with honey or butter for an extra dose of YUM. 
Ingredients
2

cups

flour

1

cup

cornmeal

1

cup

sugar

1 ½

tablespoons

baking powder

1

teaspoon

salt

½

cup

(8 tablespoons) butter

-

melted

½

cup

oil

1 ¼

cups

milk

3

large eggs

honey and extra butter for serving

-

optional
Instructions
Preheat oven to 350 degrees and grease a 9×13 inch pan.

In a large bowl whisk together flour, cornmeal, sugar, baking powder, and salt.

In a medium bowl mix together butter, oil, milk, and eggs.

Add wet ingredients to dry ingredients and mix until combined.

Transfer batter to your prepared pan. Bake for 35-45 minutes until golden and a toothpick inserted in the middle comes out clean or with only a few crumbs (no wet batter).

Allow to cool for 15-20 minutes in the pan before cutting into squares and serving. Serve with butter and honey if desired. Store in airtight container at room temperature up to 3 days or in the fridge for 1 week.
Notes
This recipe can also be split between two 9×13 inch pans to feed a crowd! 
Nutrition
Calories:
280
kcal
,
Carbohydrates:
33
g
,
Protein:
4
g
,
Fat:
15
g
,
Saturated Fat:
2
g
,
Trans Fat:
1
g
,
Cholesterol:
33
mg
,
Sodium:
352
mg
,
Potassium:
89
mg
,
Fiber:
1
g
,
Sugar:
14
g
,
Vitamin A:
329
IU
,
Vitamin C:
1
mg
,
Calcium:
98
mg
,
Iron:
1
mg