Creamy, rich Slow Cooker Salted Caramel Hot Chocolate made easy right in the crock pot!
I have a hot chocolate problem. And by problem, I mean that I drink a lot of hot chocolate, often at inappropriate times. I'm working on it but, there's a good chance that I'll never fully recover from being a hot-choco-holic.
We can still be friends right? I mean, odds are that at least a few of you are closet hot-choco-holics too and we really need to stick together. For recovery purposes. We need a support system.
A couple of years ago my husband (a seasoned cruise veteran) took me on my first-ever cruise experience. I had hot chocolate every. single. day. Doesn't sound that weird right? Except that this wasn't an Alaskan cruise or a trans-atlantic cruise in January. This was a Caribbean cruise in October.
Now you see what I mean by drinking hot chocolate at inappropriate times? It's only half my fault though. The ship offered it! And it's all-inclusive so I pretty much paid for hot chocolate, I might as well actually enjoy it if I paid for it.
Plus you know that I also have an ice cream problem and the ship was serving hot chocolate about 17.3 feet away from the soft serve ice cream machine. GENIUS! I have my nightly gallon of ice cream, get all chilly, then hop on over and grab a cup of steaming hot chocolate to warm back up. But then it's a bit toasty so I head back over to the soft serve machine….
You see where this is going.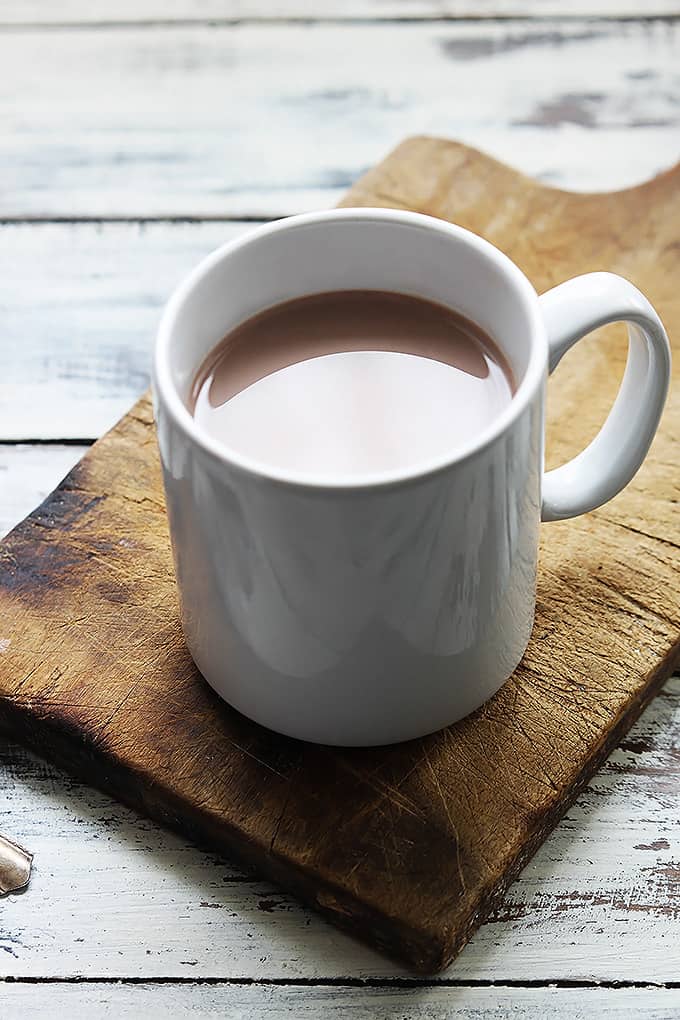 It's been uncharacteristically warm around here lately, usually we have a foot of snow on the ground by now but we've only had one snow storm come through and the grass is as green as ever. Yesterday and today thought have cooled off quite a bit and I've pulled the space heater out of the closet.
You know what that means: hot chocolate time. (If you could only see the smile on my face right now…)
Have you tried making real hot chocolate in your slow cooker?? "Real" meaning made from actual chocolate instead of powder. Don't get me wrong, I use powdered hot cocoa like it's going out of style. But if you haven't tried making real-from-actual-chocolate hot chocolate, you need to. Use your crock pot for no-fuss amazing hot chocolate. You just dump everything in there, let it do its cooking thing, and come back a couple of hours later for the best salted caramel hot chocolate of your life. Not into salted caramel? No worries, you can leave out the salt and enjoy creamy plain-caramel hot chocolate. Bonus: serve it straight from the slow cooker to keep it nice and hotttt.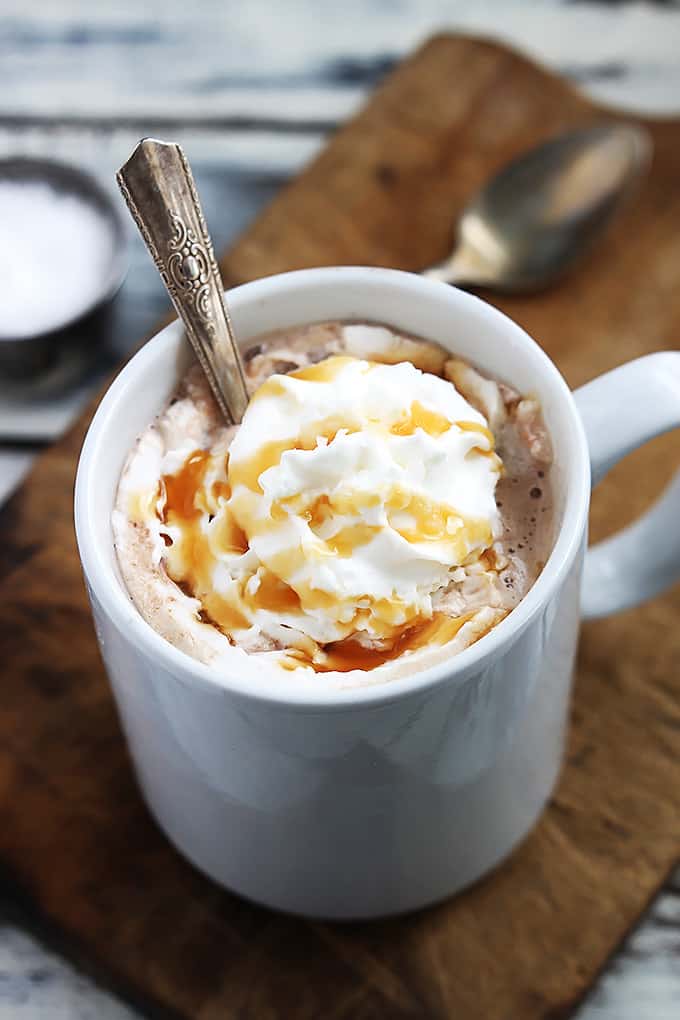 Slow Cooker Salted Caramel Hot Chocolate
Creamy, rich salted caramel hot chocolate made right in the crock pot!
Ingredients
2

cups

semi sweet OR milk chocolate chips

-

see note

½

cup

caramels

-

unwrapped

4

cups

milk

2

cups

heavy cream

1

teaspoon

vanilla

½

teaspoon

fine sea salt

-

(for regular non-salted caramel hot chocolate, leave this out)

optional: whipping cream, caramel sauce

-

(like caramel ice cream topping)
Instructions
Add chocolate chips, caramels, milk, heavy cream, and vanilla to the slow cooker. Cover and cook on low for 2 hours.

Stir the hot chocolate. If the chocolate chips or caramels are not completely melted, cover and allow to cook for 20-30 minutes longer. When ready to serve, stir in the sea salt. Serve hot with whipped cream and additional caramel sauce if desired.
Notes
Chocolate: milk chocolate chips will yield a much richer flavor – I like to use a combination of both!
Nutrition
Calories:
338
kcal
,
Carbohydrates:
19
g
,
Protein:
6
g
,
Fat:
27
g
,
Saturated Fat:
16
g
,
Cholesterol:
95
mg
,
Sodium:
257
mg
,
Potassium:
238
mg
,
Sugar:
16
g
,
Vitamin A:
1079
IU
,
Vitamin C:
1
mg
,
Calcium:
197
mg
,
Iron:
1
mg