Easy Homemade Garlic Parmesan Knots are the perfect complement to any pasta meal, soups, as an appetizer, or any time you want a simple, yummy, garlic bread option any night of the week.
If you love homemade bread, then you'll also want to make my Cheesy Garlic Bread, my Slow Cooker Honey Jalapeno Cornbread, or my Easy Focaccia Bread.
The first time I made these, I made zero effort to hide my delight in eating them. I mean zero. I pretty much tore into them with abandon, garlic and butter covering my fingers and dripping down my chin.
I'm sure I ate more than my fair share of them too — way more. I. Could. Not. Help. Myself. I always set out with the thought that I can exercise some self control and eat just one, daintily, one little bite at a time, setting it down between bites, etc. Ha, ha, ha, that was a big fat lie to myself. I ate one in about two bites. I watched as my husband ate his too quickly too while watching me out of the corner of his eye the whole time. I'm not sure if he was enjoying them as much as I was or if he was just afraid I was going to rip his out of his hands if he didn't eat it ASAP. Probably some of both.
Now, if you're one to stay away from bread making because you think it's too time consuming or tedious, this recipe will break you of those notions. The ingredients take only about 30 minutes to pull together and you'll need another 12 minutes of cooking, in which time you can get some extra steps in and make up for all the bread sins you're about to commit.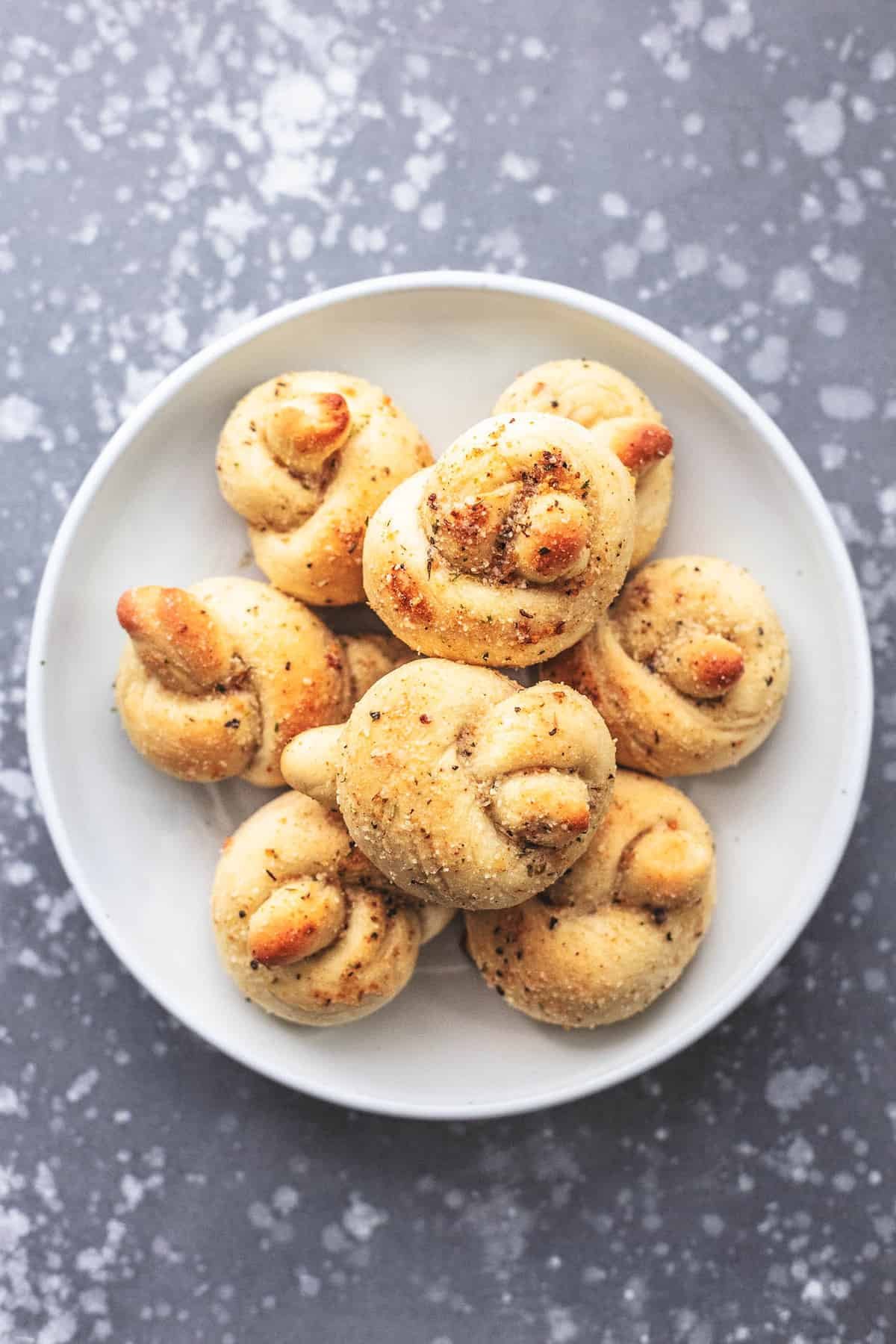 HOW DO YOU MAKE GARLIC PARMESAN KNOTS?
All righty, let's get down to it, shall we?
First, preheat the oven to 400 degrees, you're going to want it nice and hot to bake those knots in a jiffy.
Next, add warm water, yeast, and honey to the bowl of a stand mixer. Use the dough hook attachment. Stir the mixture together with the hook until the honey dissolves. If you don't have one, stir the three ingredients together until the honey dissolves.
Let the yeast mixture rest for 5 minutes until it rises and starts to foam up. After that occurs, you can add in the flour and salt, mixing on low. When it starts to come together you can switch the setting to high and watch the dough start to look more like bread dough — becoming smooth and elastic.
Cover your hands in flour and grab the dough from the bowl, shaping into a large ball. Cover the ball with a towel and let it rest for 10 minutes on the countertop. Once it's rested, you can cut the dough into four equal sections. Take each section and cut that in half, then in half again, rolling each piece into a log and then tying each log into a knot. Add them one at a time to a prepared baking sheet until you've got everything cut and knotted.
In another bowl, mix together butter, garlic, Italian seasoning, and cheese. Brush this mixture onto the top of each knot, making sure it's good and coated with butter and seasonings.
Finally, pop the knots into the oven for 8-12 minutes or until they are golden brown. Take them out of the oven and let them rest for a couple minutes before you dive in and burn your mouth.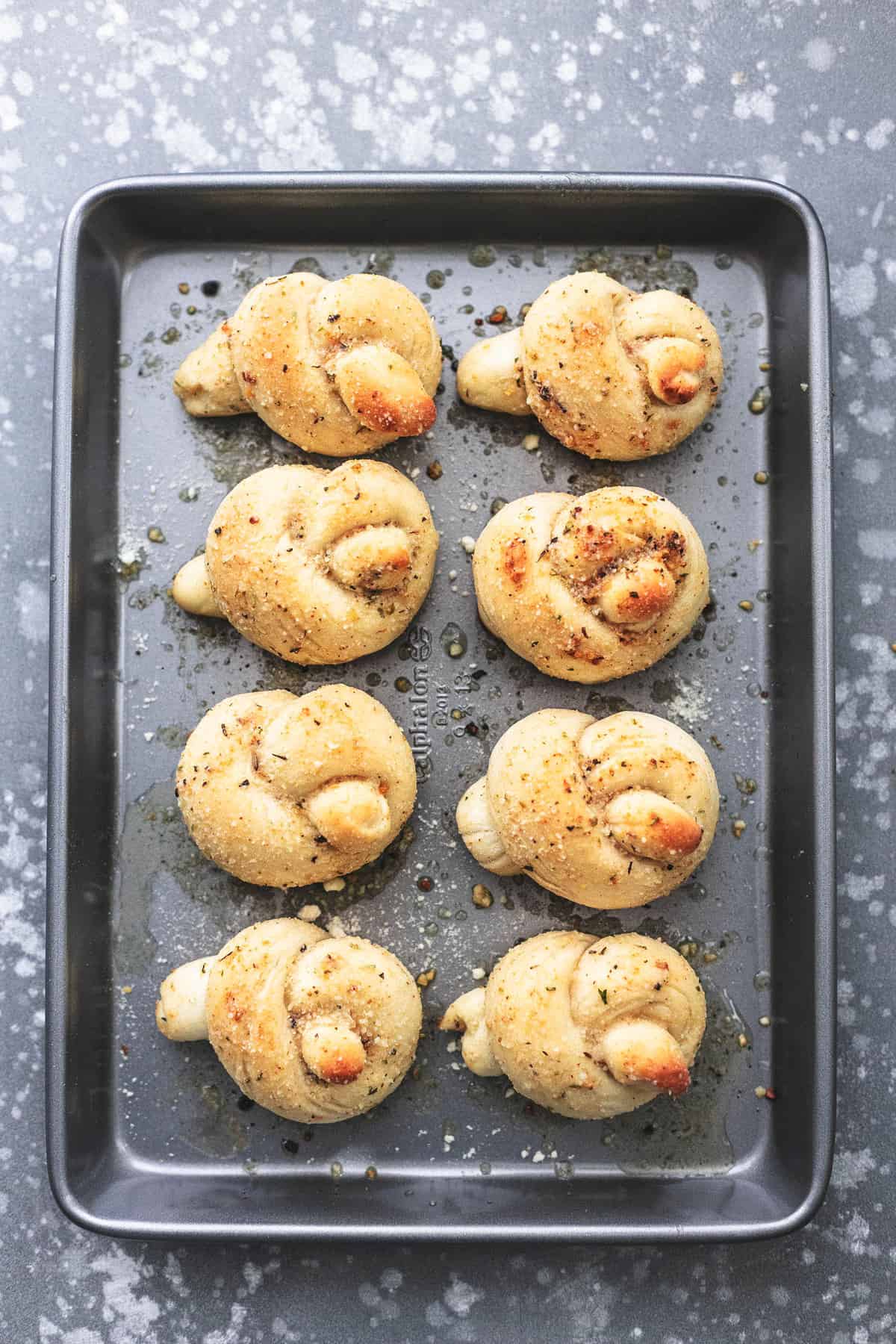 HOW DO YOU STORE GARLIC KNOTS?
If you manage not to eat them all, you can store these in an airtight container on the counter or in your fridge for 1-2 days. If you'd like to freeze them, you should wrap each knot in plastic wrap before putting all together and freezing. Take them out as you'd like to eat them and thaw before warming up. Be sure to remove the plastic wrap before microwaving or heating them up in the oven.
WHAT ARE GOOD SAUCES FOR DIPPING?
If you, like me, want to eat this kind of garlic bread all the time, except you'd like to dip them into yummy sauces, then listen up. There are plenty of good ones out there.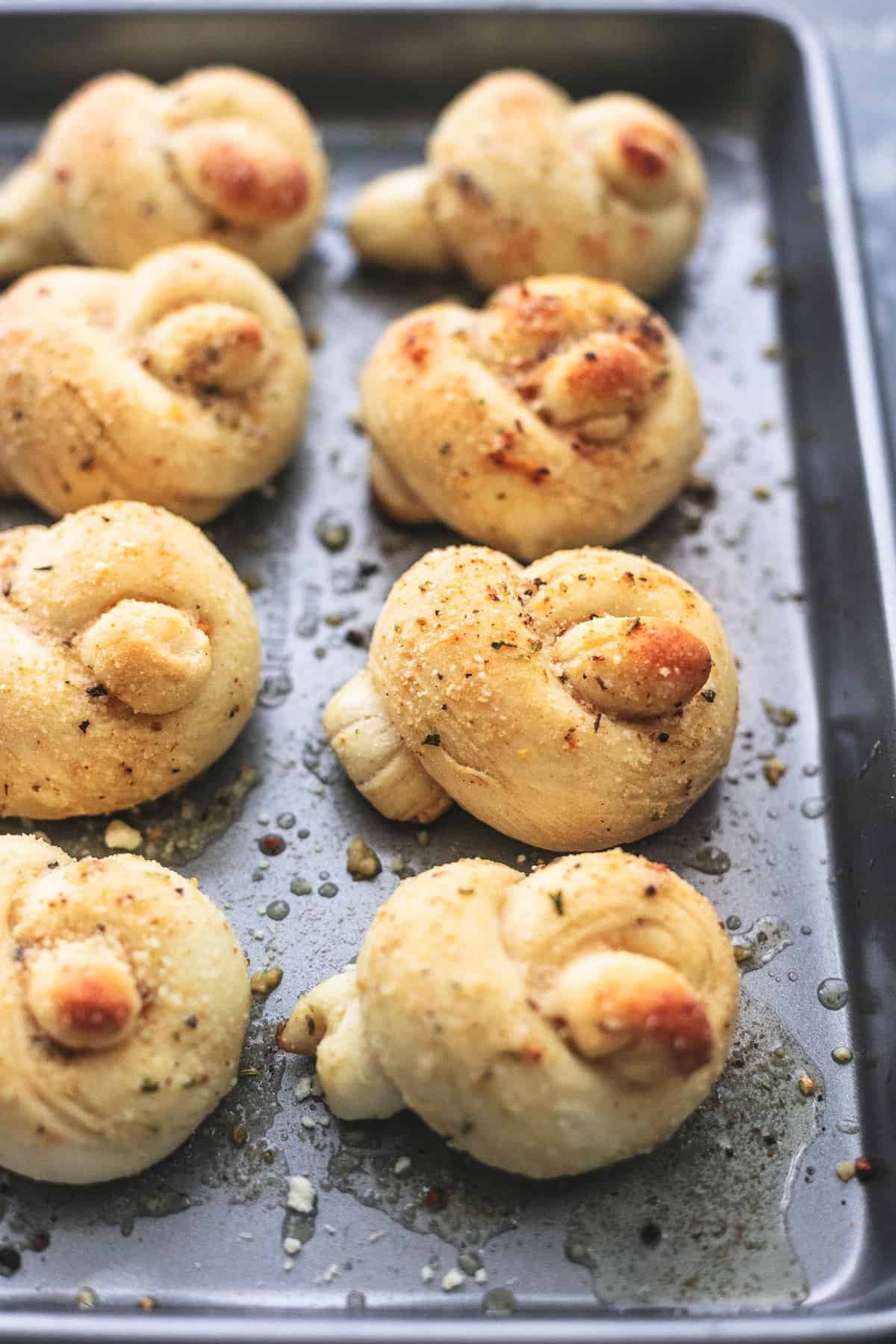 WHAT EXACTLY IS YEAST?
Yeast is a fungus. Yep, delicious, right? The kind of yeast used in baking is called Saccharomyces cerevisiae (say that three times fast). This is also the same yeast used in beer making. Yeast eats sugar to grow (hence the honey in the water and yeast mixture). When they eat, they make alcohol and carbon dioxide from sugar, which is what they give off and makes bread rise.
Without yeast, bread wouldn't rise, so I'm actually quite thankful for this helpful kind of fungus.
Easy Homemade Garlic Parmesan Knots
Ingredients
1 1/3

cups

very warm water

1

tablespoon

active dry yeast

2

tablespoons

honey

3 1/2

cups

flour

1

teaspoon

salt

4

tablespoons

butter, melted

1

teaspoon

garlic powder

1

teaspoon

minced garlic

1

teaspoon

Italian seasoning or Herbs de Provence

2

tablespoons

grated parmesan cheese
Instructions
Preheat oven to 400 degrees and grease a baking sheet.

Add warm water, yeast, and honey to the bowl of a stand mixer fitted with a dough hook attachment. Stir just until honey dissolves. Allow to rest for 5 minutes - yeast will rise and foam.

Add flour and salt to the bowl and mix on low until mixture comes together. Switch to medium speed for 2-3 minutes until dough is smooth and elastic.

With flour-dusted hands remove dough from the bowl and shape into a large ball. Cover with a towel and let rest for 10 minutes.

Cut the dough in half, then cut in halves again so that you have four sections of dough.

Take one section of the dough and cut it in half, then in halves again. Roll each piece into log, about 8 inches long. Tie the dough into a knot, then place on prepared baking sheet. Repeat with remaining dough.

Stir together butter, garlic powder, garlic, Italian seasoning, and parmesan. Brush onto the knots being sure all the dough surface has been brushed with a bit of butter so it doesn't dry out while baking.

Bake for 8-12 minutes until golden. Allow to cool slightly before serving. See notes for storing.
Notes
FREEZING: To freeze these, wrap individually in plastic wrap, then place in a gallon ziploc bag, pressing out most of the air, and put in the freezer. To reheat, unwrap and microwave individually, or wrap several loosely in foil and bake for 5-10 minutes until warmed through.