German Pancakes are a lighter and fluffier version of their American counterpart. The ingredients blend together easily and the whole thing bakes in one pan for easy serving and cleanup. Top with cinnamon and sugar, powdered sugar, fruit, or syrup for a delicious breakfast.

Are you feeling like you want all the pancake recipes, all the time? Me too! Try these other recipes to mix up your pancake production: Berry Cottage Cheese Pancakes, Easy Oatmeal Pancakes, or these Banana Bread Pancakes.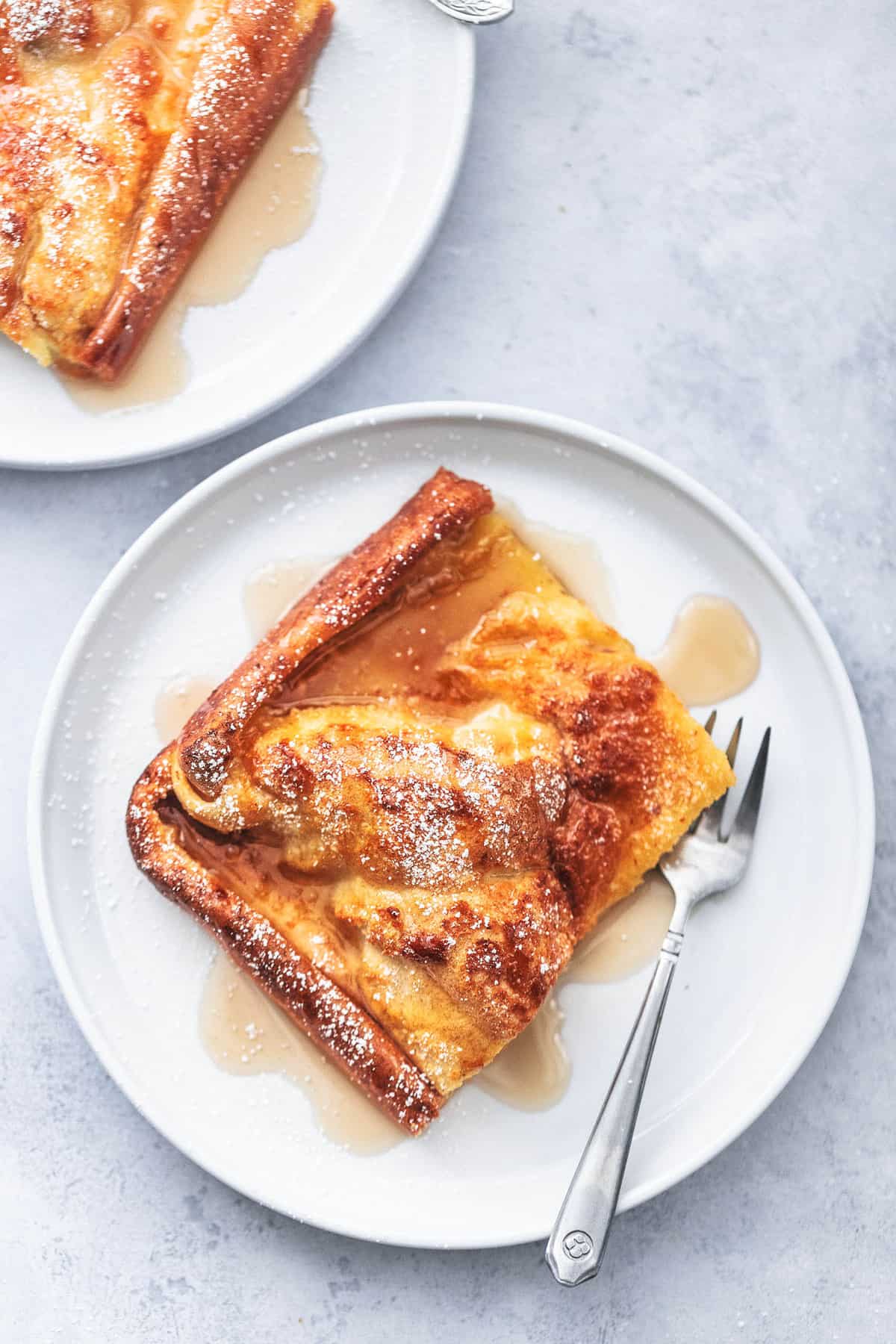 You know those recipes your mom or grandma clipped out of magazines or the newspaper and put on an index card or slipped it into a binder or recipe box? You'll see them make an appearance now and then, and you'll recognize the dish and get oh-so-excited. And this was before home copiers (well, the mechanical kind) and scanners and the internet where you could just go back and look for a recipe over and over again if you didn't have a hard copy, so it was a precious piece of paper for sure.
This recipe for German Pancakes is one such recipe. My mom had clipped it out of a newspaper at some point, only it was called "Churchtown Inn's Oven Puff Pancake." I'm not really sure where Churchtown Inn is and I don't think I ever thought to ask when I was growing up either. Maybe that's because growing up we simply referred to this recipe as "puffy oven pancakes."
It turns out that we weren't far off in our own naming of these delightfully fluffy pancakes. They are also called German pancakes, Hootenanny, and Dutch Baby pancakes. My kids now have their own word for them: "patty cakes." I happen to think this is the most adorable iteration but I wasn't sure if it would go over so well as a headline for this recipe.
While the original recipe clipping calls for more flour and milk, I like to scale it back to make it lighter and airier. I do like the original addition of cinnamon as a topping though, because, when mixed with sugar, you get a lovely French toast flavor. (Love French toast? Try my Best Easy French Toast Recipe!)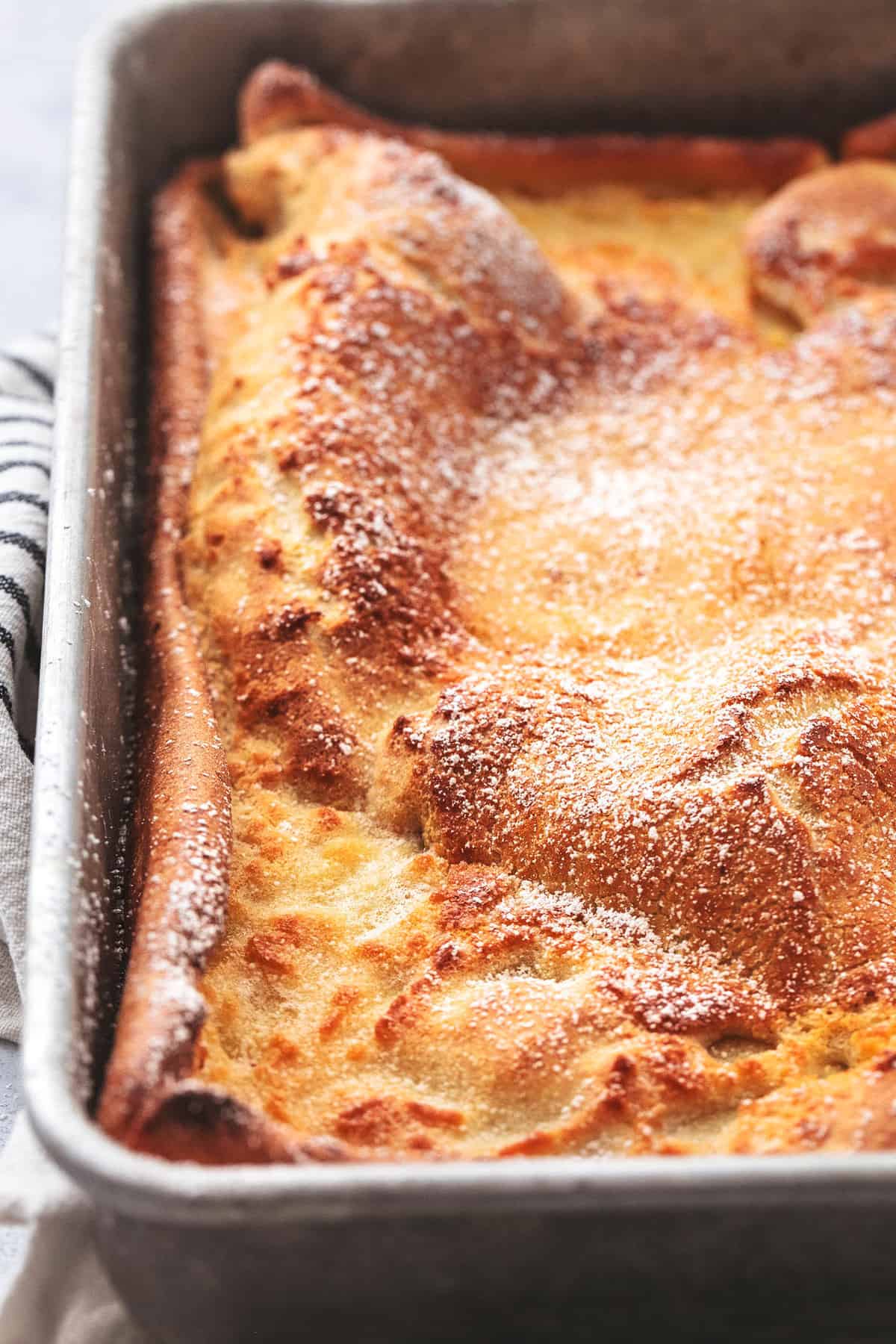 HOW TO MAKE GERMAN PANCAKES

The first step is always to preheat your oven so it's good and ready to go when you are. Turn your oven on to 425 degrees. Put the butter in your baking dish or pan and then put the whole thing in the oven so that the butter can melt while the oven preheats.
Next, get out your blender. If you don't have a blender, you can use another appliance like a hand beater or immersion blender or even a food Ninja-type device. Otherwise, just whisk all your ingredients together as best you can until they are good and combined.
When the oven is at temperature, pull the baking dish or pan out (the butter should be melted) and pour your batter right into the center of the pan on top of the butter. (The butter will disperse under the batter, greasing your pan on the bottom and sides for a perfect, non-stick coating.)

Slowly and without too much jiggling of the pan, put it back into the oven and let it bake for about 20-25 minutes or until the German puff pancakes are puffy and the edges are golden brown.
For serving, cut these easy German pancakes into square or rectangular sections and serve. I like to top with a cinnamon and sugar mixture, but syrup, powdered sugar, fruit, and whipped cream all taste wonderful on top of this light, fluffy pancake recipe.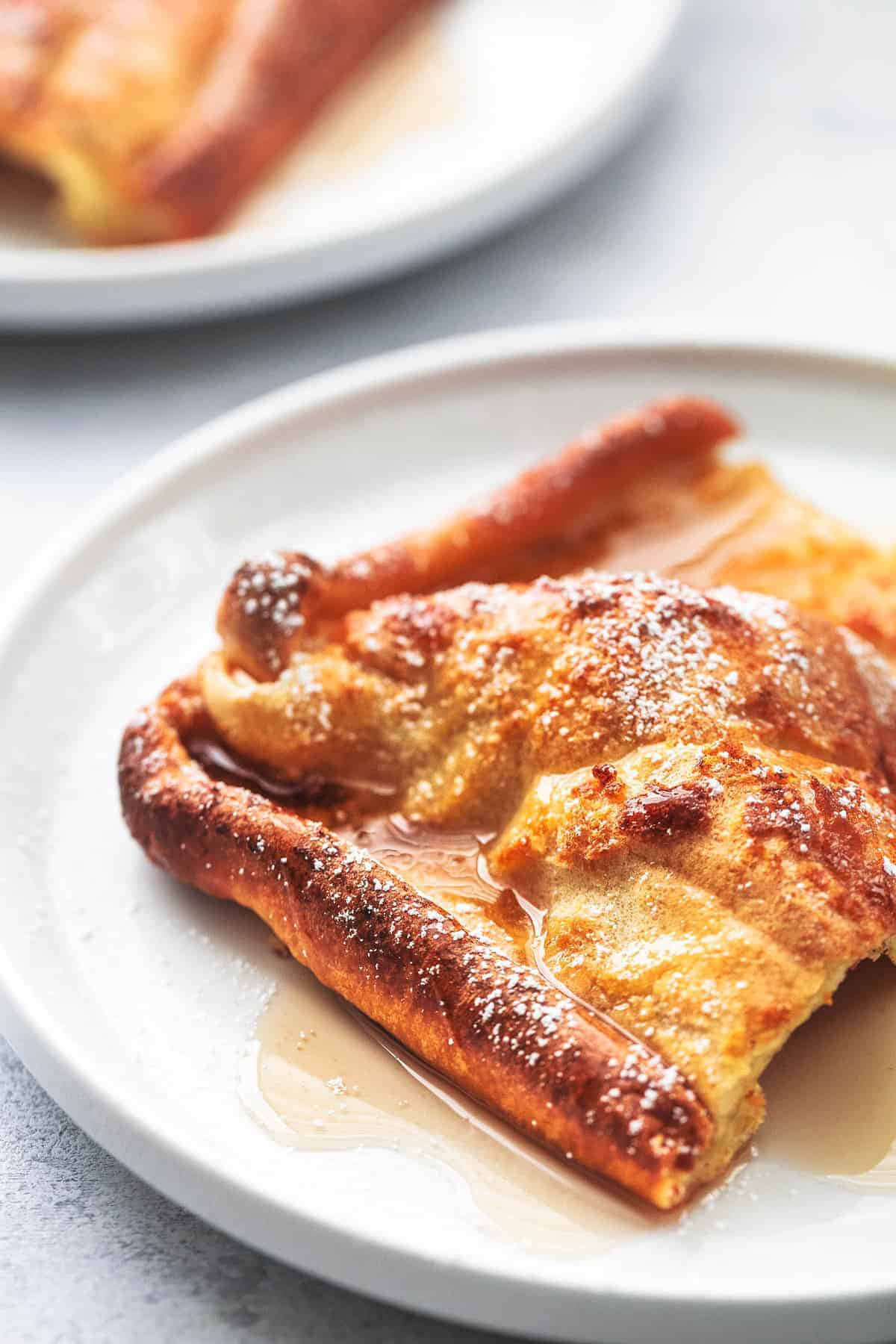 ARE GERMAN PANCAKES REALLY GERMAN?

Like most recipes with interesting (and varied) names, this one's origins do correlate with its moniker. These Dutch baby pancakes as they are called about as often as a German Pancake, is actually just a large, sweet popover that is typically served for breakfast.

For some reason we may never know, history traces the origins of the German Pancake to a restaurant in Seattle in the early 1900s. While the recipe is taken from the original German Pancake recipe, for some reason that got lost in translation (or was translated incorrectly) and somehow they settled on the name "Dutch."

No matter what you choose to call this dish (I'm still partial to "patty cakes"), I'm sure you and your family will all call them delicious!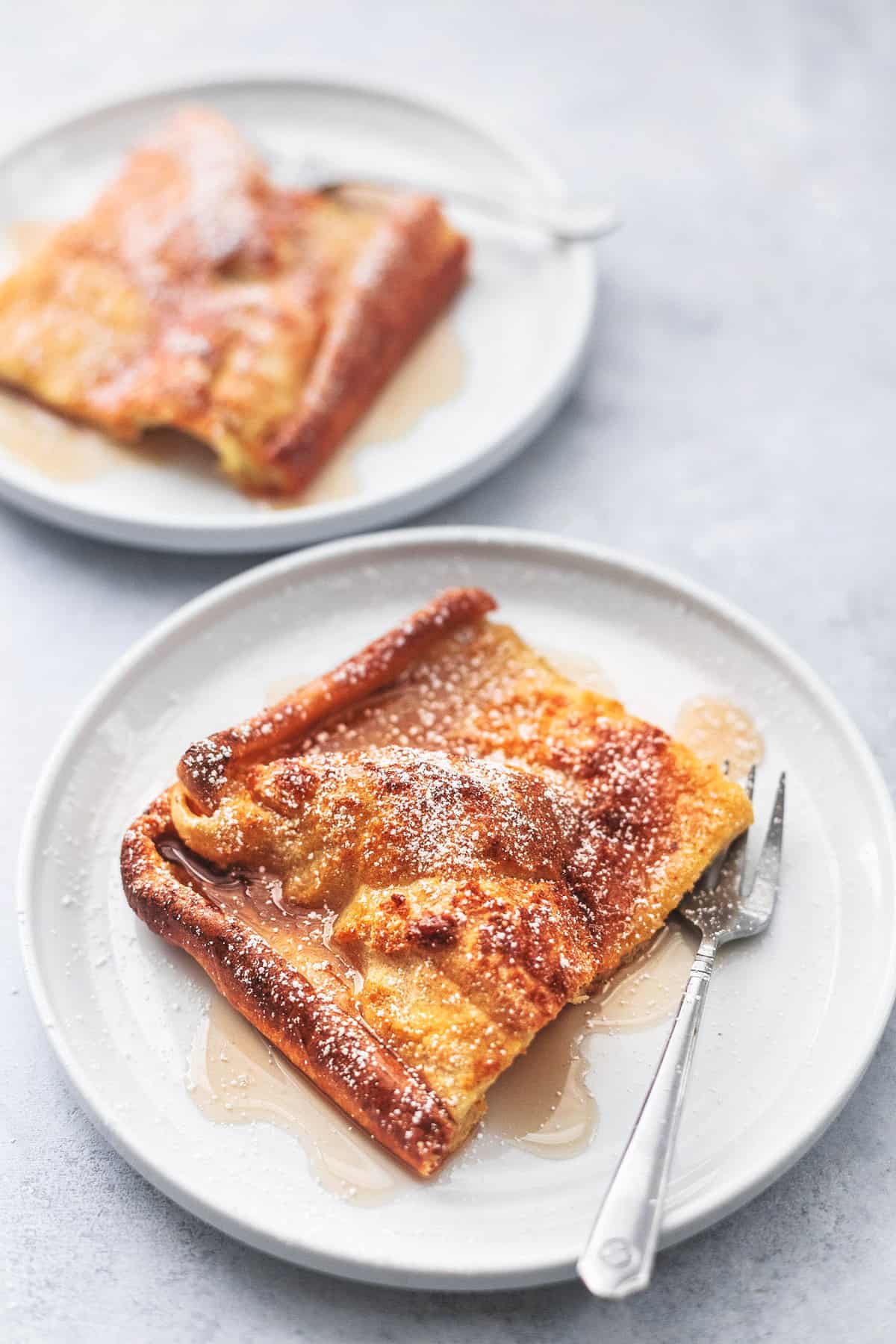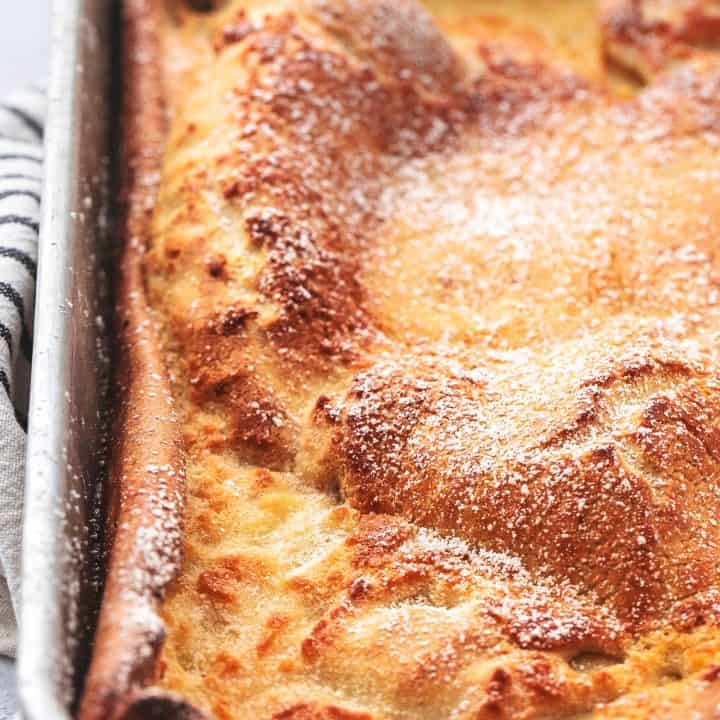 German Pancakes Recipe
German Pancakes are a lighter and fluffier version of their American counterpart. Mix the batter in a blender for easy prep and cleanup!
Ingredients
6

tablespoons

butter

-

cut into 1/2-inch pieces

1

cup

milk

1

cup

flour

6

large eggs

1

tablespoon

sugar

1

teaspoon

vanilla

¼

teaspoon

salt

syrup and powdered sugar, or fruit, for serving
Instructions
Preheat oven to 425 degrees. Place butter in a 9×13 inch pan and place in oven to melt while the oven is preheating.

In a blender, combine milk, flour, eggs, sugar, vanilla, and salt. Pulse until smooth.

Once butter is melted, pour batter directly into the center of the pan on top of the butter.

Carefully transfer pan back to the oven. Bake for 20-25 minutes until puffy and edges are golden brown.

Cut into sections and top with syrup and powdered sugar (or other toppings like fruit, whipped cream, or cinnamon-sugar) and serve.
Notes
Put a twist on this by serving your pancakes topped with fresh peaches and whipped cream! 
Nutrition
Calories:
274
kcal
,
Carbohydrates:
20
g
,
Protein:
9
g
,
Fat:
17
g
,
Saturated Fat:
5
g
,
Trans Fat:
1
g
,
Cholesterol:
168
mg
,
Sodium:
309
mg
,
Potassium:
144
mg
,
Fiber:
1
g
,
Sugar:
4
g
,
Vitamin A:
804
IU
,
Vitamin C:
1
mg
,
Calcium:
78
mg
,
Iron:
2
mg