This tasty, easy Sheet Pan Balsamic Chicken with Potatoes and Carrots will have your entire family begging for more. As far as one pan meals goes, this is the epitome of ease, flavor, and versatility!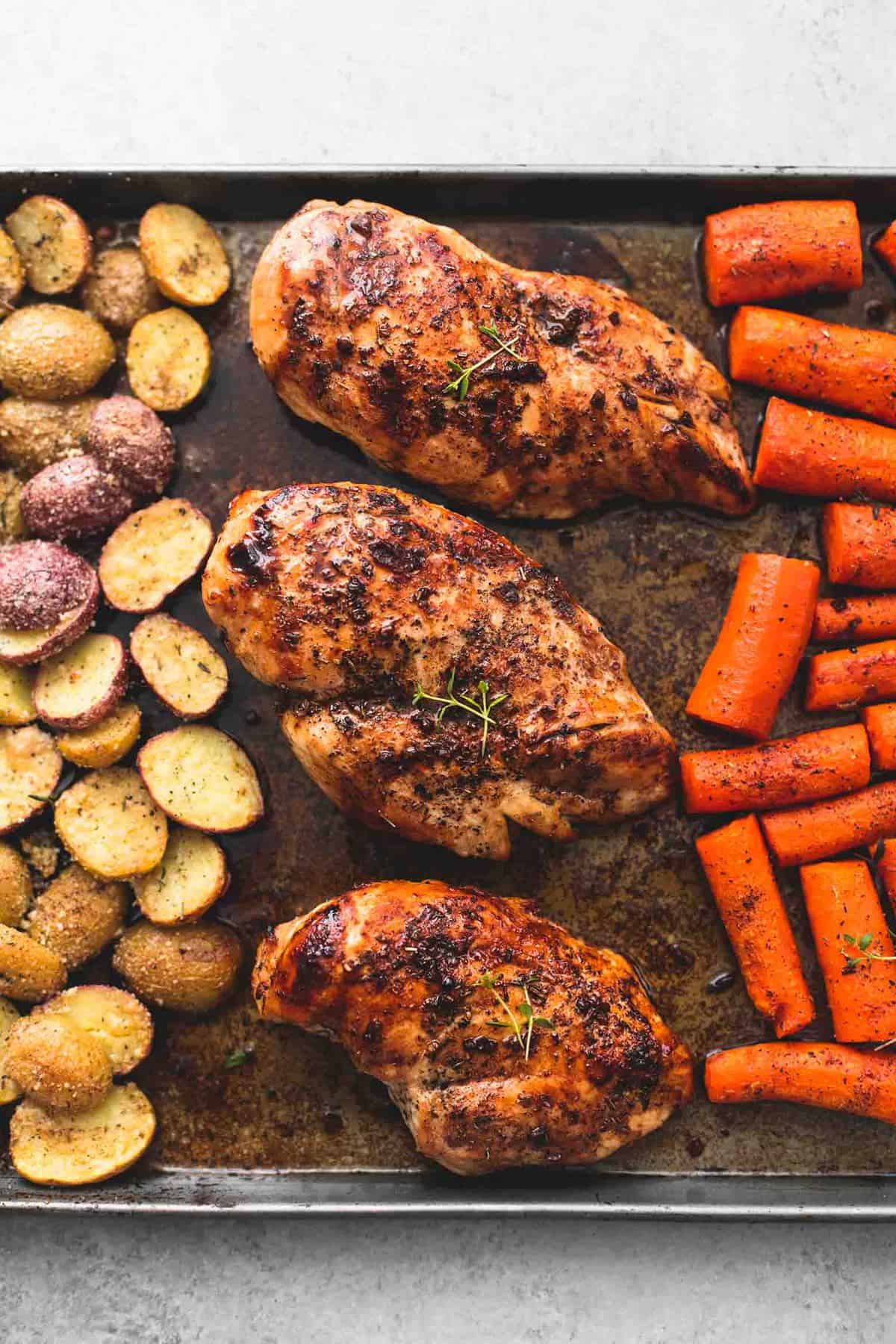 Sheet Pan Meals are blowing up right now! Here are some more favorites: Sheet Pan Teriyaki Chicken and Pineapple Fried Rice, Healthy Sheet Pan Chicken Fajitas, and Sheet Pan Sweet Fire Chicken.
It's officially fall (and I have the weather forecast pulled up in front of me to back me up) and I have nothing but easy dinners that invoke fall flavors on my mind. Sure, grilling is nice and Instant Pots are fabulous, but nothing beats the aromas of chicken and veggies cooking in the oven. Plus, one pan equals one thing to clean up after dinner.
I just can't get enough of the sheet pan meals. So versatile! So many ways to use them! Remember math class when you had to come up with permutations? Well, I'm sure there are thousands of those when it comes to proteins and veggie meals you could possibly make and I'm pretty sure I'm on my way to trying them all.
The idea for this meal came from the notion of fall, yes, but also the pot roast. I know, I know, you're thinking, this isn't remotely like pot roast (um, no roast, no pot…Tiffany are you feeling okay?). Except wait — it is a little…well, if you consider the potatoes, carrots, and protein. Oh and maybe that honey balsamic glaze. Sure, sure, it's not a roast in the literal roast sense, but this is my interpretation and I'm sticking to it.
Roasting carrots really brings out their sweetness and makes them easier to eat (a bonus for my kiddos), and nothing beats Parmesan on just about anything — including potatoes. I also like that the balsamic glaze works just as well on the chicken as it does on the carrots.
I skipped putting it on the potatoes too as I feel that it would make them too soft (and therefore not crisp up at all) and it's nice to get a different flavor from one of the items in the pan.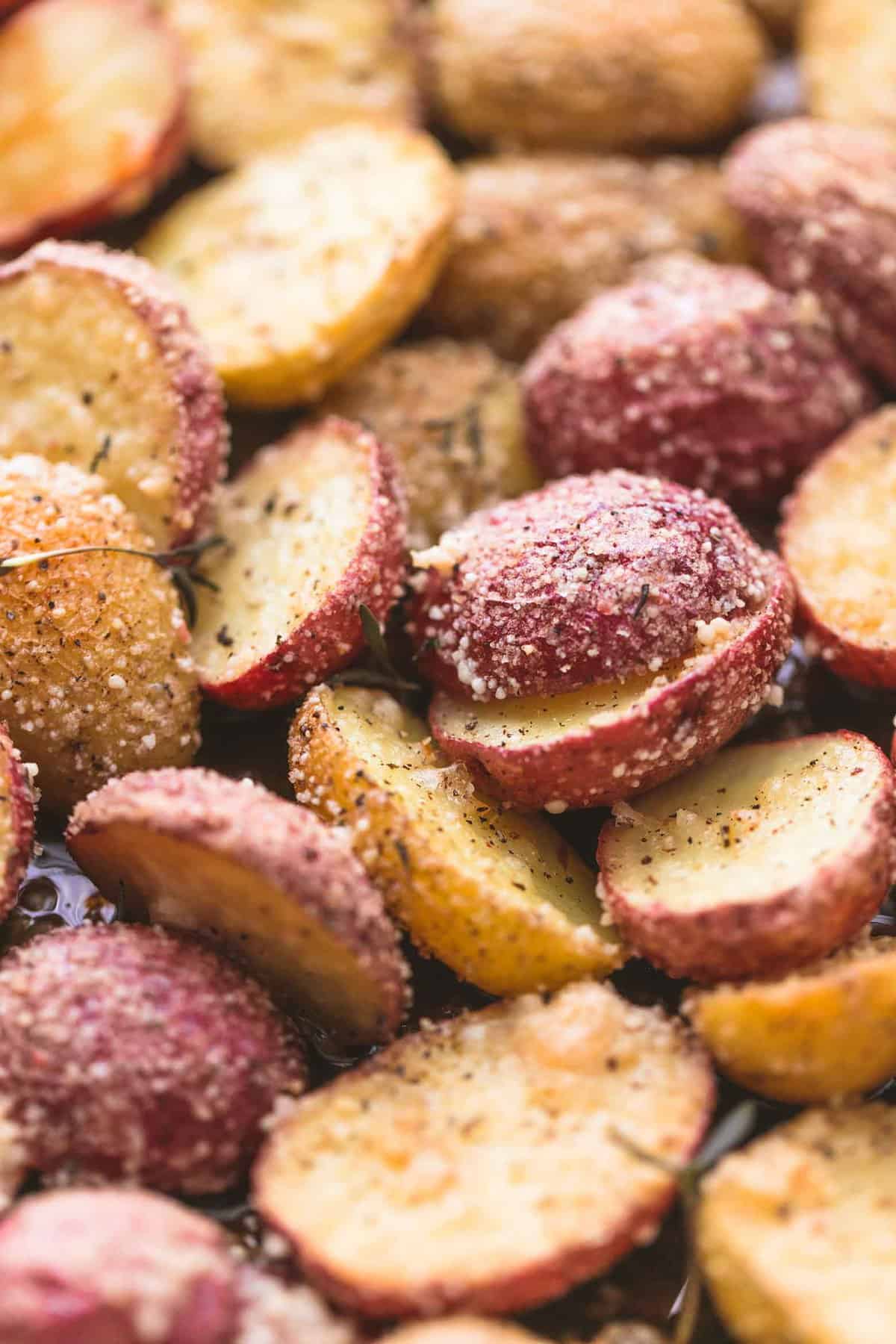 What other vegetables could I use?
Not a fan of potatoes? No problem! Other tubers go great in this dish as well. My top choices would include turnips, beets, parsnips, or sweet potatoes. If you'd rather not have the carrots, you could also try freshly cut broccoli, green beans, asparagus, onions, peppers, Brussels sprouts, cabbage, or a combination of any of them. Use the parm or the glaze on both, either, or everything on your pan. This dish can really be made to customize any way you want.
How long should I bake chicken?
If your oven is set at 400 degrees, and you have made sure your chicken breasts are of even thicknesses, then they should cook within the 20-25 minutes I recommend. However, I know that you can't always count on the size of the chicken breasts you've purchased and you may need a little longer to get those babies cooked. In that case, another 5-10 minutes would work just fine. However, if they seem to be taking forever and you're worried about your veggies burning, you have my permission to remove the veggies and continue to cook the chicken. I promise, this is just fine!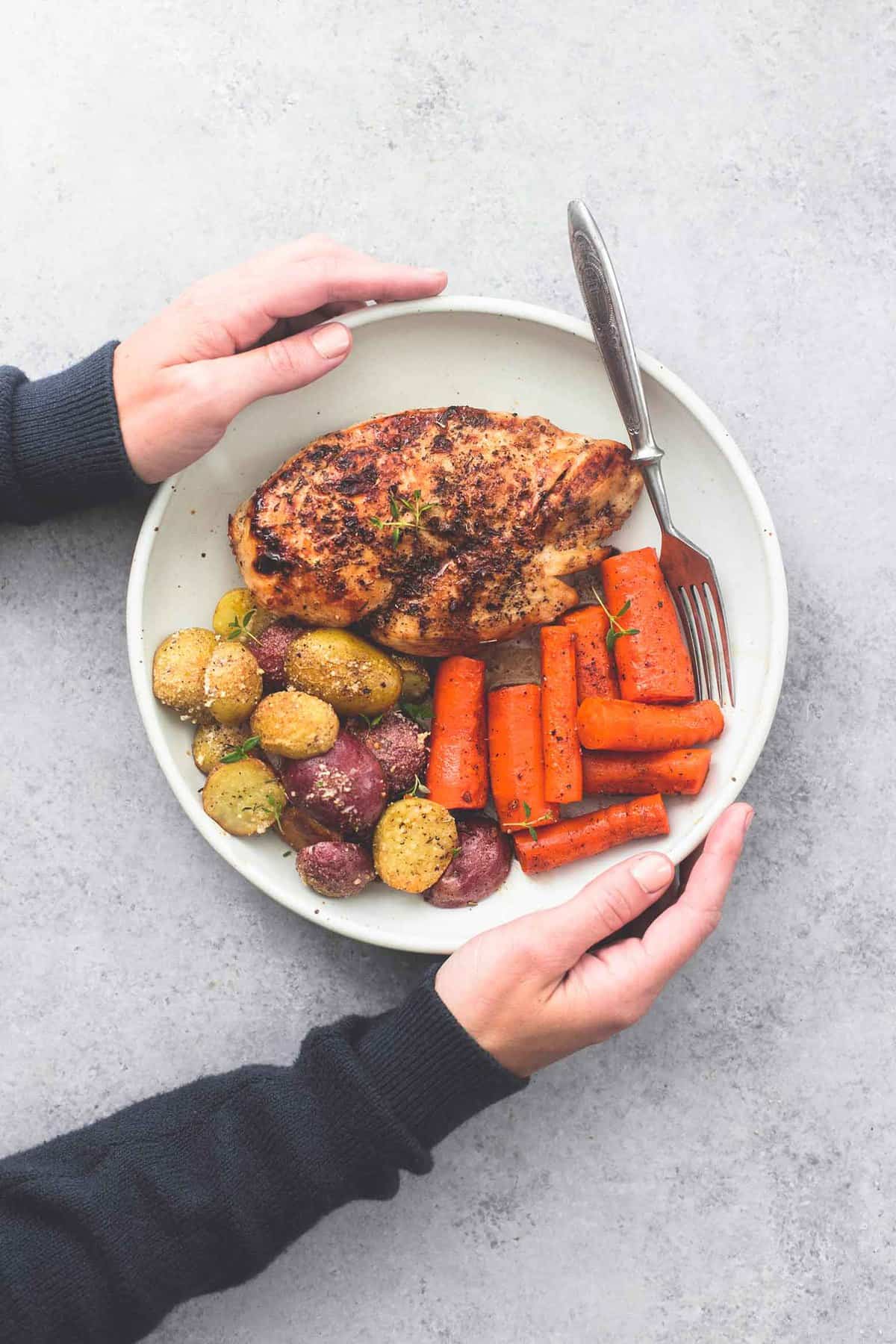 What's the best way to clean my sheet pan?
So yes, when you make a sheet pan dish, you do only have one pan to clean. But sometimes it can be a bit tricky to clean, especially if your glaze baked on a little too long or, like me, you're such a fan of sheet pan meals that your sheet pans get harder and harder to clean with each subsequent meal.
If your pan requires just a basic clean, but has some stubborn spots, I recommend soaking it in your sink with some warm water and a little detergent while you eat your meal. This helps loosen any stuck-on bits. If your pan in nonstick, be careful not to put it in the dishwasher or use any steel wool or other harsh cleaners as this can make your non-stick pan lose its non-stick coating.
If your sheet pan needs a good, deep-down clean, here's what I recommend: Wash the pan like you normally would to get off as much as you can. Then, create a paste of baking soda and vinegar. It doesn't have to have a perfect measurement, just make it creamy enough to coat the bottom of the pan (and up the sides, too if needed). Let this mixture sit for up to 20 minutes, and wash away the paste (and hopefully also the gunk).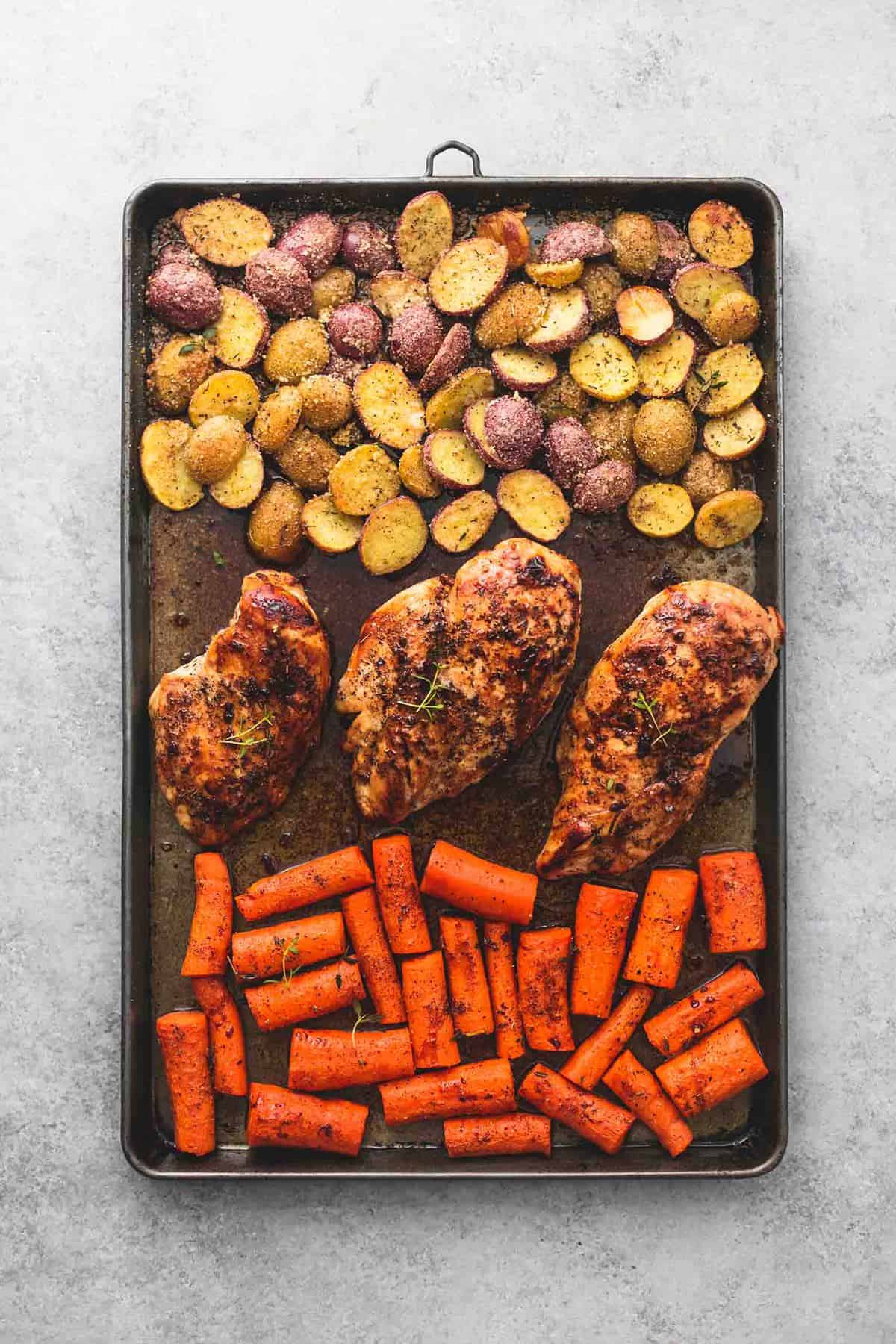 You've got to try this incredibly easy Sheet Pan Balsamic Chicken with Potatoes and Carrots – your whole family will be begging for a repeat and you won't mind because it's a quick, no-fuss dinner you can make on ONE PAN.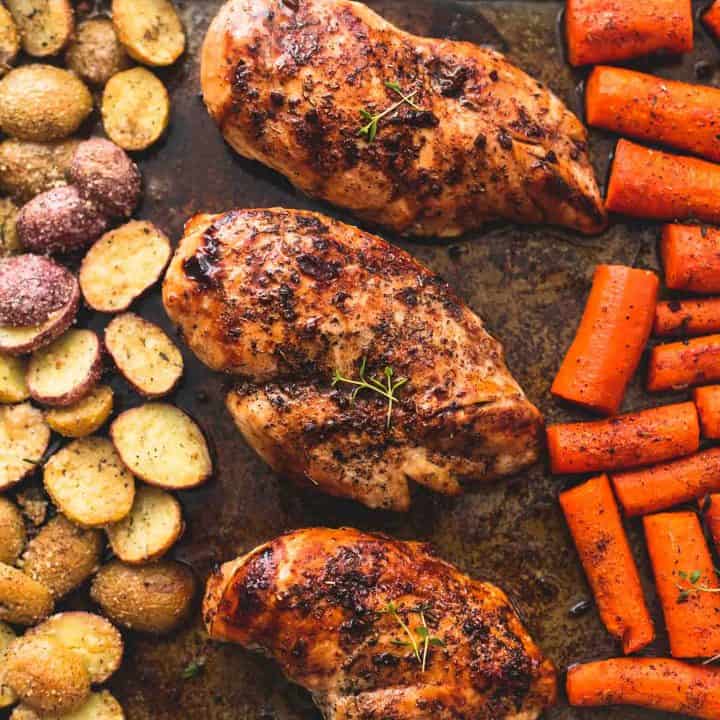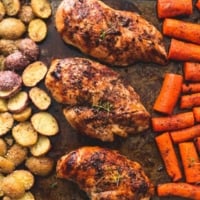 Sheet Pan Balsamic Chicken with Potatoes and Carrots
This easy Sheet Pan Balsamic Chicken with Potatoes and Carrots will have your entire family begging for more. As far as one pan meals goes, this is the epitome of ease, flavor, and versatility!
Ingredients
4

boneless skinless chicken breasts

-

pounded to even thickness

1

pound

carrots

-

peeled and chopped into 2-inch pieces

2

pounds

baby red and/or gold potatoes

-

chopped into 1-inch pieces

3

tablespoons

olive oil

salt and pepper to taste

1

teaspoon

garlic powder

½

teaspoon

dried basil

½

teaspoon

dried thyme

1

cup

balsamic vinegar

⅓

cup

honey

2

tablespoons

grated parmesan cheese
Instructions
Preheat oven to 400 degrees. Arrange potatoes in a single layer on one third of a greased sheet pan, chicken on one third of the pan, and carrots on the remaining third.

In a medium sauce pan bring balsamic vinegar and honey to a boil. Cook for about 5 minutes until reduced by half, then remove from heat and pour into a heat-safe bowl.

Drizzle oil over the potatoes, chicken, and carrots. Rub the oil over the chicken with your fingertips. Season potatoes, chicken and carrots with salt and pepper to taste, garlic powder, basil, and thyme.

Spoon half of the balsamic sauce over the chicken. Sprinkle parmesan cheese over the potatoes. Bake for 20-25 minutes until chicken is cooked through and carrots and potatoes are tender. Drizzle remaining balsamic sauce (it should be slightly thickened now after cooling) over the chicken and carrots and serve.
Notes
Store extra balsamic glaze in fridge in airtight container. Reheat in microwave in heat-safe bowl or on stove over low heat. 
Nutrition
Calories:
599
kcal
,
Carbohydrates:
85
g
,
Protein:
31
g
,
Fat:
15
g
,
Saturated Fat:
3
g
,
Trans Fat:
1
g
,
Cholesterol:
75
mg
,
Sodium:
278
mg
,
Potassium:
1838
mg
,
Fiber:
8
g
,
Sugar:
40
g
,
Vitamin A:
19010
IU
,
Vitamin C:
53
mg
,
Calcium:
123
mg
,
Iron:
3
mg