Juicy Slow Cooker Korean BBQ Pork Tacos slathered in Korean bbq sauce, topped with creamy slaw, and wrapped in taco shells!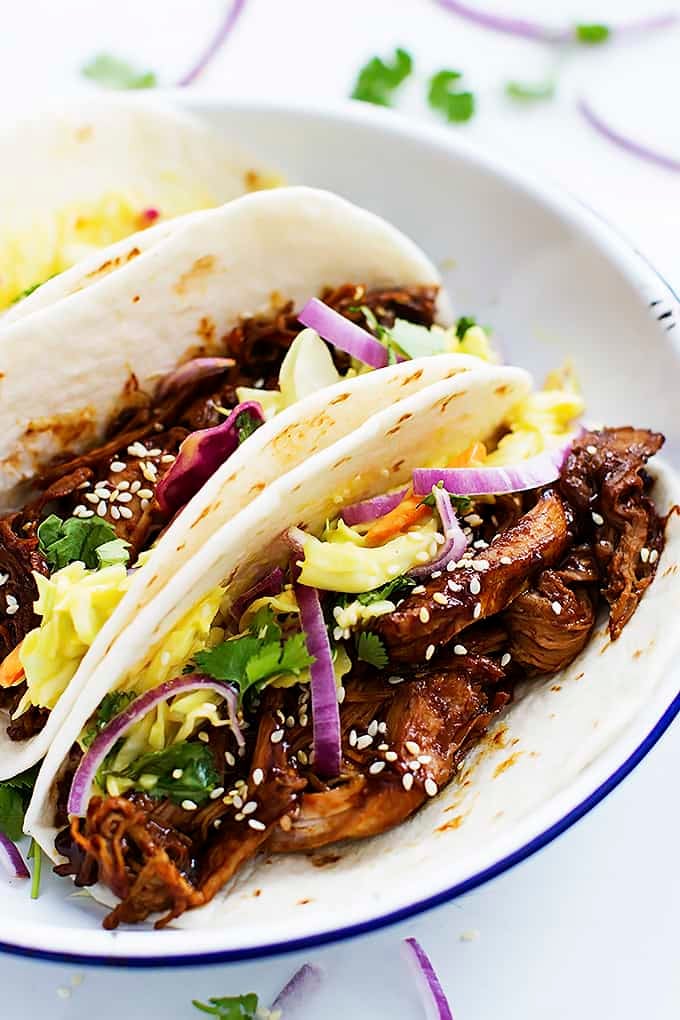 Happy taco day!!!!
Do you love tacos even half as much as I do?? I hope you do. Because tacos are clearly at the top of my food-lovin' list and as previously mentioned here on this blog, I eat them at least once each week. They're kind of a staple in my diet.
A few other of my diet staples?
cilantro
peanut butter and jelly sandwiches (made with mom's homemade peach raspberry jam)
sliced tomatoes sprinkled with lemon pepper seasoning
garlic powder (on and in e-ver-y-thing)
smoothies
mustard mustard mustard. for everything from ham and cheese sandwiches to salad dressings and today….bbq sauce.
I usually add mustard to my homemade bbq sauces, usually texas-style or carolina style with plenty of vinegar. But today I made Korean bbq sauce and yep, you guessed it, I threw in some mustard. I'm kiiind of going crazy for French's new flavors. Have you seen them?? Sweet Yellow Mustard with brown sugar and Spicy Yellow Mustard with cayenne pepper. GENIUS.
So here's my thought with these tacos, and tell me if you think this is genius, because I kind of feel like it is genius-ish.
Both the bbq sauce and the slaw call for mustard in this recipe and you can choose if you want to lean more on the sweet side, or the spicyyyy side ( I adore you spicy people). And if you really want get crazy… here's the genius…. you could use sweet for one part of the recipe and spicy for the other.
Woah. Mind blown.
So just imagine with me a sweet Korean bbq sauce slathered all over your juicy pork, then topped with a spicy mustard slaw.
Or visa versa!
That's the genius of it.
The other thing I know you'll love about this recipe is that you get to throw it in the slow cooker. I love using my slow cooker all year round (hence the continual flow of new slow cooker recipes here on CDLC) but especially during the summertime because when it gets really hot (thank you Utah desert weather) the last thing I want to do is heat up my house even more by using the oven. The slow cooker doesn't heat up my whole kitchen – though it does make it smell heavenly. And I often put it out on the back porch, just plugged into an outlet out there so it's out of the way and out of my mind until dinnertime.
Then it's 6:00 – oh heyyy dinner is totally waiting for me on the back porch!
P.S. thanks for hanging in through all of my pictures and rambling today. Who knew you could talk about a taco for so long right??
Enough chit chat. Let's eat.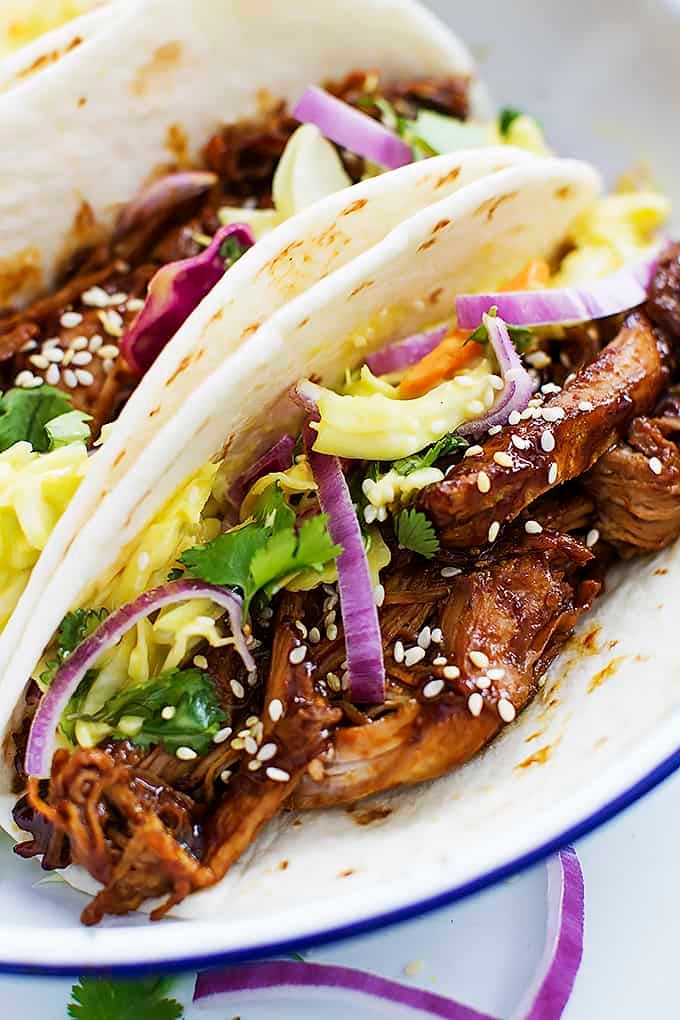 What people are saying about this Slow Cooker Korean BBQ Pork Tacos
"Tried this today and it was great! Loved the contrast of flavor and texture. (Our grocery store didn't have the flavored mustard, so we just used classic yellow.)" – Tom
"Wow, these are delicious! My 8 year old loved them and my husband did too! Delicious and easy too?! You can bet I will be making these again soon!" – Jenny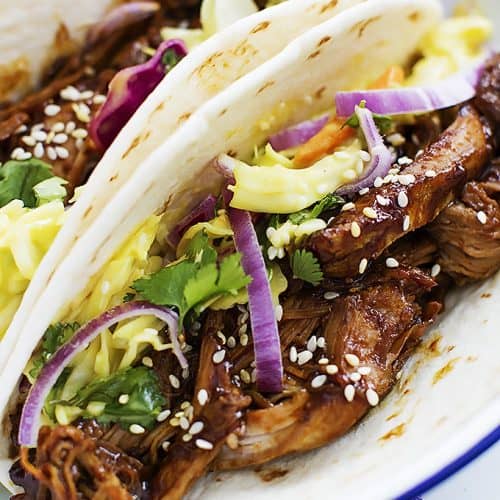 Slow Cooker Korean BBQ Pork Tacos
Juicy slow cooked shredded pork slathered in Korean bbq sauce, topped with creamy slaw, and wrapped in taco shells!
Ingredients
1 ½

pounds

pounds boneless pork loin

½

red onion

-

thinly sliced

¼

cup

cilantro

-

roughly chopped

8

taco-sized tortillas
BBQ Sauce
½

cup

hoisin sauce

-

(found in the Asian section of most grocery stores)

3

tablespoons

mustard

2

tablespoons

soy sauce

1

tablespoon

sesame oil

1

tablespoon

rice vinegar

2

teaspoons

garlic powder
Slaw
3-4

cups

coleslaw

-

(without dressing)

3

tablespoons

mustard

⅓

cup

mayo

-

(I used light)

1

tablespoon

sugar

pinch of salt and pepper
Instructions
Place pork loin in slow cooker. Add one cup of water, then cover and cook on high for 3-4 hours or on low to 6-7 hours. Drain slow cooker of excess liquid, then shred pork with two forks.

Whisk together bbq sauce ingredients. Pour over shredded pork and stir to combine.

In a medium bowl whisk together mayo, mustard, sugar, and salt and pepper for the slaw. Add cole slaw and toss to coat.

Assemble tacos by filling tortillas with shredded pork, then top with slaw, red onions, and cilantro. Sprinkle with sesame seeds if desired and serve.
Notes
This pork is so delicious served in tacos OR alone, over rice, or on a salad. 
Nutrition
Calories:
464
kcal
,
Carbohydrates:
37
g
,
Protein:
31
g
,
Fat:
20
g
,
Saturated Fat:
4
g
,
Trans Fat:
1
g
,
Cholesterol:
77
mg
,
Sodium:
1292
mg
,
Potassium:
637
mg
,
Fiber:
3
g
,
Sugar:
12
g
,
Vitamin A:
100
IU
,
Vitamin C:
14
mg
,
Calcium:
84
mg
,
Iron:
3
mg
This post was brought to you by the makers of French's Sweet Yellow Mustard and Spicy Yellow Mustard. I received compensation to write this post through the French's Sweet and Spicy Program … all opinions expressed are my own.