Cajun Shrimp and Rice Skillet is a one-pot wonder full of flavorful shrimp and rice with a Cajun seasoning that the entire family will enjoy!  
If you are looking for more scrumptious, simple shrimp recipes, then you should also try this Easy Lemon Garlic Butter Shrimp, these Shrimp, Sausage, and Veggie Foil Packs, or this Baked Crispy Honey Lime Shrimp.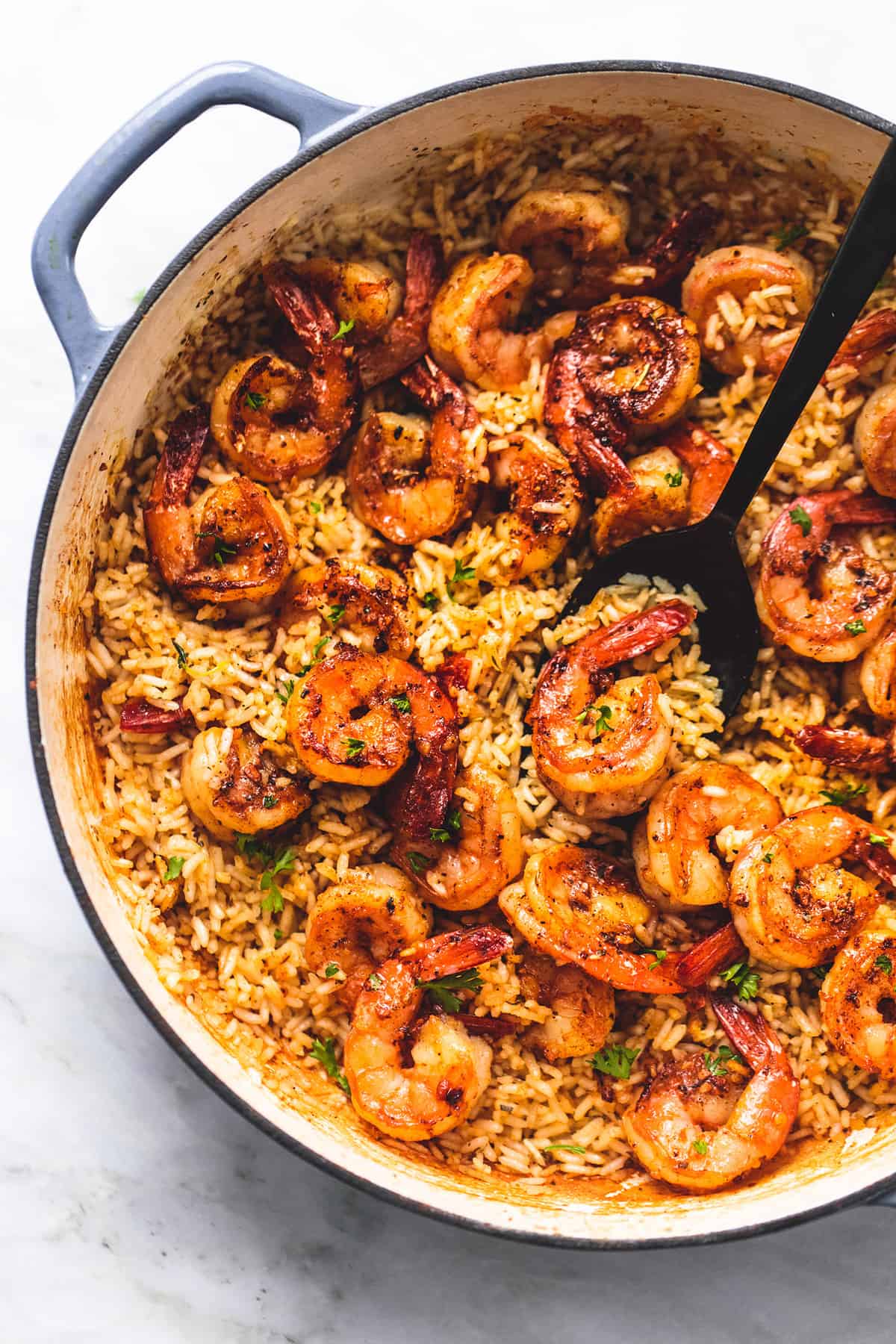 Isn't it so much fun to watch the changing of the seasons? I think this has to be one of my most favorite times of the year. (Well, fall is great too, feeling that first crisp breeze and pulling out all the soup recipes is just delightful, right?)
Seeing all that green pop up everywhere and watching all the buds on the trees grow and the flowers bloom…it just feels like a renewal in so many ways…I even start to change the way I think about recipes and the meals I plan for the week.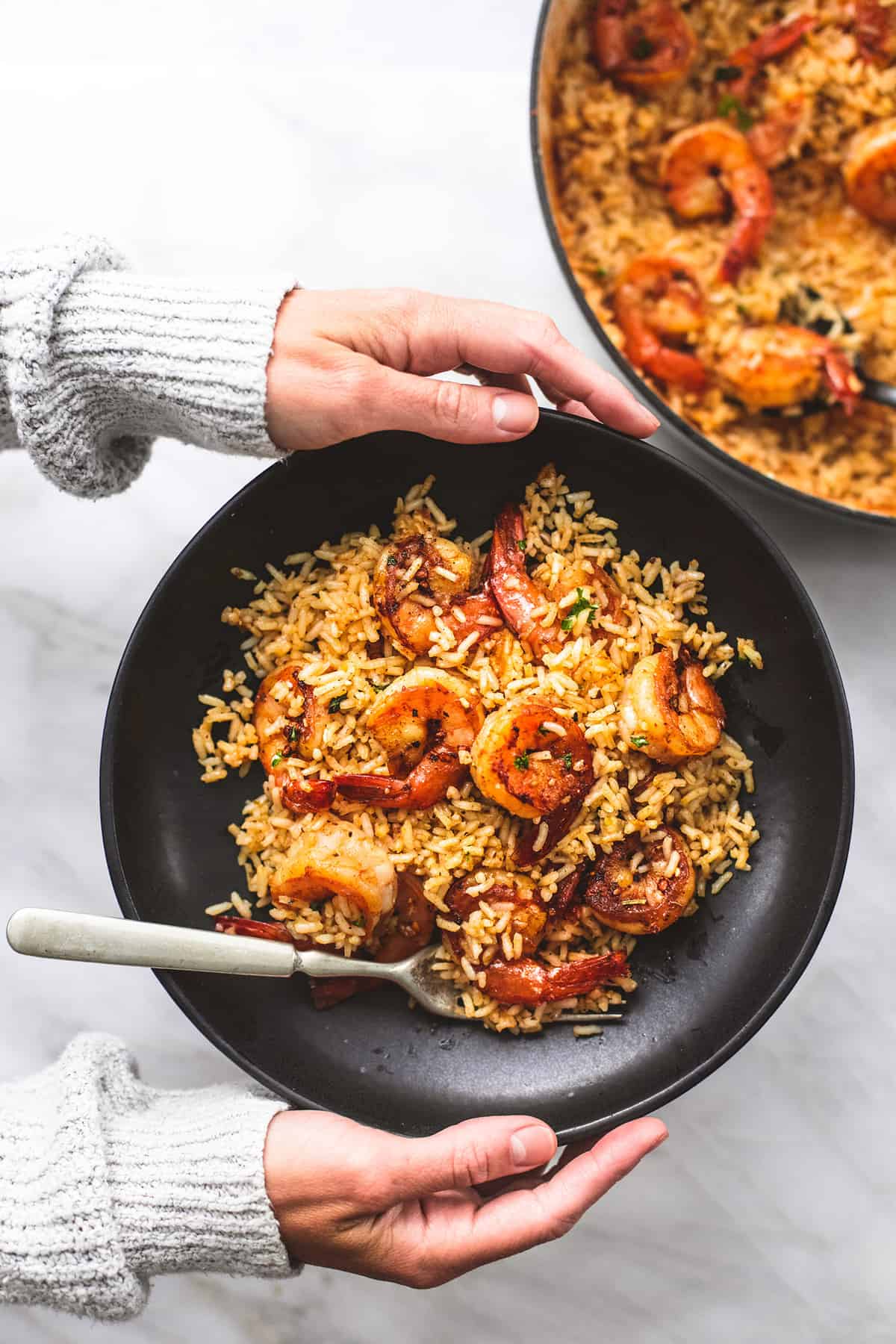 Take this Cajun Shrimp and Rice Skillet for example. This isn't something I generally would make in the winter. Not that you couldn't — but I guess when I think of shrimp, I think of times spent at the beach growing up, eating fresh seafood at the local restaurants. My whole family loved seafood and we ate it for as many meals as possible.
Seafood is so versatile. As much as I love tuna, salmon, and seafood combos, I'm sure you've come to realize, I *might* just like shrimp the most. (But if you want some other great seafood recipes you can try my Sheet Pan Lemon Herb Tuna Steaks and Potatoes, Dill Cream Sauce for Salmon, and/or Sheet Pan Clambake.) I'm happy to eat shrimp in just about any form, from savory to sweet, in tacos and on the grill, on salads, and in one-pan meals like this one. I even love it on pasta like this Creamy Garlic Shrimp Pasta, so good! Since I love shrimp, but also love the ease of one meal completely cooked in a skillet, this recipe just did it for me. And as my empty pan can attest — it seemed to have satisfied every member of the family as well.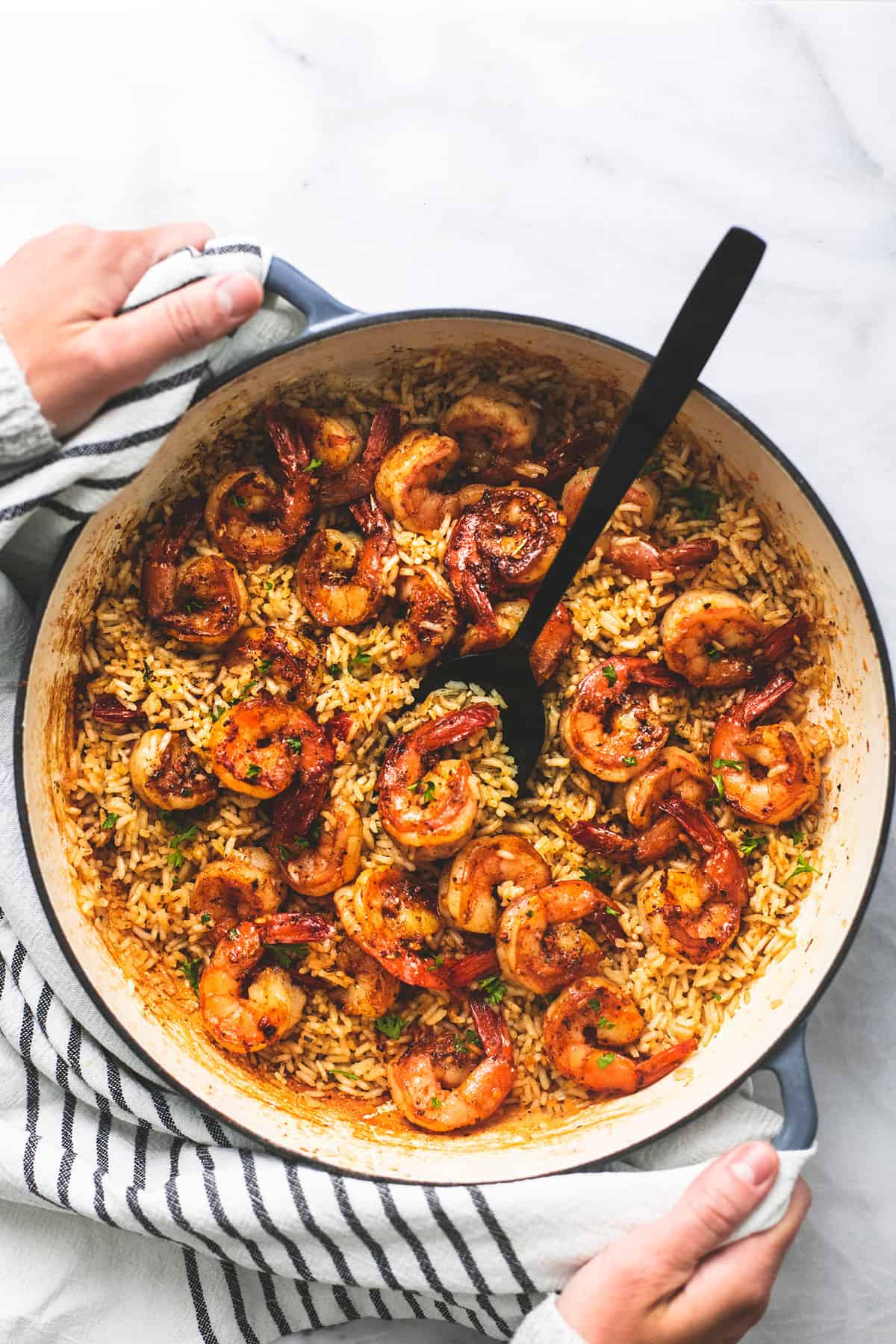 HOW DO YOU MAKE CAJUN SHRIMP AND RICE?

Although this might contain just a few more ingredients than my 5-ingredient recipes (like my Sweet Paprika Chicken), don't let that scare you off. This Cajun shrimp comes together in just 30 quick minutes and leaves plenty of room for a little kitchen dancing here and there with your significant other or little ones. (I'm not the only one that dances while she cooks, right?)
First, I whisked together all the spices for the Cajun seasoning in a bowl, then set that aside. Next, I melted the butter in a skillet (you can use a heavy-bottomed pot or Dutch oven as well, or whatever you have on hand), then added the garlic, half the spice mixture, and the rice to the butter. I like to stir that all around a bit and make sure the rice gets good and coated with the spices and butter before adding in the chicken broth.
After adding the broth to the rice and spices, I let that come to a boil and then reduce it to a simmer and cook, as I would if I were making any old, plain rice. While the rice is doing its thing, I start the shrimp by adding to it the rest of the melted butter and Cajun spices. I shake this all together in a baggie or stir it up in a bowl. The last step is to add the shrimp to the rice at the 15-minute point, and cover the whole dish and let the shrimp steam with the rice.
Once the shrimp is nice and pink and opaque, it's all good to go! I spoon it into serving dishes and sprinkle with a little chopped parsley, and dive in!
WHAT IS CAJUN SEASONING MADE OF?

"Cajun" is a word used to describe the Acadians, who were the French colonists who first settled in a region of Canada known as Acadia. Eventually, the Acadians were moved out of Canada by the British in the early 1700s and they migrated waaay down south to Louisiana. Because they didn't have refrigerators, Cajuns learned to use every part of their animals for food and also used smoking and splicing techniques for preserving their foods. Cajun food is basically interpreted to mean "heavily seasoned" — which doesn't always mean spicy, but often is anyway because of the heavy use of cayenne pepper in a lot of recipes.
To make your own Cajun spices, combine paprika, salt, garlic powder, cracked black pepper, onion powder, dried oregano (or other Italian herbs), cayenne, and crushed red pepper flakes in the measurement increments listed in the recipe. Double or triple the amount to fill a whole spice jar. Happy seasoning!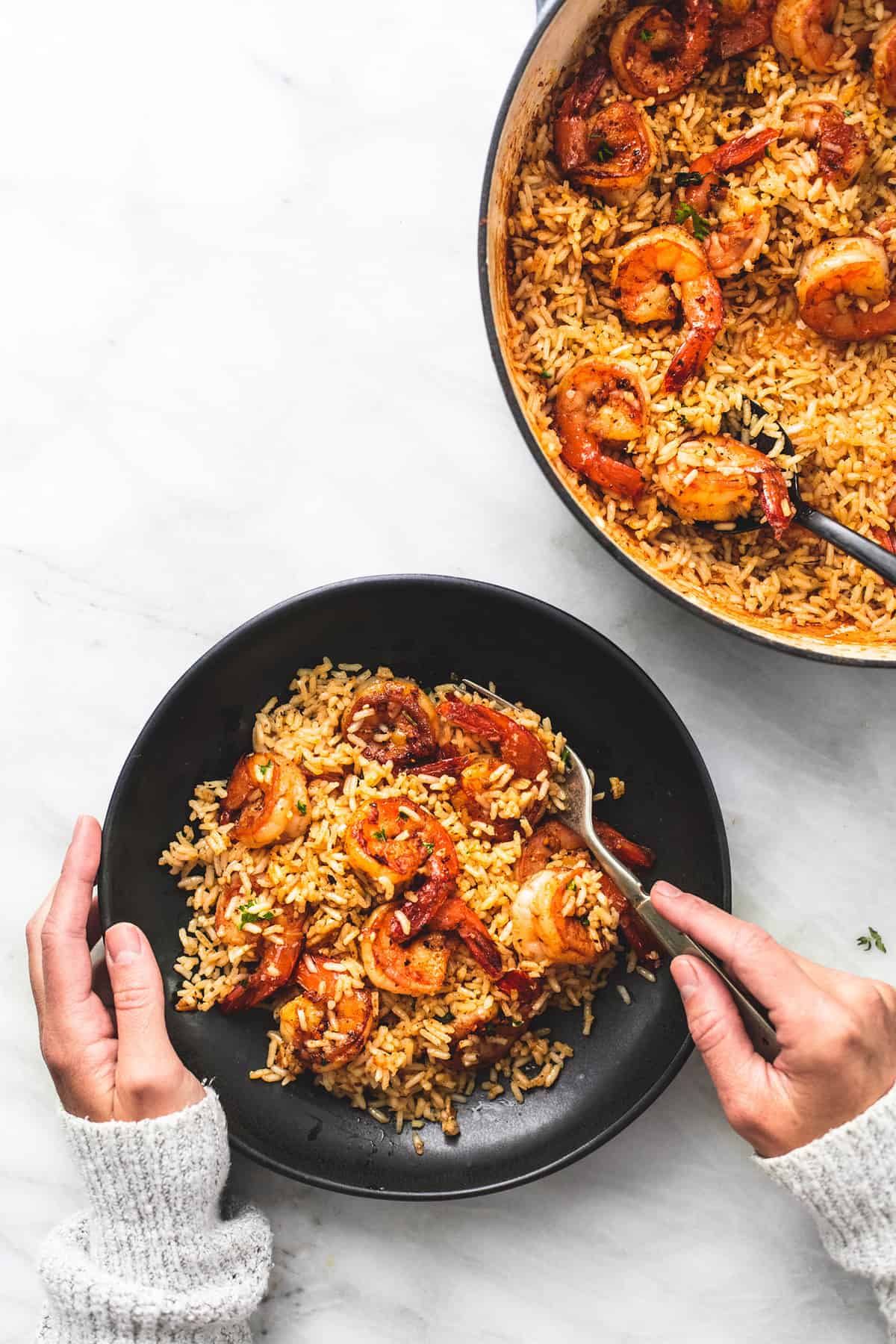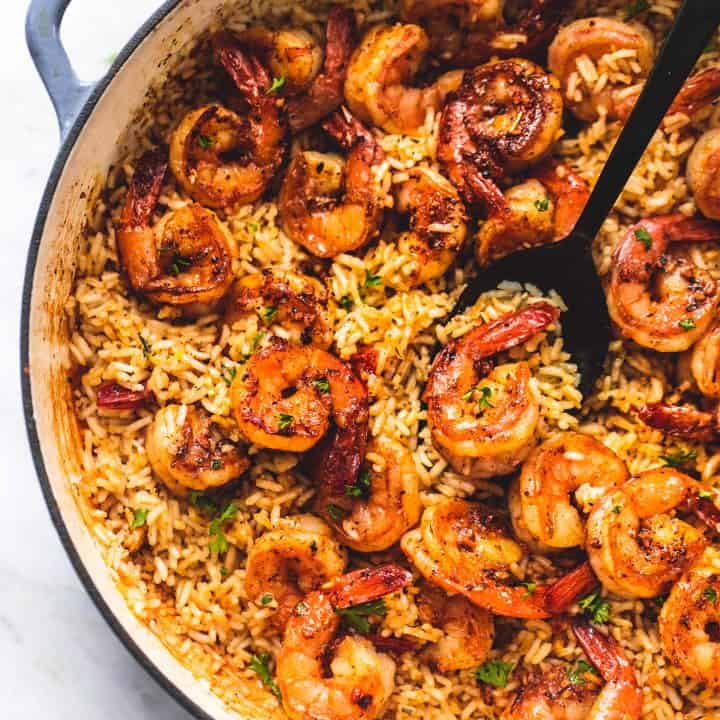 Cajun Shrimp and Rice Skillet
This Cajun Shrimp and Rice Skillet is a one-pot wonder full of flavorful shrimp and rice with a Cajun seasoning that the entire family will enjoy!  
Ingredients
1 ⅓

cups

uncooked long grain white rice

2 ⅔

cup

chicken broth

1

pound

large or jumbo shrimp

-

peeled and de-veined

4

tablespoons

butter

-

melted, divided

1

teaspoon

minced garlic

cajun seasoning

-

see below
cajun seasoning
1 ½

teaspoons

paprika

1

teaspoon

salt

1

teaspoon

garlic powder

½

teaspoon

cracked black pepper

½

teaspoon

onion powder

½

teaspoon

dried oregano

-

may sub an Italian herb blend or Herbs de Provence

½

teaspoon

cayenne pepper

¼

teaspoon

crushed red pepper flakes
Instructions
Whisk together all of the ingredients for the cajun seasoning. Melt 2 tablespoons butter in a large skillet over medium heat. Stir in garlic, half of the cajun seasoning, and the rice. 

Stir in chicken broth, bring to a boil, reduce to a simmer and cover. Cook for 15 minutes, stirring 1-2 times throughout. 

While rice is cooking, prepare the shrimp by stirring together remaining 2 table spoons melted butter and remaining cajun seasoning. Pour over shrimp and toss to coat. 

Stir shrimp into the rice, cover and cook 3-5 minutes longer until shrimp is pink and opaque. Garnish with chopped parsley if desired and serve.
Notes
For browned shrimp, you can saute the shrimp in the pan at the start of the recipe, transfer to a plate and cover to keep warm until the end, then stir into rice and serve. 
Nutrition
Calories:
453
kcal
,
Carbohydrates:
51
g
,
Protein:
29
g
,
Fat:
14
g
,
Saturated Fat:
3
g
,
Cholesterol:
286
mg
,
Sodium:
2174
mg
,
Potassium:
319
mg
,
Fiber:
1
g
,
Sugar:
1
g
,
Vitamin A:
703
IU
,
Vitamin C:
18
mg
,
Calcium:
199
mg
,
Iron:
3
mg