Easy Homemade English Toffee with crunchy almonds and creamy chocolate! No candy thermometer needed!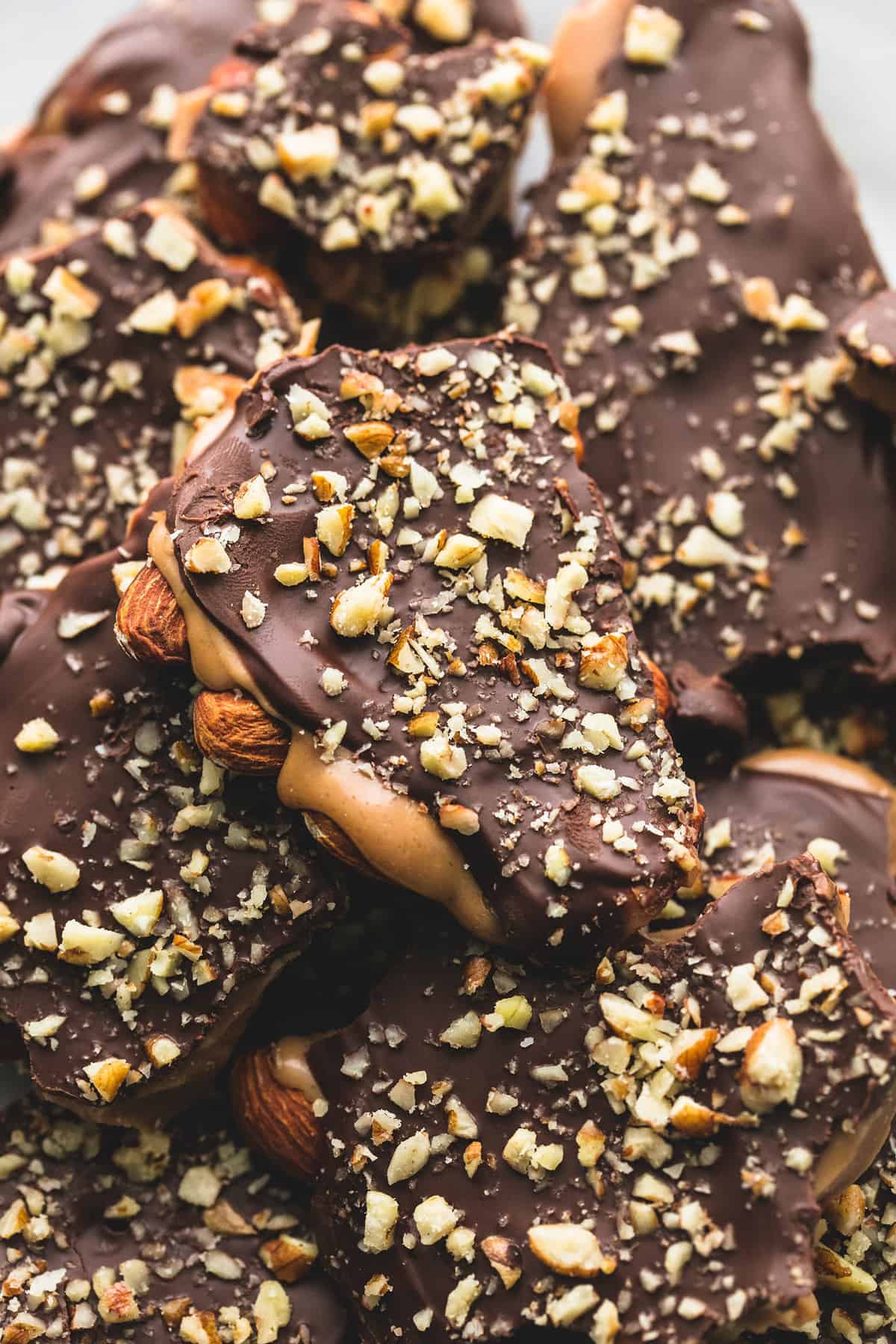 This is the time of year when I think about my mother's mad candy-making skills. She makes the most quality, delicious, melt-in-your-mouth candies of all sorts. I have been trying to get her to open up her own sweets shop, but she just won't budge. Maybe that's a good thing, for her family anyway, because we don't have to share!
She always, always makes candy by the book and that's probably why she's so good at it. But, to tell you the truth, I don't have time to wait for a candy thermometer or for the temperature to be "just right" to temper the chocolate. I have limited time, and a severe sweet tooth. Those two just don't go so well together all the time.
It is with that in mind that I created this Easy Homemade English Toffee recipe. It's so good, you won't know it wasn't made by a professional in a secret kitchen with one eye on a candy thermometer and the other on the timer. (No, I don't think candymakers look like hammerhead sharks, but you get my point.)
WHAT CAUSES TOFFEE TO SEPARATE?
Your toffee separates because the butter has separated from the sugar rather than mixing together like it should. When the butter slips away from the sugar, it can make your candy look really oily on top. This typically occurs during the cooking process, but can happen when you pour it onto a baking sheet as well.
The reason it does this is because it changes from either too cold or too hot, too fast. One way to monitor that this doesn't happen is to use a candy thermometer. However, since I just made a big deal out of NOT using one, what I do is continually watch, watch, watch that candy mixture as I'm cooking it. Use a thick-bottomed pan (so that it doesn't burn) and melt over medium heat, until it's melted all the way THEN turn it up to medium-high. Remove it as soon as it looks like the color of raw almonds (the outside, not the inside). At no time do you turn it all the way down or all the way up. And stir, stir, stir! Nice and easy does it — and it'll be so worth it.
However, should you still find that your toffee has separated, you can try to save it. First, try removing it from the heat and then stirring some more and see if it goes back together. If that doesn't work, try adding hot, hot, very hot water to it by the tablespoonful until it comes back together. Be careful that you don't add too much water, one spoonful at a time.
If the toffee has already cooled, unfortunately, it's too late to save it. But you can try to soak up the oil and use the crunchy leftovers as an ice cream topping or in cookies.
WHAT'S THE DIFFERENCE BETWEEN CARAMEL AND TOFFEE?
This one confused me for a long time. After all, they are made basically the same way. But the main difference is that caramels retain their chewiness, whereas toffees become hard candies. Caramel also has some kind of milk or cream to keep it soft, and is cooked at a lower temperature.  
WHAT ELSE CAN YOU PUT IN TOFFEE?
My family is nuts for nuts, but I know not everyone is a fan. That's okay! There are other ways you can top this recipe.
Skip the nuts or add other nuts that you like to either the top or the bottom of the candy.

Sprinkle crushed up candy canes onto the top of the melted chocolate.

Add broken pretzels to the top of the melted chocolate for a sweet/salty vibe.

Try dried cherries, cranberries, raisins, coconut flakes, or other dried fruit instead of the pecans.

Swirl some peanut butter (softened) in with the melted chocolate.

Add little candies to the top of the cooling chocolate (it should be soft but not hot) like mini M&Ms, Reese's cups, white chocolate chips, or other little candies you enjoy.
I can't oversell how easy this EASY Homemade English Toffee recipe is. Honestly the hardest part about this recipe is just the waiting for it to cool at the end. And trust me, you do not want a burned tongue as a consequence of impatience. Not that I would know…. Just joshin' I totally know from personal experience so take my word for it! 😉 But if that's not enough for you, check out these rave reviews…
What people are saying about this Easy Homemade English Toffee
"I followed your advice and cooked the toffee until it was the color of a caramel and it is perfect! Thank you for your reply. I used semi sweet chocolate chips, about 1/2 cut more almonds and double the pecans on top. Our family enjoys the nuts and dark chocolate. You can feel safe with this recipe! I may make some to give as gifts at Christmas. 
" – Deborah
"I made this tonight and it was DELICIOUS and so quick and easy! I plan on making a few batches tomorrow for Christmas party! Thanks for sharing." – Dallas
"Wow! This recipe is amazing! I just made a batch for my friend, who's only request during my big annual Christmas cookie bake off, was English Toffee like his grandmother used to make! I was feeling the pressure of measuring up to the expectations he had set forth! Lol! I went shopping late and the store was out of whole almonds so I used a bag of slivered almonds. Turned out just awesome! Great and easy recipe! Thank you for sharing!" – Tina
"This is absolutely FANTASTIC! I personally use a spatula to stir as it would take more of the bottom and the side of the pot and I used dark semi sweet chocolate chip. As to roast the almonds, I did it in a cast iron pan as I hate using a microwave. I ended up cooking it at medium all along as as soon as I turned up the heat, it was kind of a burning small that I didn't like and was afraid to burn it. This is to die for and I will make it again. Merci!!" – Chantal
Easy English Toffee Recipe
This Easy English Toffee Recipe features crunchy almonds and a creamy chocolate outer layer. No candy thermometer needed, and you will still end up with perfectly snappy and delicious toffee!
Ingredients
1

cup

whole raw almonds

1

cup

butter

-

cut into 1-inch cubes

1

cup

sugar

¼

teaspoon

salt

1

teaspoon

vanilla

2

cups

milk chocolate chips

¼

cup

finely chopped pecans

-

(such as Diamond of California)
Instructions
Get all of your ingredients measured and set out before you start the recipe. Then place your almonds on a plate and microwave them for 2-3 minutes on high to toast them. Line a baking sheet (preferable a 9x13 pan) with foil and place the almonds in a single layer on the foil - space them out as best you can.

Add sugar, butter, vanilla, and salt to a large sauce pan (at least 2-quarts and it needs to have a thick bottom - not a thin metal one or your toffee will burn!) and melt over medium heat, stirring throughout.

When ingredients are completely melted, continuously stir and gradually increase heat to medium-high. Keep stirring, stirring, stirring for 9-15 minutes until the toffee is a golden brown color (similar to the color of the raw almonds). As soon as it reaches that color, quickly pour over almonds in your prepared pan.

Allow to cool for about 2-3 minutes, then sprinkle with chocolate chips. Allow to sit for another couple of minutes so the chocolate chips will melt, then spread over the toffee. Sprinkle with chopped pecans and allow to cool completely. (If you put the pan in the fridge it will speed up the process a bit).

After toffee and chocolate and completely cooled, use a butter knife to break apart the toffee. Store in an airtight container at room temperature.
Notes
Store in airtight container at room temperature up to five days. 
Nutrition
Calories:
243
kcal
,
Carbohydrates:
31
g
,
Protein:
5
g
,
Fat:
12
g
,
Saturated Fat:
1
g
,
Trans Fat:
1
g
,
Cholesterol:
3
mg
,
Sodium:
105
mg
,
Potassium:
182
mg
,
Fiber:
3
g
,
Sugar:
27
g
,
Vitamin A:
52
IU
,
Vitamin C:
1
mg
,
Calcium:
84
mg
,
Iron:
1
mg
Recipe adapted from The Yummy Life