Sweet and spicy Chinese Honey Sriracha Chicken – better tasting and healthier than take out!
Why order out when you can make these delicious recipes at home? Try Slow Cooker Honey Sesame Chicken, The Best Fried Rice, Sticky Chinese Lemon Chicken, and Kung Pao Noodles.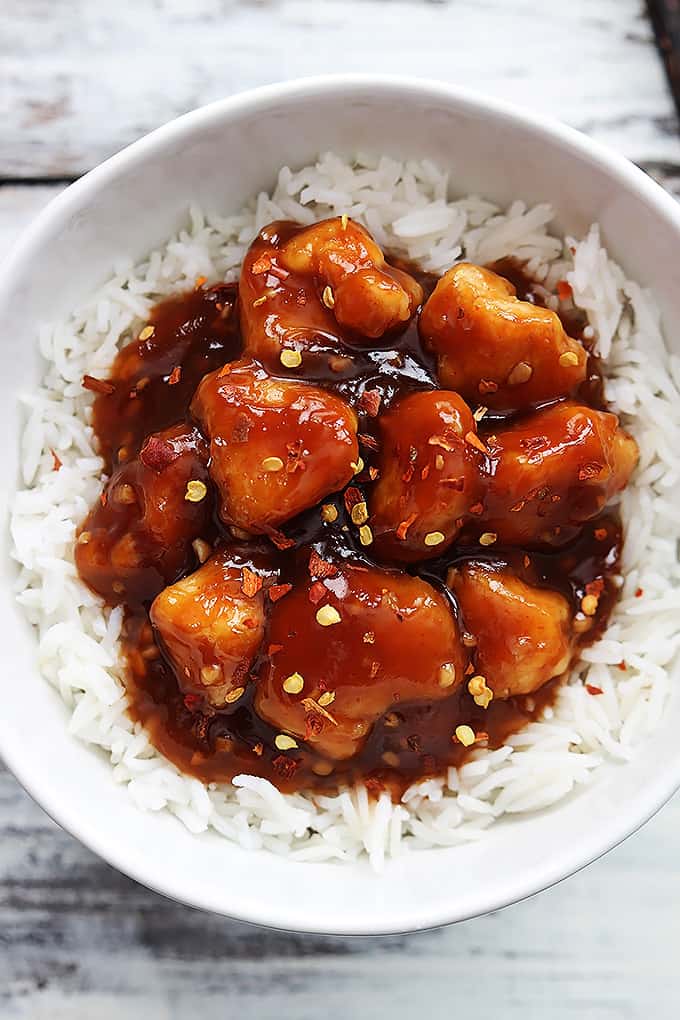 We're baaaaack! (Not said in the creepy horror film way.) The hubbs and I are not so much wrapped-gift-people. We realized that early on in the relationship – and thankfully it was mutual – but don't you worry, we still do a little somethin' around meaningful holidays.
Christmas, anniversaries, birthdays, Thursdays…..
"Holiday" is a very liquid concept.
Last year for Christmas we gave each other a remodel. Woah, that came out wrong. We didn't remodel each other. We remodeled our house, or at least a part of it. We did a three-day reno on our front room, entryway, hallway and part of the kitchen. It was a big fat bring in the family reinforcements project but it made a huuuge difference in our house and it was exactly what we wanted for Christmas.
This year….we gave each other a vacation. Not from each other! A vacation from life. Back in August we found a steal of a deal on a Bahamas cruise and we had some sky miles to use up so we booked the trip and that was that. We just got back yesterday and it was painful to leave behind our pina colada sipping, dolphin kissing, river kayaking, sea-salty romantic getaway behind and come back to snowy, frozen weather. Painful.
We did eat a lot (A LOT) of good food on the trip but one thing I missed terribly was spicy food. I have to have my spicy food cravings satisfied just about daily. Which is why I already have put about 17 spicy dishes on the menu for the next week or two.
I made this honey sriracha chicken before we left on our trip and I have honestly been dreaming about it ever since. It's a little sweet, a little spicy, and a whole lotta better-than-takeout homemade Asian-style yum. Healthier than takeout too so it gets an A+ all around here. And, my favorite part, you can customize the flavor a bit to meet your personal preference. If you love it spicy (like moi) then go heavy on the sriracha and/or add crushed red pepper flakes on top. If you tend to favor the sweet side of things, don't hold back on the honey. Bada-bing-bada-boom. Honey sriracha chicken just how you like it.
What people are saying about this Honey Sriracha Chicken
"We had this for dinner tonight and it was AMAZING!! I wouldn't change anything. The perfect sweet and spicy taste in my opinion. We pour the mixture over homemade fried rice and it was fabulous! Great recipe!" – Jessica
"I made this last night and it was delicious!! I haven't been impressed with most of the food I've made from the recipes I've found on Pinterest. This will be made over and over and over!!!!" – Angie
"Made this for dinner last night and it was awesome! Just the right amount of heat and definitely better than takeout. Used organic chicken and brown rice . Thank you for sharing this recipe!" – Ryan 
"Just made this for dinner and it was AWESOME!!! Even my husband said it was, and I quote, "bomb dot com." When I make it again I think I'll add some broccoli and pea pods to it; make it like a stir fry, but it was seriously amazing!" – Shelby 
If you liked this, you'll love my Sticky Sesame Chicken recipe!
Honey Sriracha Chicken
Sweet and spicy Chinese honey sriracha chicken - better tasting and healthier than take out!
Ingredients
3-4

chicken breasts

-

diced

⅓

cup

corn starch
Sauce
1

cup

water

2-3

tablespoons

sriracha

-

(depending on how spicy you want it)

5

tablespoons

soy sauce

1

tablespoon

minced garlic

¼

cup

sugar

2-3

tablespoons

honey

-

(depending on how sweet you want it)

2

tablespoons

corn starch

2

tablespoons

cold water

optional: crushed red pepper flakes, cooked rice for serving
Instructions
In a small-medium sauce pan, combine the 1 cup of water, sriracha, soy sauce, garlic, sugar, and honey and stir. Bring mixture to a boil over medium heat.

Whisk together the 2 tablespoons corn starch and remaining 2 tablespoons of water until dissolved. Add to sauce pan and stir until thickened. Reduce heat to low.

Add the sauce and stir to coat. Sprinkle with crushed pepper flakes if desired and serve over warm rice.

Notes
Control the spice level by adding more or less crushed red pepper flakes. 
Nutrition
Calories:
347
kcal
,
Carbohydrates:
37
g
,
Protein:
39
g
,
Fat:
4
g
,
Saturated Fat:
1
g
,
Trans Fat:
1
g
,
Cholesterol:
108
mg
,
Sodium:
1630
mg
,
Potassium:
698
mg
,
Fiber:
1
g
,
Sugar:
22
g
,
Vitamin A:
62
IU
,
Vitamin C:
8
mg
,
Calcium:
20
mg
,
Iron:
1
mg