Juicy and tender instant pot pot roast and potatoes with gravy makes the perfect family-friendly dinner. This easy one pot dinner recipe will please even the picky eaters!
In love with your Instant Pot? After you try this recipe, you'll have to try these Instant Pot Parmesan Chicken and Rice with Mushrooms, Instant Pot Beef Bourguignon, and Instant Pot Shredded Chicken Tacos.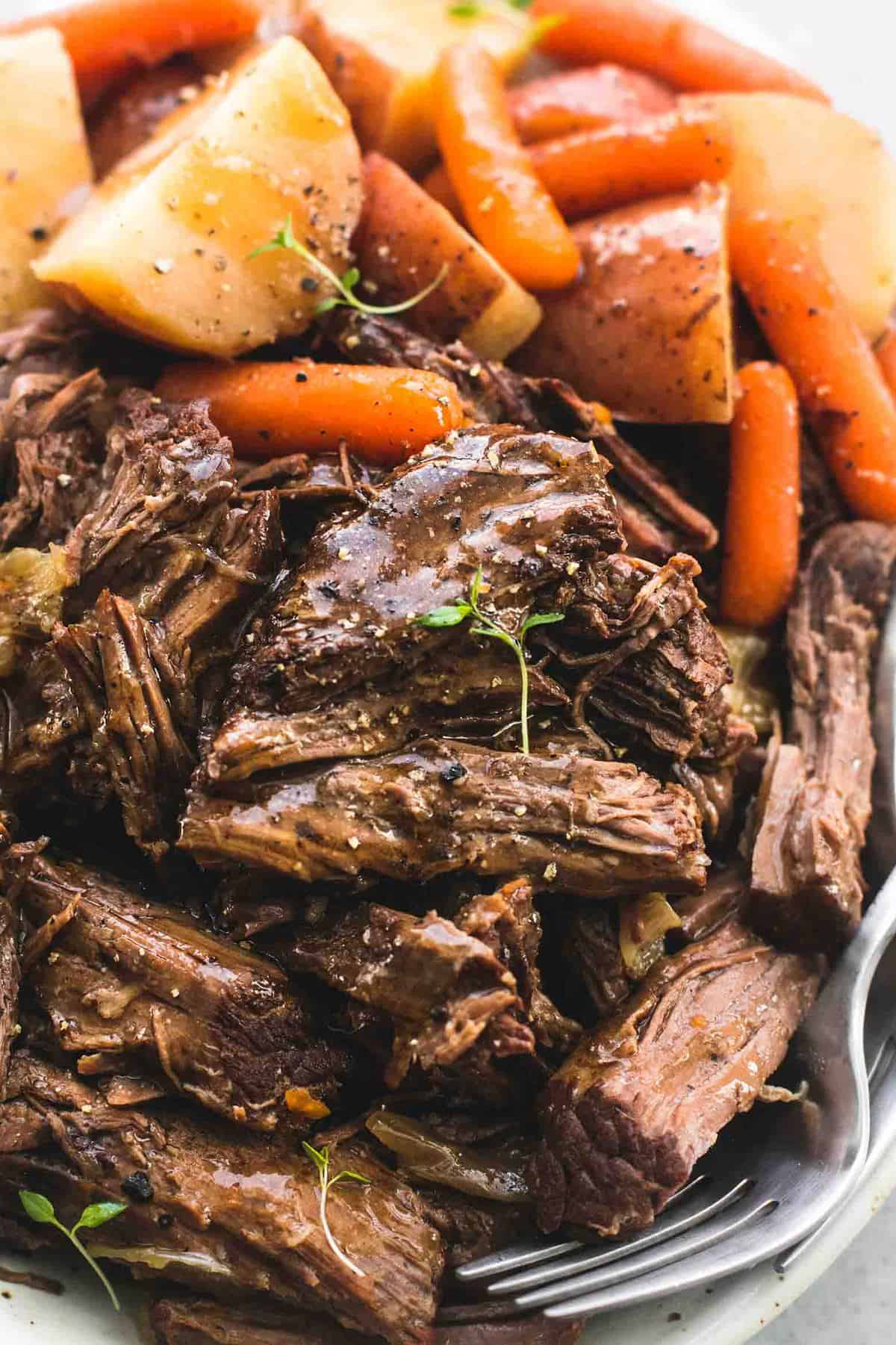 Why Use an Instant Pot?
Have you joined the instant pot craze??
I put it off, like I usually do with new kitchen gadgets, because I was afraid it was a funky trend that would fizzle out but after friends raving non stop about theirs, I broke down and got myself one.
I'm obsessed! Where has this thing been all of my life?
And just to clear things up, I say "Instant Pot" because that's the brand that I own and is most familiar with everyone, but these recipes are not sponsored by the brand in any way and any pressure cooker will do just fine! I don't care what brand it is, just get your hands on one pronto. It's seriously takes one pot cooking to a whole new level of awesome.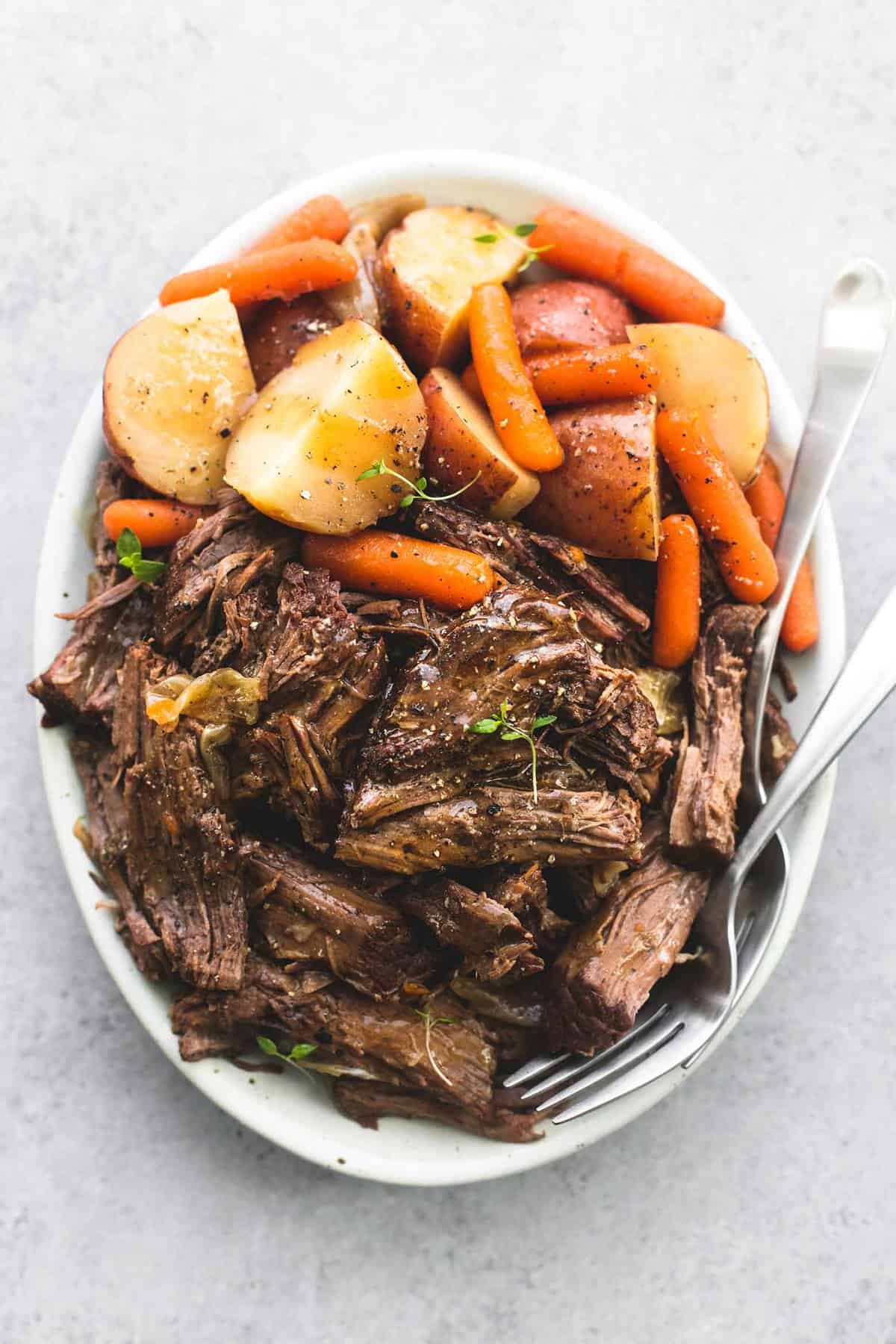 Why it Works
Pot roast is one of my absolute favorite childhood meals.
My mother made a beef pot roast with potatoes, carrots, and homemade gravy almost every single Sunday and I never got sick of it. I still ask for it from time to time when we go visit my parents for Sunday dinner because it takes me back in so many ways, and it's just plain good food.
My mother always used a ginormous black speckled roasting pan with a lid to make her roast in the oven and it came out perfect every time, great flavor, tender, and easy to shred. I took her recipe and tweaked it to make this instant pot version and it is everything I dreamed it would be.
That instant pot works some serious magic, you guys.
Rather than roasting your beef for hours and hours all day, you only need about an hour and a half to get from start to finish on this recipe and I promise you the meat comes out just as juicy and tender as if it were slow roasted for days. That is the magic of pressure cooking at it's finest!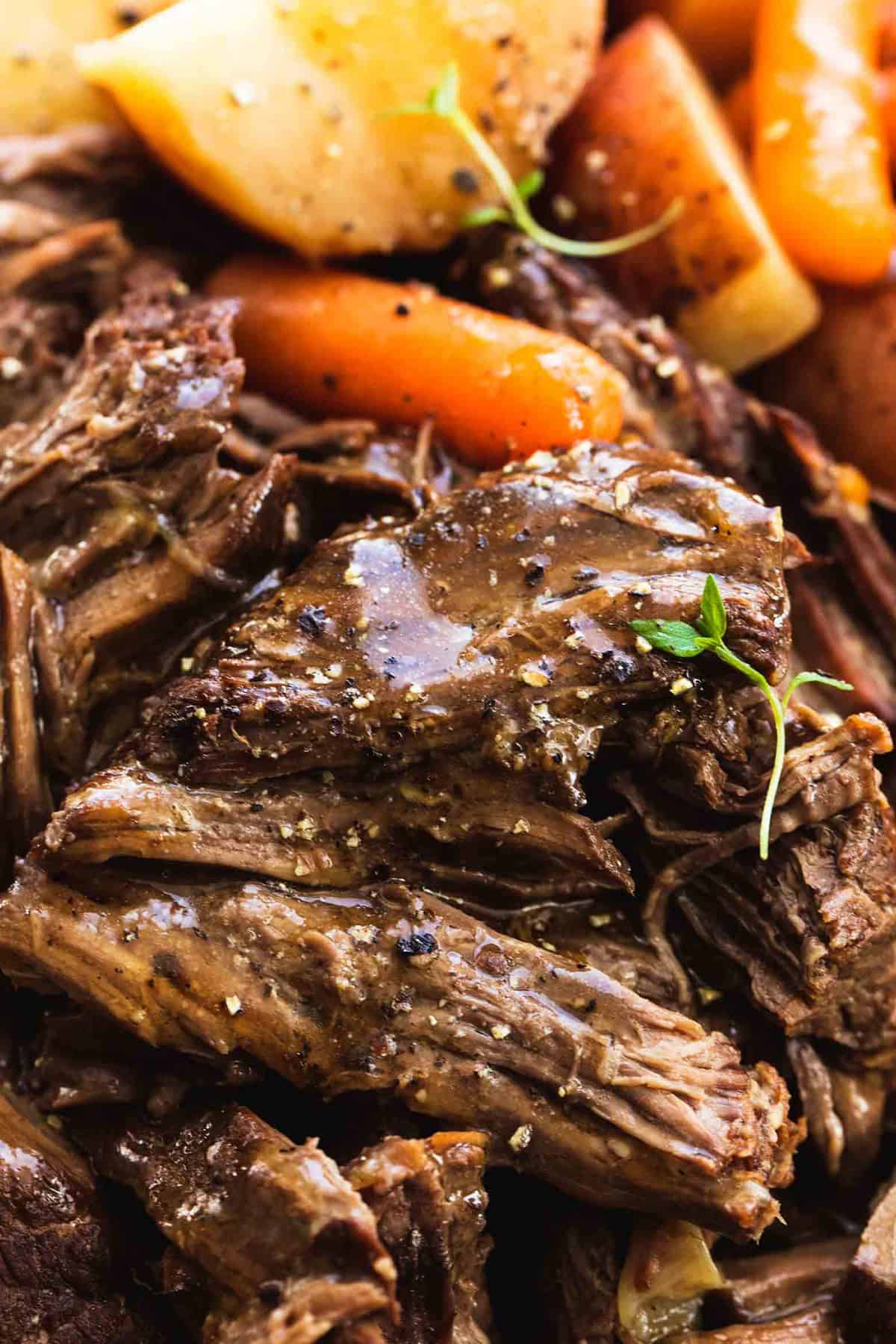 Can You Cook a Roast in a Pressure Cooker?
Yes! Cooking a juicy and tender roast in a pressure cooker is possible and so easy. Just season the meat, cover with beef broth, and set your pressure cooker. When it's done, your meat will be flavorful and easy to shred. Absolute perfection.
What is The Best Cut of Meat for This Recipe?
When I make pot roast, I typically go for one of three cuts of meat, a chuck roast, a brisket, or a bottom or top round. Here's why:
A chuck roast is tender and falls apart easily when slow cooked. This is due to the chuck roast's amount of marbling (fat you can see throughout) that makes it juicy when cooked down. This also makes it easy to shred. A chuck roast is melt-in-your-mouth delicious!
A brisket has a lot of connective tissue that makes it tender after a long day of being cooked slowly. However, brisket is a little pricier than a chuck roast so keep that in mind.
A bottom or top round cut of beef is what is used when making roast beef that you get sliced at the deli. Coming from the rear of the cow, it's leaner than the brisket and chuck roast. Because of this leanness, you might want to add a little extra fat while it cooks so it doesn't dry out. You can do this with oil or butter.
Can I Use Frozen Beef for This Recipe?
You wouldn't think that you'd be able to go from freezer to Instant Pot in this recipe, but, just like using frozen chicken breasts, you can also use frozen beef for this recipe. Because the meat cooks with steam and pressure, it will thaw and then cook all at the same time.
The only difference is in the cooking time. Add about 20-30 minutes to your pressure cooking time if going with a frozen roast. No need to sear it either, just rub the spices on the roast and then put the frozen roast in the pot and go to the pressure cooking step.
How Long Do You Cook a Roast in an Instant Pot?
The time you will need to cook a roast in an instant pot varies depending on the size of your roast and whether it is thawed or frozen.
For a thawed 3-5 pound roast it will need 60-80 minutes on high. For a frozen roast of the same size, you'll need to add about 20-30 minutes to the cooking time.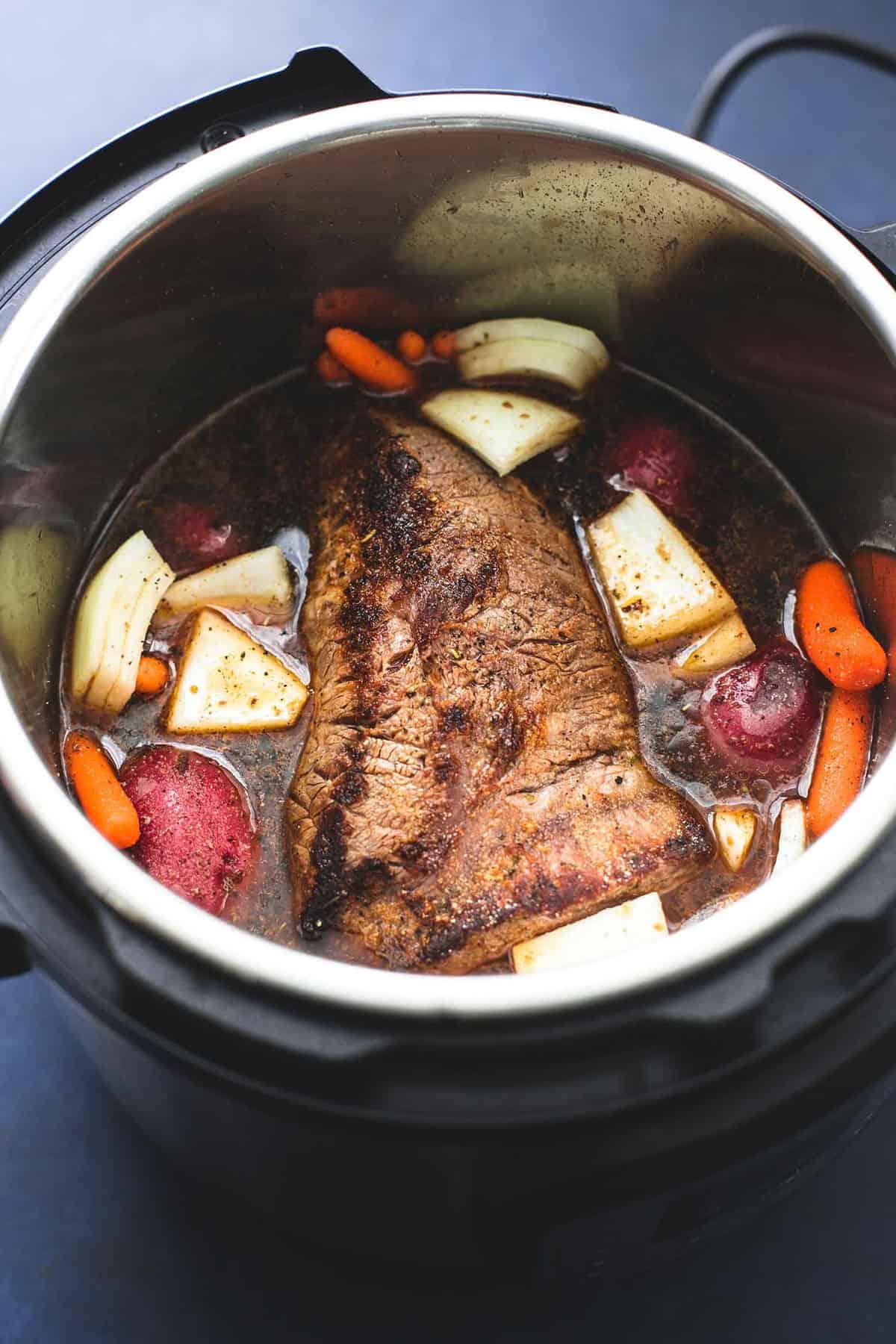 How Do You Cook a Roast in an Instant Pot?
To cook a beef roast in an instant pot, follow these simple steps!
First, season the meat generously on all sides.
Add oil to the pot and set to the saute setting. Sear meat on all sides, then set the pressure cook setting on high.
Add beef broth along with potatoes, onions, and carrots if desired, cover, and cook.
Once finished cooking do a natural release for 10 minutes, then a quick release until the float valve goes down.
Remove lid, transfer roast and veggies to a platter, and shred the roast.
That's all there is to it! Now read on to find out what people have to say about this revolutionary way to cook your favorite Sunday dish, the famous Pot Roast.
Can you Make Mashed Potatoes and Gravy with Instant Pot Pot Roast?
Yes! If you are a mashed potato fan, you've got to try my favorite Pot Roast with Mashed Potatoes and Gravy recipe! It's made with dry onion soup mix (SO much flavor!) and you're only putting four ingredients into the Instant Pot so it is truly the easiest pot roast you will ever make and so fall-apart tender. When the roast is done, you pull out the potatoes and mash them with sour cream, salt, pepper, and garlic and top them with savory beef broth gravy right from the Instant Pot!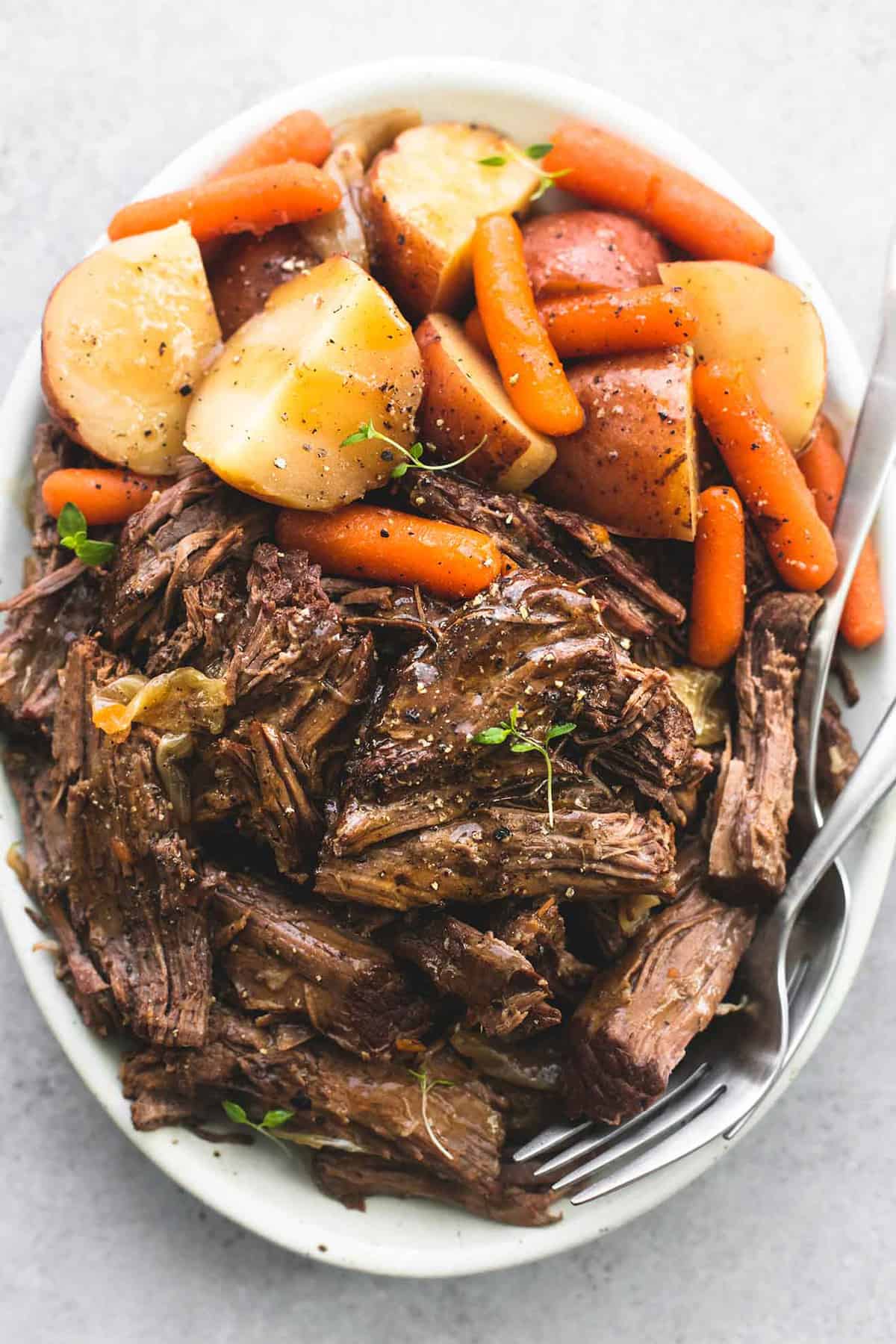 Most Popular Instant Pot Recipes
Did you make this dish? Please rate the recipe below!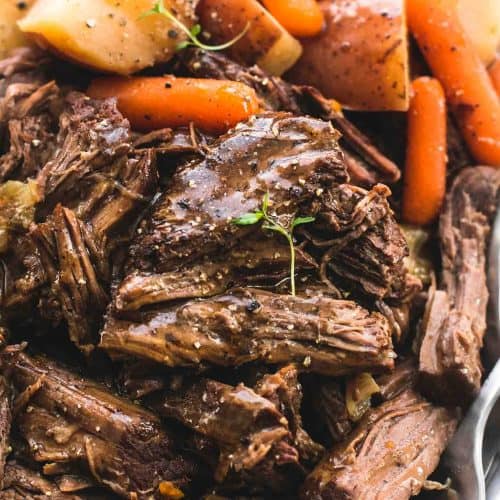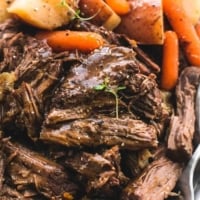 Instant Pot Pot Roast Recipe
Juicy and tender instant pot pot roast and potatoes with gravy makes the perfect family-friendly dinner. This easy one pot dinner recipe will please even the picky eaters!
Ingredients
3-5 pound

beef chuck roast

-

see notes for instructions from frozen

1

tablespoon

oil

1

teaspoon

salt

1

teaspoon

onion powder

1

teaspoon

garlic powder

½

teaspoon

black pepper

½

teaspoon

smoked paprika

-

optional

1

pound

baby red potatoes

4

large

carrots

-

chopped into large chunks, see note for using baby carrots

1

large

yellow onion

-

chopped

4

cups

beef broth

2

tablespoons

worcestershire sauce

¼

cup

water

2

tablespoons

corn starch
Instructions
Turn on your instant pot and set it to "saute". In a small bowl stir together salt, pepper, garlic powder, onion powder, and smoked paprika. Rub mixture all over the roast to coat all sides.

Drizzle oil in instant pot, wait about 30 seconds, then use tongs to place roast in the pot. Do not move it for 3-4 minutes until well-seared and browned. Use tongs to turn the roast onto another side for 3-4 minutes, repeating until all sides are browned.

Switch instant pot to "pressure cook" on high and set to 60-80 minutes (60 for a 3 pound roast, 80 for a 5 pound roast. see notes if using baby carrots). Add potatoes, onions, and carrots to pot (just arrange them around the roast) and pour beef broth and worcestershire sauce over everything. Place lid on the pot and turn to locked position. Make sure the vent is set to the sealed position.

When the cooking time is up, do a natural release for 10 minutes (don't touch anything on the pot, just let it de-pressurize on it's own for 10 minutes). After 10 minutes, turn vent to the venting release position and allow all of the steam to vent and the float valve to drop down before removing the lid.

Transfer the roast, potatoes, onions, and carrots to a platter and shred the roast with 2 forks into chunks. Use a handheld strainer to scoop out bits from the broth in the pot. Set instant pot to "soup" setting. Whisk together the water and corn starch. Once broth is boiling, stir in corn starch mixture until the gravy thickens. Add salt, pepper, and garlic powder to taste.

Serve gravy poured over roast and veggies and garnish with fresh thyme or parsley if desired.
Notes
If you'd like to use baby carrots, keep in mind that they will cook much faster than large chunks of whole carrots. To make sure they don't turn to mush, set your pressure cooking time 10 minutes shorter than the recipe states and leave the carrots out of the pot. Once the pressure cooking time is finished, add baby carrots to the pot and set the pot to pressure cook for 10 more minutes. 
The recipe is written for a thawed roast. If using a frozen roast, you will need to add about 20-30 minutes to your pressure cooking time. You can also skip the searing step and simply rub the spices on the roast and then place it in the pot and then move ahead to the pressure cooking step. 
Nutrition
Calories:
133
kcal
,
Carbohydrates:
23
g
,
Protein:
4
g
,
Fat:
3
g
,
Saturated Fat:
1
g
,
Sodium:
1087
mg
,
Potassium:
672
mg
,
Fiber:
3
g
,
Sugar:
5
g
,
Vitamin A:
8101
IU
,
Vitamin C:
12
mg
,
Calcium:
45
mg
,
Iron:
1
mg