Easy Thai chicken kabobs with the most amazing creamy peanut dipping sauce! A healthy and tasty summertime grilling recipe!
I'm a little bit obsessed with my grill. Actually, who am I kidding? I'm A LOT obsessed with my grill. It's nothing fancy but it's not hard to beat the camping stove we were using last summer. It was fun while it lasted, but I'm pretty happy to have a non-barbie-sized grilled out on the deck now.
So let's talk kabobs. Do you call them skewers or kabobs? It could go either way, but for the purposes of writing recipes with detailed directions, I've decided to refer to the sticks as skewers and the actual finished product as kabobs. Fair enough? I think that will just keep everybody from getting confused. Or just me. You probably understand when I say "grill the kabobs", it's the raw version, and when I say "stuff your face with the kabobs" it's obviously the finished masterpiece.
I worked out a really simple, 15-minute marinade for these skewers. It's like speed-marinating. A 15-minute flavor blast. If you wanna prep these ahead of time (because you are well organized with your time, unlike myself…) then these would be extra wonderful if they got the chance to marinate for an hour or even overnight. But don't keep yourself from enjoying these Thai chicken kabobs because you think they require a year of marinating time and you're hungry now. Just follow the recipe and these babies will be on the table in just 30 minutes.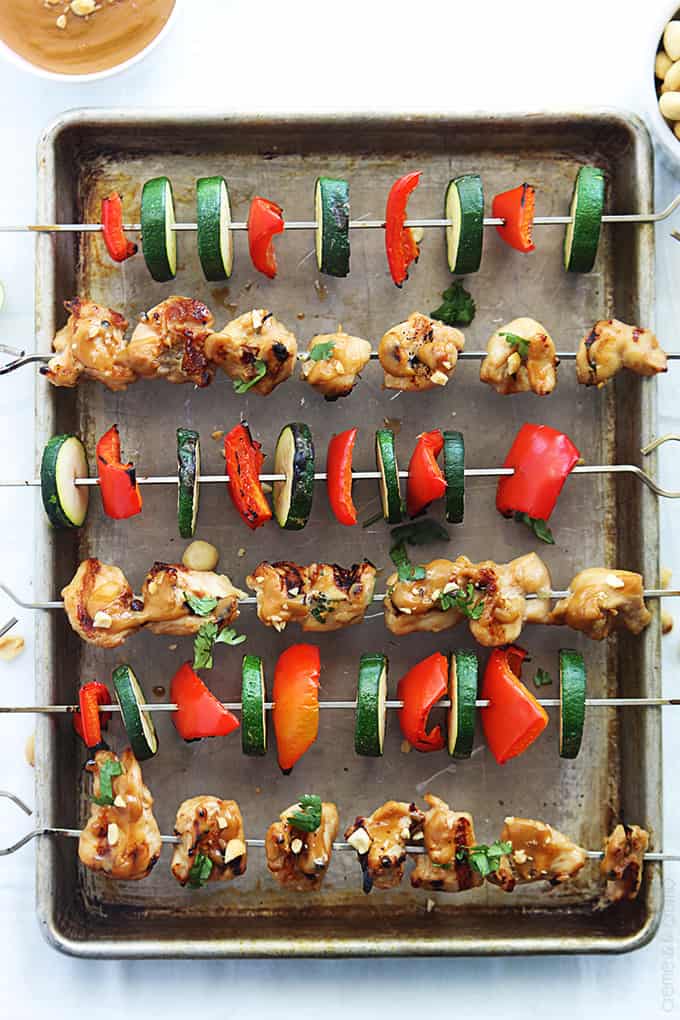 And while we're talking choices here, you could leave out the veggies I guess… but don't. I mean, it's a chance to slip some good summer veggies into the bellies of your kids and stickler husband, go for it. They'll love it when they get to dip them in that creamy ah-mazing peanut sauce! I looove that stuff. Please hand me a spoon, I would like to finish it off now, thank you.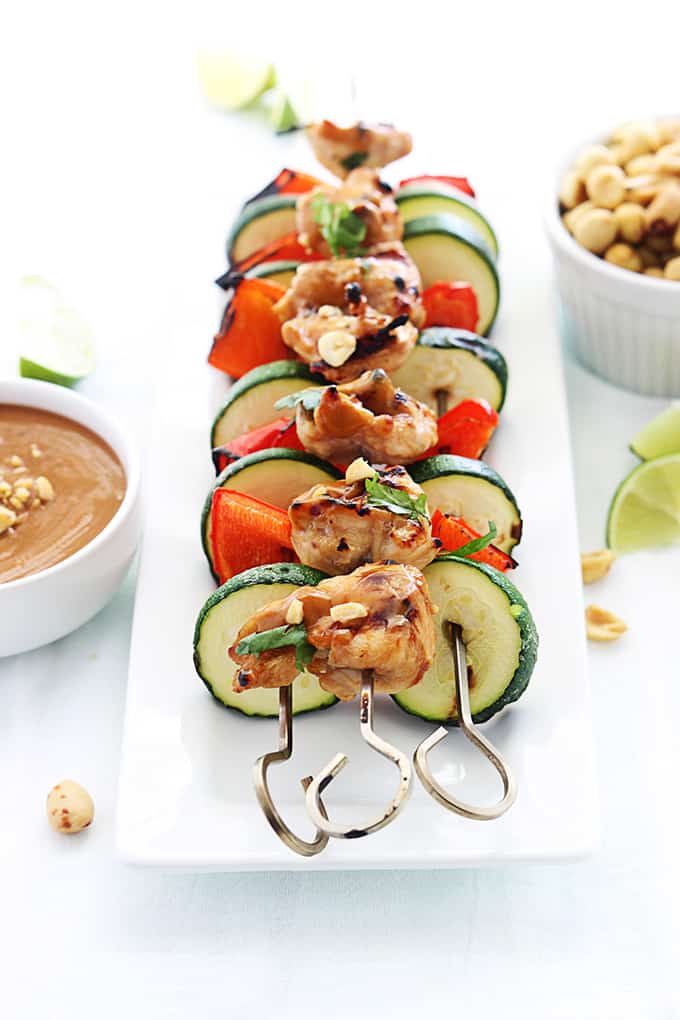 Thai Peanut Chicken Kabobs
Easy marinated grilled chicken kabobs with the most amazing creamy peanut dipping sauce!
Ingredients
3-4

boneless chicken breasts,

chopped into bite-size pieces

1

red bell pepper,

chopped

1

large

zucchini,

sliced into discs
Marinade
3

tablespoons

soy sauce

2

tablespoons

sugar

2

teaspoons

sesame oil

1

tablespoon

lime juice

2

teaspoons

minced garlic

1

teaspoon

sriracha

(red chili sauce found in the Asian section at the grocery store)

2

tablespoons

cilantro
Peanut Sauce
4

tablespoons

creamy peanut butter

3

tablespoons

soy sauce

2

tablespoons

water

1/2

teaspoon

garlic powder

2

teaspoons

brown sugar

1

teaspoon

sriracha

1/8

teaspoon

sesame oil
Instructions
*If using wooden skewers, soak them in water for 30 minutes beforehand* Whisk together all marinade ingredients. Add chicken and marinade to a zip lock bag. Seal bag and chill at least 15 minutes (can also be marinated up to overnight).

Whisk together peanut sauce ingredients. Cover and chill until ready to use.

Drain and discard marinade from bag. Thread chicken onto skewers. Thread veggies onto separate skewers (you can cook chicken and veggies on the same skewers but I find that the veggies take longer to cook and your chicken may end up overdone that way).

Cook chicken and veggies on the grill over medium-high heat for 5-6 minutes (6-8 minutes for veggies). Serve warm with dipping sauce and garnish with chopped peanuts, cilantro, and lime wedges if desired.
Recipe adapted from Emily Bites.