Cinnamon Roll Dippers (No Yeast) – An inside-out version of that cinnamon roll deliciousness you love without the fuss!!!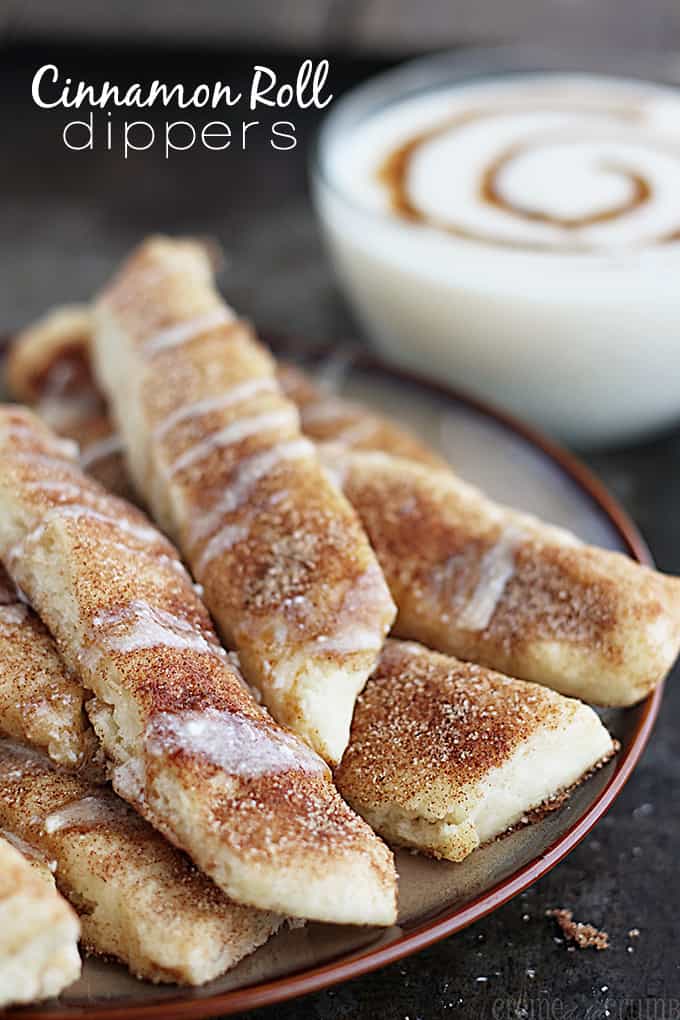 I've been holding out on you. I made these bad boys a month a go. . . I'm sorry! I don't know why but I've been "saving" them. For what I'm not sure. I just kept thinking oh, I need a special occasion to share these. And a month has come and gone and I still have not shared them! So I decided I would create a special occasion. Happy Cinnamon Roll Dipper Wednesday!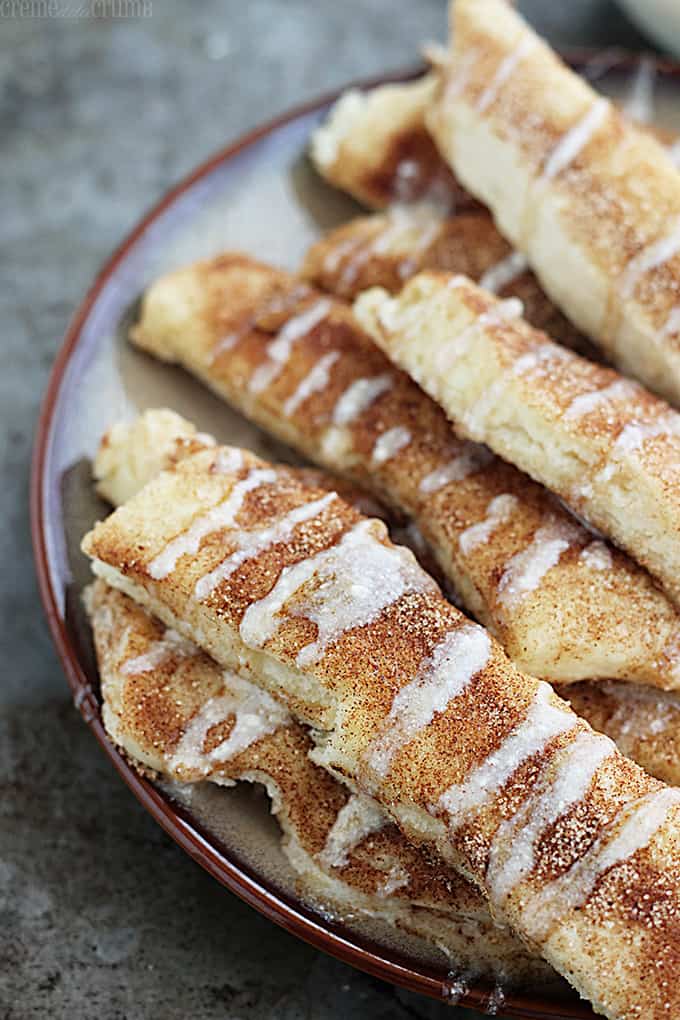 Cinnamon rolls are one of my absolute favorite breakfast foods. Probably because they taste way more like dessert than breakfast. Cinnamon, sugar, frosting… ummmm, yeah that's definitely fitting for the most important meal of the day! I made these on a weekend morning for the husband and myself and I was floored with how they turned out. I mean, I imagined them in the first place so naturally I expected to like them but… these were AMAZING.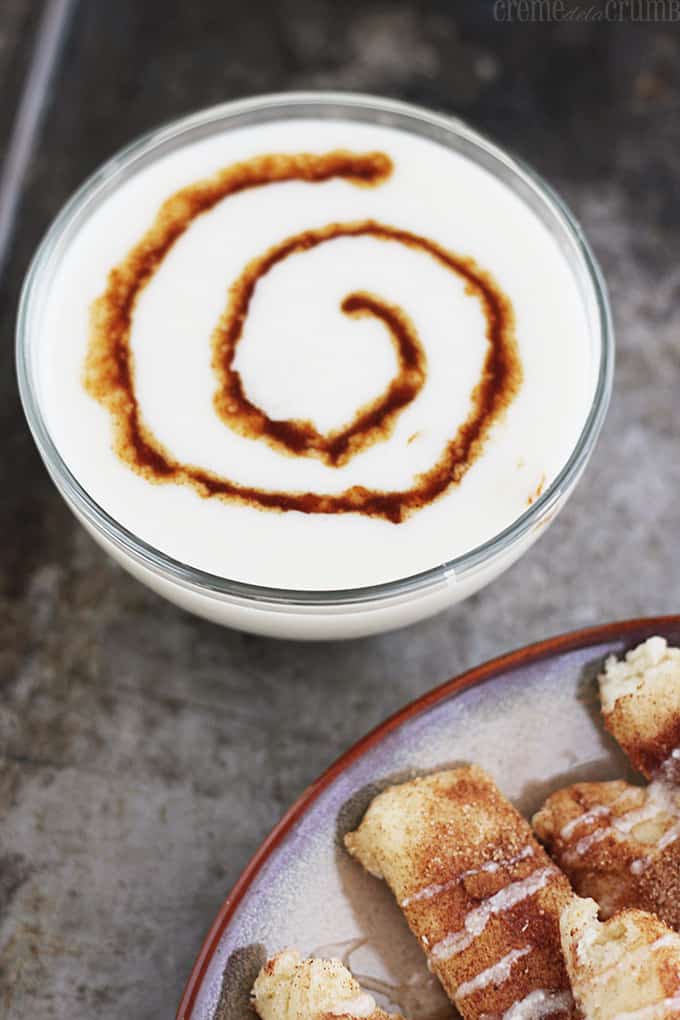 It's genius really. An inside-out cinnamon roll which requires no yeast at all, can be made ahead and ready in 15 minutes the morning of, and you dip them in the glaze so you never have that oh shoot, I should have doubled the frosting recipe feeling in the pit of your stomach that inevitably comes with the first bite of every traditional cinnamon roll.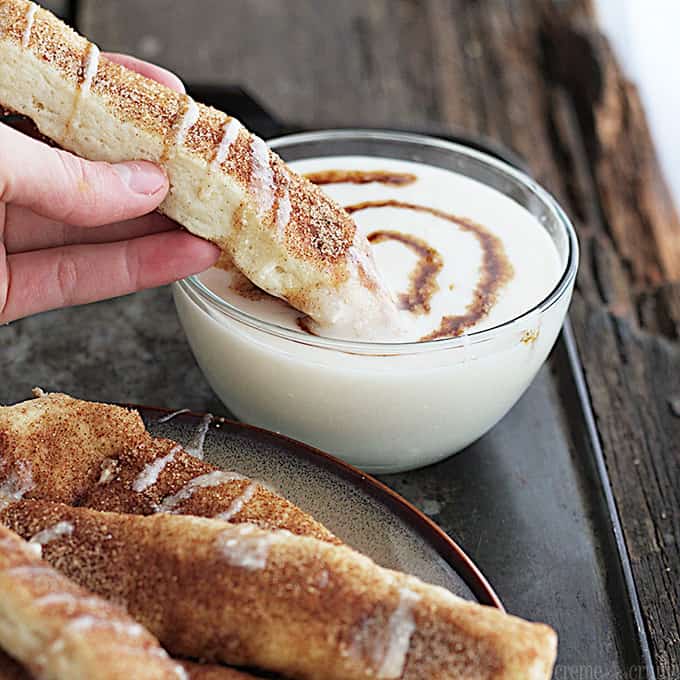 I may or may not have a cinnamon roll obsession. It started with those harmless little 1 Hour No Yeast Cinnamon Rolls I made a few months back. Then I got real creative with the Cinnamon Roll Pound Cake (which, by the way is my most popular recipe!). And then a couple of weeks ago I died and went to heaven with these Pumpkin Cinnamon Roll Pancakes.  But today, it's official. We've revolutionized the cinnamon roll. Which is saying something since the cinnamon roll is pretty much the best breakfast culinary invention ever. Easy, insanely delicious, and dippable. For all of you fellow double-dip offenders, you know exactly what I mean when I say, it's ten times better if it's dippable. These are going to make a reappearance in my kitchen very regularly, I don't know how we ever lived without them!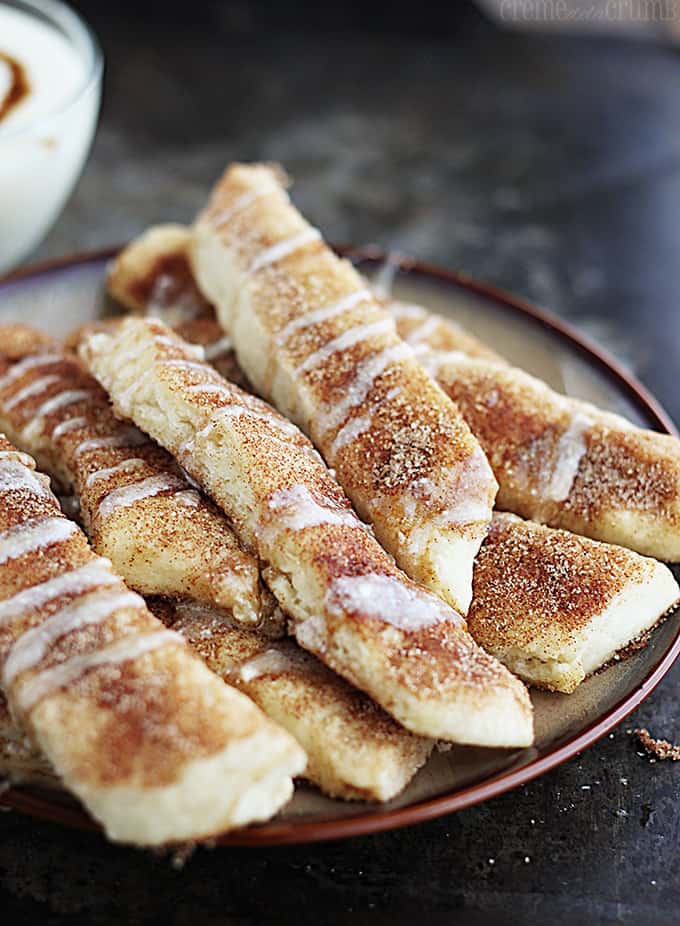 What people are saying about these Cinnamon Roll Dippers
"I made these for breakfast today they are amazing!!! All of the kids couldn't believe how yummy they were. I think we are going to be making these the next time we make pizza!!! Thank you for an awesome recipe!" – Lindsay
"Made this recipe for breakfast today because family was visiting. It was a HUGE hit and the portions were just right to serve 4 of us. We used the lower fat cream cheese (neufchatel) in the dip with good results and will try half whole wheat flour in the dippers next time. Thanks!" – Kristine
"Wow! Very delicious, I made a trial batch this morning and will definitely make them Christmas morning (make the dough the night before). Your cinnamon dippers remind me of pie pastry crust, so flaky, wonder if you can use this recipe for pie crust? I will try it someday and let you know 🙂 I love your website, it is beautiful and the recipes are great!" – Joni 
"Made these they were pretty good and easy to prepare. Something sweet and easy and I know what's in it." – Ann
If you like these Cinnamon Roll Dippers, you'll love my Peanut Butter Chip Oatmeal Cookies, Peanut Butter Thumbprint Cookies, Trillionaire Bars, S'mores Lava Cakes, Cinnamon Roll Cheesecake Bars, Peanut Butter Oatmeal Chocolate Chip Skillet Cookie, and Samoas Cupcakes.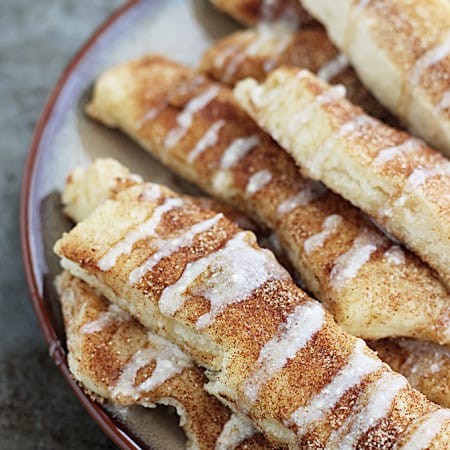 Cinnamon Roll Dippers (No Yeast)
An inside-out version of that cinnamon roll deliciousness you love without the fuss! You can dip them right in the glaze so you can get loads of cream cheesy frosting goodness on every single bite!
Ingredients
1 ½

cups

flour

4

tablespoons

sugar

-

divided

½

teaspoon

salt

9

tablespoons

butter

-

softened, (divided)

3-6

tablespoons

ice cold water

1

teaspoon

cinnamon
Glaze Dip
2

ounces

cream cheese

-

softened

1 ½

cups

powdered sugar

¼

teaspoon

vanilla

milk

3

tablespoons

brown sugar

3

tablespoons

butter

½

teaspoon

cinnamon
Instructions
Combine flour, 3 tablespoons sugar, and salt in a medium bowl and whisk to combine. Cut in 1/2 cup butter with pastry cutter or two forks until crumbly. Add 3 tablespoons ice cold water and mix to combine. Add more water 1 tablespoon at a time as needed until mixture comes together. Flatten dough into a round disk, wrap with plastic wrap, and chill at least 15 minutes or overnight.

Preheat oven to 375 and grease a baking sheet with cooking spray.

When dough has chilled, unwrap it and use a pizza cutter to cut into 1-1/2 inch strips. Place wtrips on prepared baking sheet. Use a rubber spatula to spread 1 tablespoon butter over the tops of the strips. Combine cinnamon and 1 tablespoon sugar in a small bowl and sprinkle mixture on top of buttered strips. Bake uncovered 12-14 minutes, until lightly browned.

Prepare the glaze dip by combining softened cream cheese, powdered sugar, and vanilla in a bowl. Use a hand mixer to mix well. Add milk 1 teaspoon at a time until a smooth consistency is reached. In a small sauce pan combine brown sugar, butter, and cinnamon and whisk until butter melts and mixture is smooth. Drizzle cinnamon mixture into prepared glaze dip. Serve dippers warm or at room temp.
Notes
*These can be made ahead by making the dough and glaze up to two days beforehand and chilling until ready to eat. When ready, simply bake the sticks as the directions suggest (may need to increase time by 1-2 minutes) and warm the glaze in a microwave safe bowl before serving.
Nutrition
Calories:
711
kcal
,
Carbohydrates:
104
g
,
Protein:
6
g
,
Fat:
31
g
,
Saturated Fat:
8
g
,
Cholesterol:
17
mg
,
Sodium:
650
mg
,
Potassium:
115
mg
,
Fiber:
2
g
,
Sugar:
66
g
,
Vitamin A:
1338
IU
,
Vitamin C:
1
mg
,
Calcium:
59
mg
,
Iron:
2
mg