This super easy, Grilled Chicken Margherita is incredibly tasty and is ready in less than 30 minutes! Start with savory herb chicken and top it with with melty mozzarella cheese, pesto, and tomato basil garnish for a rave-worthy, quick and simple weeknight dinner.
We are on a healthy recipe kick around here! Try Healthy Sheet Pan Chicken Fajitas, Easy Healthy Baked Lemon Chicken, and Mango Salsa Chicken.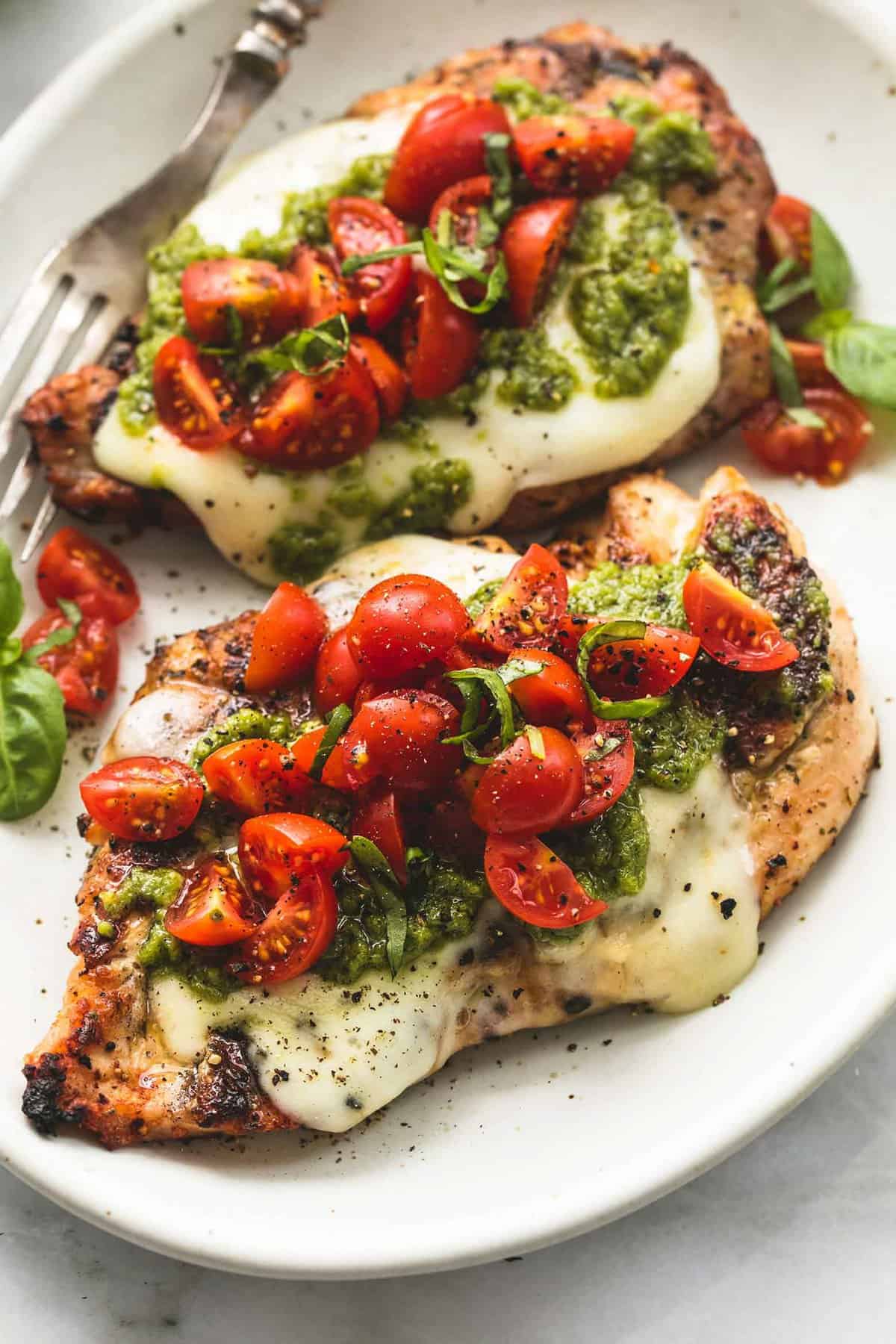 Grilled chicken. Pesto. Melty mozzarella. Tomatoes and basil.
This dish is exactly what my Summer needed and I'm willing to bet your Summer needs it too.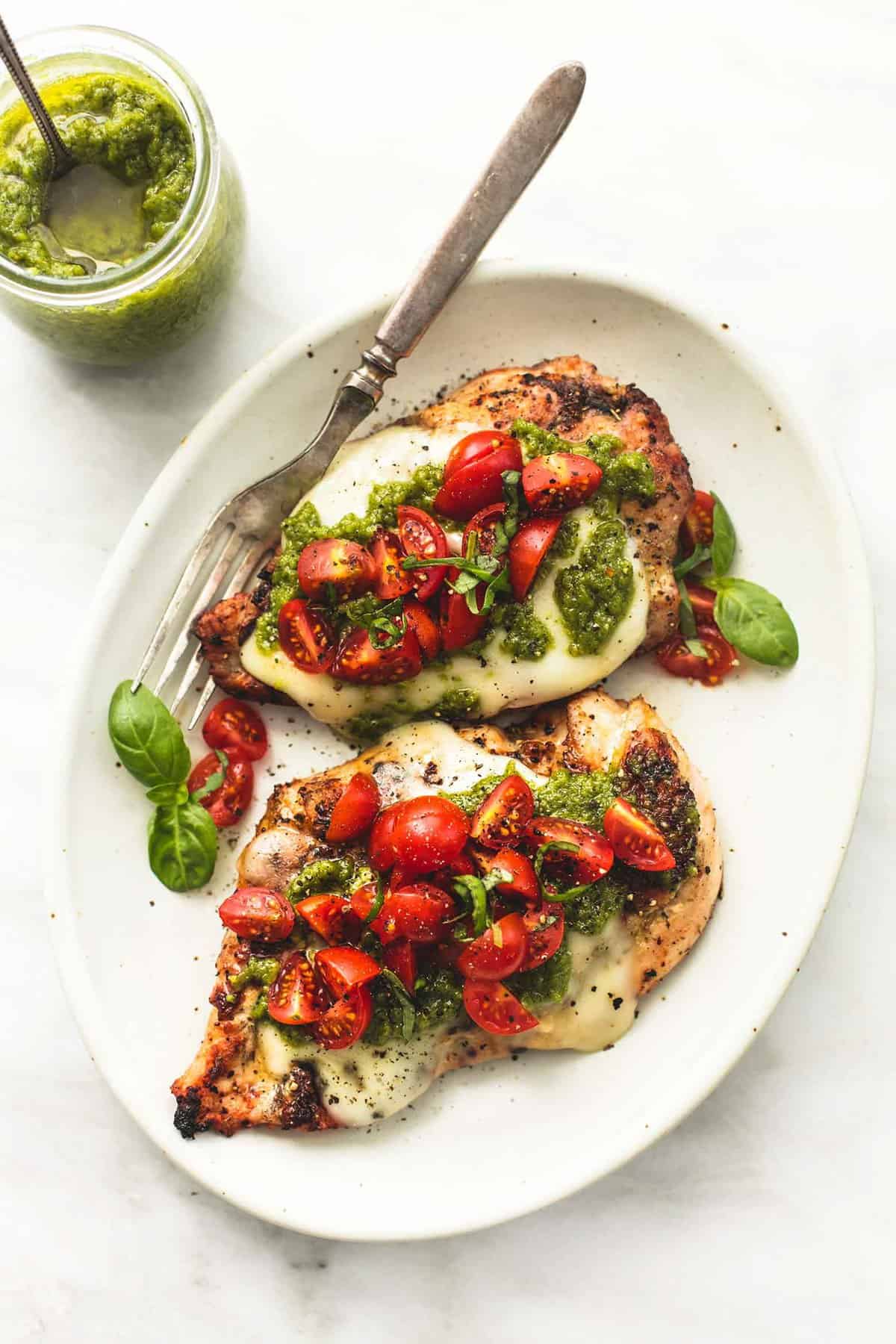 We have been so busy this past month with all of the warm weather activities we love so much, but on top of all that madness, our kitchen is under construction. Yes, again. You may remember us being in the same boat two years ago, but we moved and it's a whole new kitchen we're remodeling this time around. This one is a doozy of a project.
Everything we own is covered in an 1/8th inch of drywall dust, we have no flooring, the upper cabinets just got ripped out, and our oven is in the basement. In the BASEMENT friends. So we are grilling up the wazoo these days.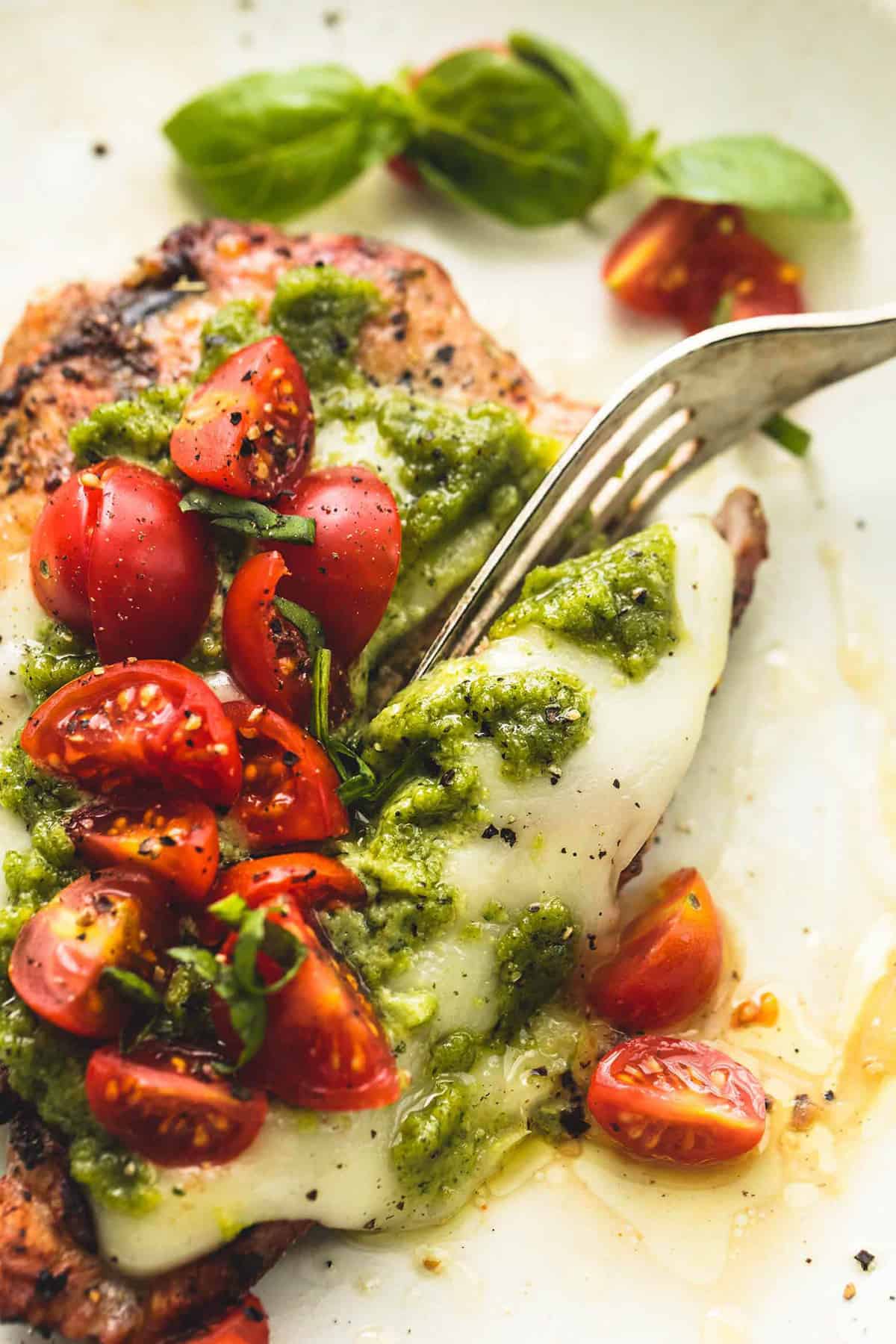 This grilled chicken margherita is perfectly juicy and seasoned, topped with gooey, melty mozzarella cheese, 5-minute pesto (the BEST EVER!) and tomato basil relish.
This is one of the dishes that have saved us lately with our kitchen mess, but even if we weren't tearing apart the heart of our home, this easy, 30-minute meal would still be starring on our dinner table.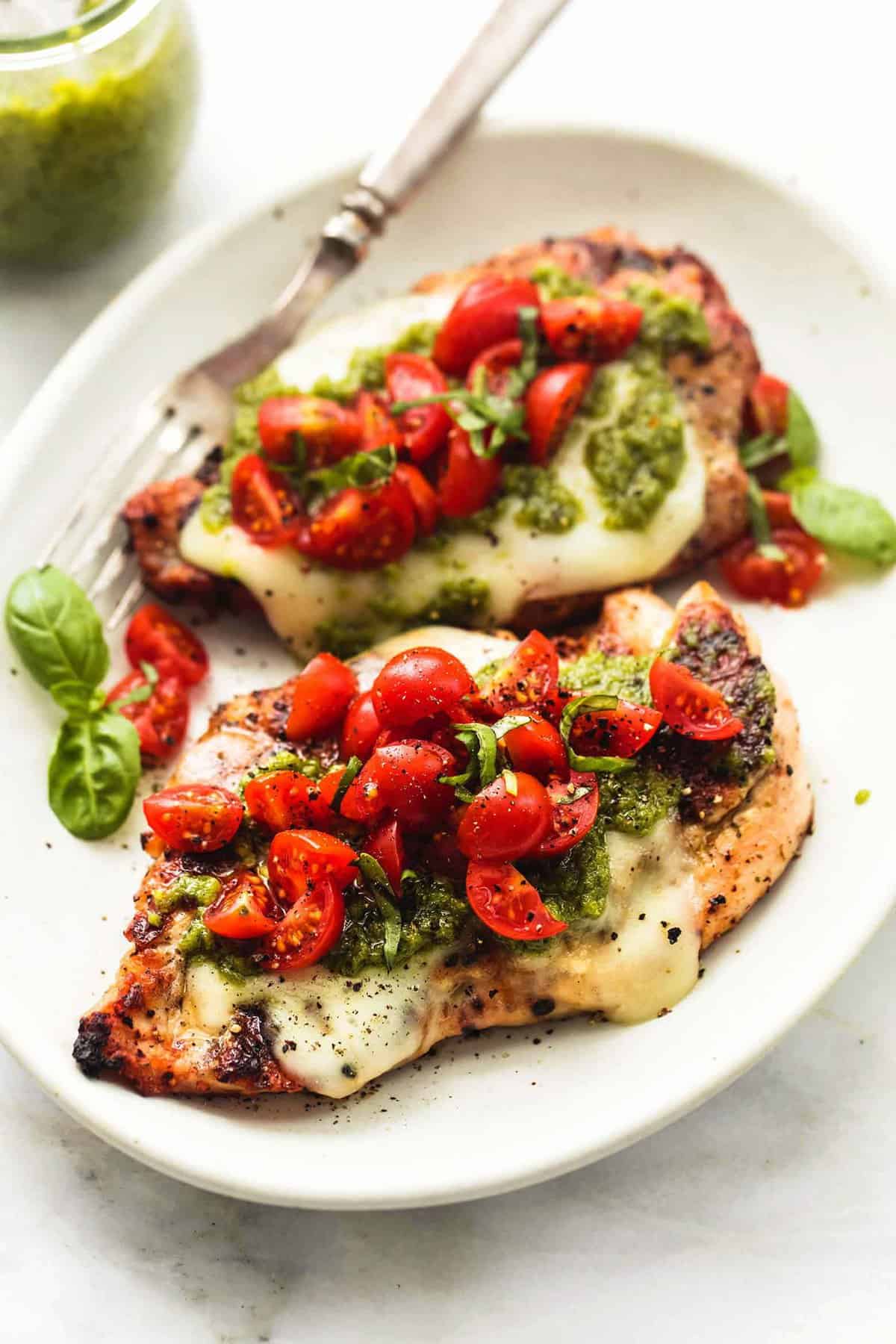 What people are saying about this Grilled Chicken Margherita
"I've now made this twice and it's absolutely delicious!! My husband who is a picky eater and can be quite the critic of new meals I prepare gobbled it all down and remarked just how good it was. Thanks for the awesome recipe!!!" – Ariel

"It was absolutely delicious–great melding of flavors." – Ally

"Made this yesterday, it is delicious, added this to my recipe collection, sure is a keeper." – Vicki

"Absolutely delicious! And one of the PRETTIEST dinners. I made it with your homemade pesto. Sooooo much better than the prepared stuff. Thank you for sharing this recipe." – Jeanne
Want more chicken recipes? Try my Healthy Sheet Pan Chicken Fajitas, Easy Healthy Baked Lemon Chicken, and Mango Salsa Chicken.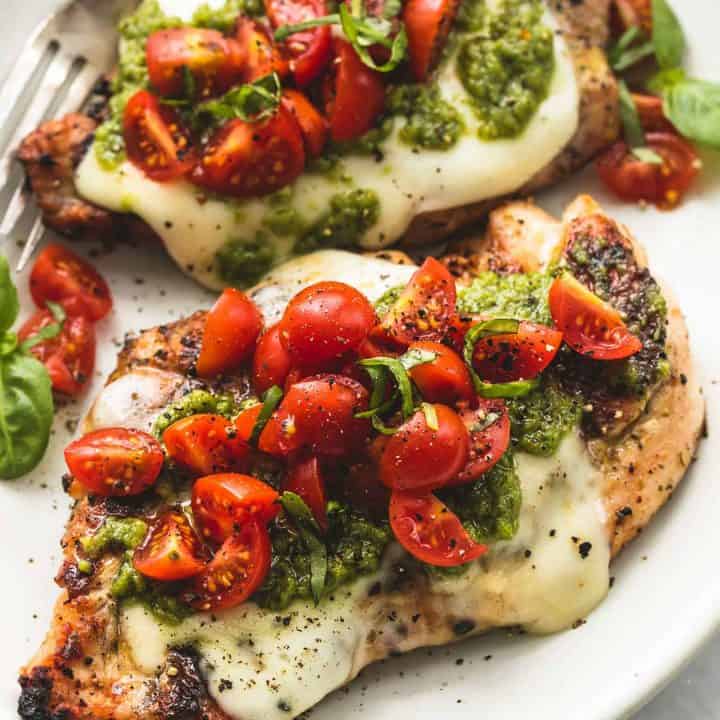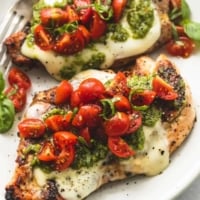 Grilled Chicken Margherita
Easy, healthy grilled chicken margherita topped with melted mozzarella cheese, pesto, and tomato basil garnish.
Ingredients
4

boneless skinless chicken breasts,

pounded to less than 1 inch thickness

salt and pepper to taste

2

tablespoons

olive oil

1

teaspoon

garlic powder

1

teaspoon

Italian seasoning

(OR 1/2 teaspoon dried oregano + 1/4 teaspoon dried basil + 1/4 teaspoon dried thyme)

4

slices

mozzarella cheese

1/2

cup

basil pesto

(try my Easy 5 Minute Pesto Recipe - it's the best!!) https://www.lecremedelacrumb.com/easy-5-minute-pesto-15-ways-to-use-it/

1/2

cup

cherry tomatoes,

halved

1

tablespoon

fresh lemon juice

1/2

cup

packed basil leaves,

very thinly sliced

cracked black pepper
Instructions
In a large bowl combine chicken, salt and pepper, olive oil, garlic power, and Italian seasoning. Toss to combine.

Grill chicken over medium-high heat for about 6-8 minutes on each side until cooked through. Top each piece of chicken with a slice of mozzarella cheese and cook another minute or so until melted.

Toss tomatoes, lemon juice, and basil together. Top each chicken breast with about 3 tablespoons pesto, a scoop of tomatoes, and some freshly cracked black pepper. Serve immediately.

Notes
You can absolutely use store-bought pesto sauce in this recipe, but if you have five extra minutes (you do!) I highly recommend my super easy homemade basil pesto. You can easily sub out the pine nuts for another nut like cashews or walnuts too!
I almost always use fresh-squeezed lemon juice in my tomato topping, because I think it has the best flavor. But, you might not have a fresh lemon laying around. If that's the case, feel free to use bottled lemon juice

or even lime.



After placing the cheese on top of the chicken, I always close the grill lid to help the cheese melt faster

and keep the chicken from drying out.

To make your own Italian seasoning for this chicken, simply combine 1/2 teaspoon dried oregano, 1/4 teaspoon dried basil, and 1/4 teaspoon dried thyme and sprinkle all over the chicken OR swap out Italian seasoning for Herbs de Provence (one of my favorite cooking tricks for boosting flavor!).